Today started well, the sky was blue with hardly a cloud in sight and the early morning mist rising in the distance. From our camp we had a stunning view over Verona, Italy with the immediate area being populated with many large trees.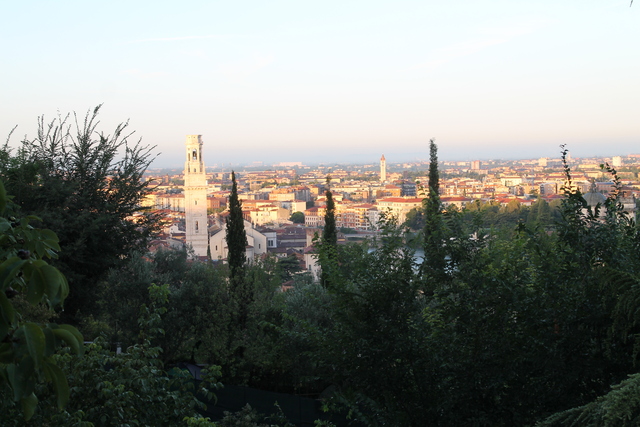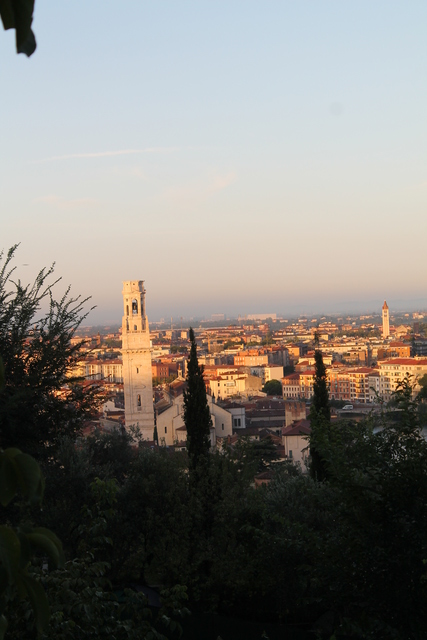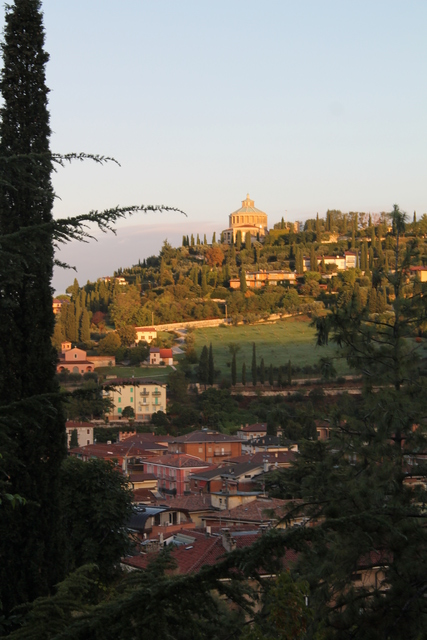 Although the only draw back of the clear morning sky was the fact there was a chill in the air, this didn't help our mass of soggy clothing which we was desperately trying to dry out before being packed away for the day.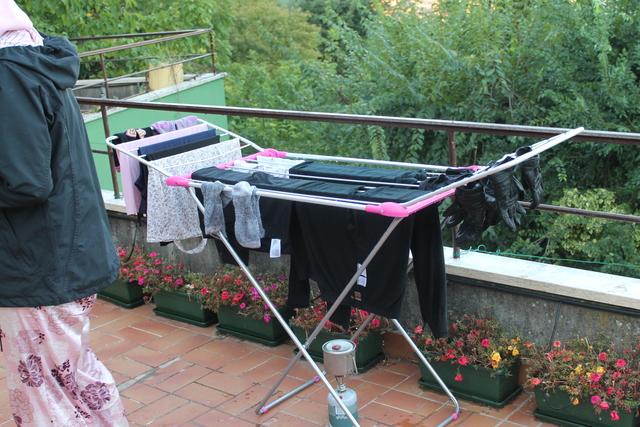 Showers were had, although I might add the facilities here were a bit naff and I struggled with a cold/tepid drip which I wouldn't class as a shower. The whole site was a bit hippy dippy and probably more suited to a travelling student back packer, although I'm only 24 year old, I have the mental age of about 60 ! Whilst trying to dry from my shower [sic] I struck up a brew, everybody loves a hot cup of tea first thing in the morning !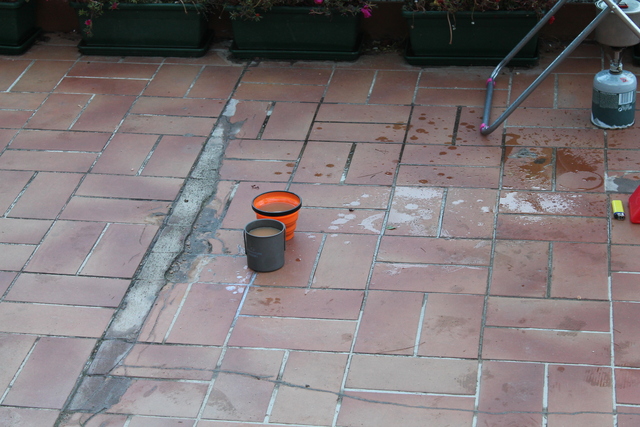 Kelly then returned from having a shower and doing a bit of washing up, back in her PJ's with coat and towel…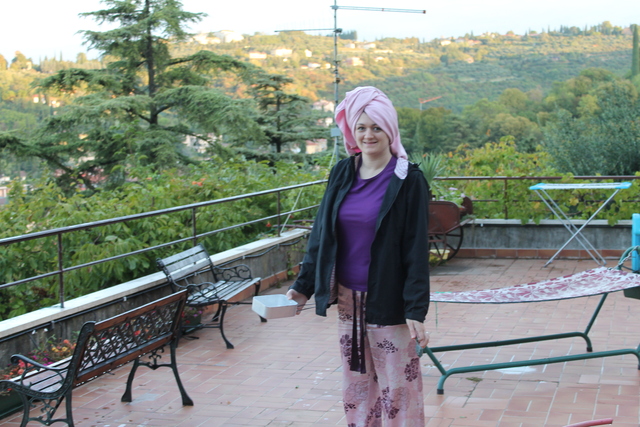 Warmed up and wanting to crack on, we started loading the bike and packing away the tent. We have a lot of miles to cover today so wanted to get going as early as possible.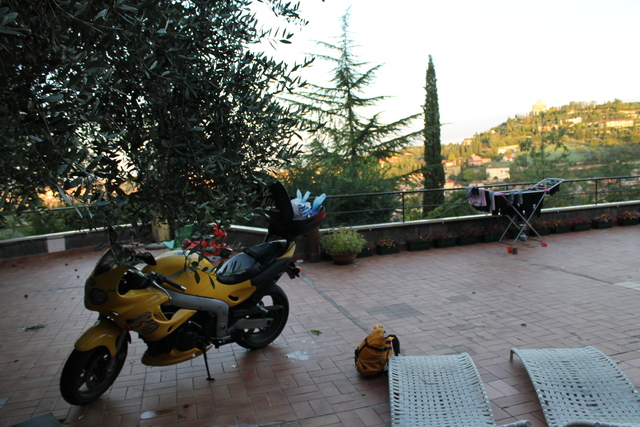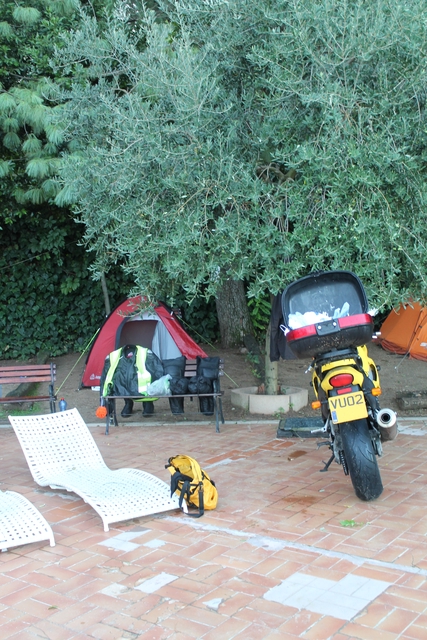 As you can see in the photo above, I was trying to dry out my leathers and boots on the bench outside the tent, it's not a nice feeling sliding in to a set of wet cold leathers.
All packed up and ready to go, heading for our next destination which is Bologna, Italy, the home of bolognese sauce. Kelly's one requirement whilst in Bologna, Italy was to eat a genuine Italian Spaghetti Bolognese.
We rode a fair amount of Autostrade to get to Bologna, Italy as we had quite a strict schedule and wanted to finish the day in Venice, Italy before dark. By late morning the sun was shining and the temperatures soon warmed up, once off the the Autostrade and on to the smaller busy town roads I was getting a bit hot. As you can guess the roads around any large town in Italy get quite congested, which isn't much fun when your sat on top of a +100c motorcycle engine with the hot sun beating down on your black leathers. It's safe to say the rain water soon evaporated from my gear, only to be replaced by my hot sweat, yummy !
After finding somewhere to park the bike, which is harder than it sounds because every little gap left anywhere was occupied by a small Italian scooter and my Triumph is certainly not small or easy to park with all it's luggage. We wandered off for a little walk around the town, whilst keeping an eye out for somewhere to have some Spaghetti Bolognese for lunch. Although I now look back and laugh, I wasn't having the most fun in the world due to the heat. This photo says it all…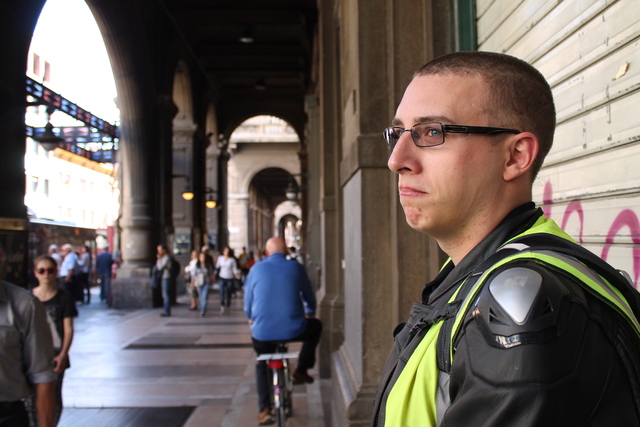 After having a drink I was feeling perkier and the walk around Bologna, Italy continued.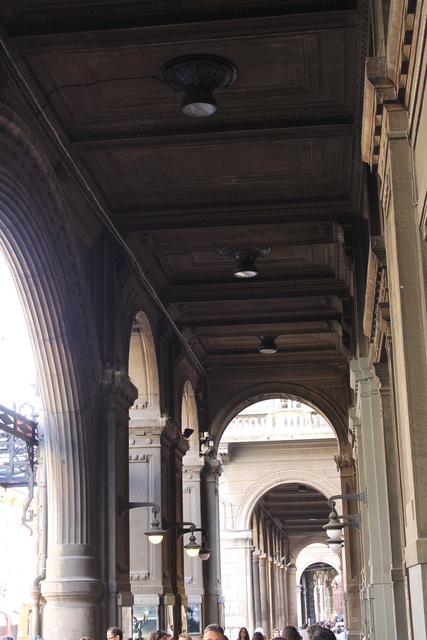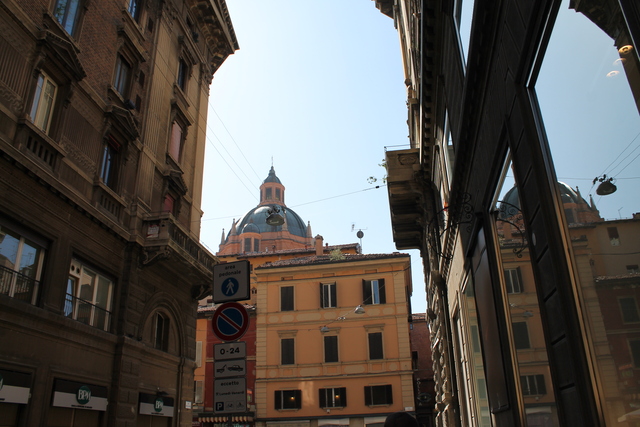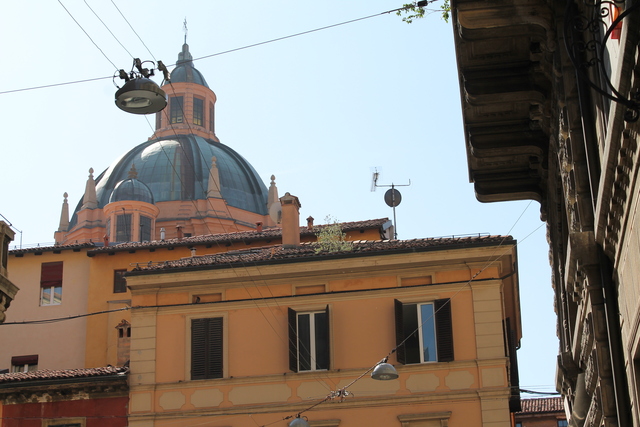 We found a nice little cafe to stop for lunch in, Kelly got her Spaghetti Bolognese and I opted for a nice traditional Lasagne, all washed down with a much needed ice cold Coke. Feeling much better !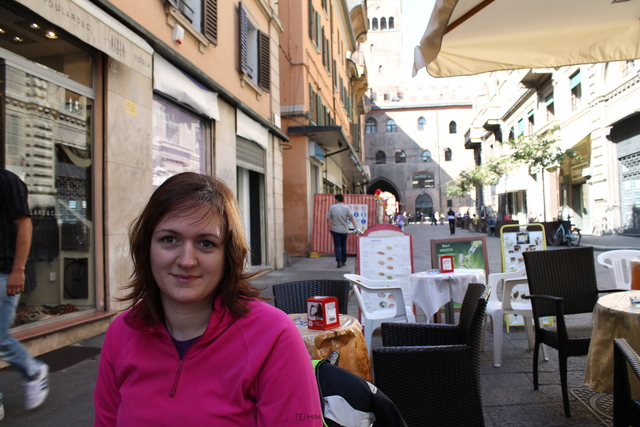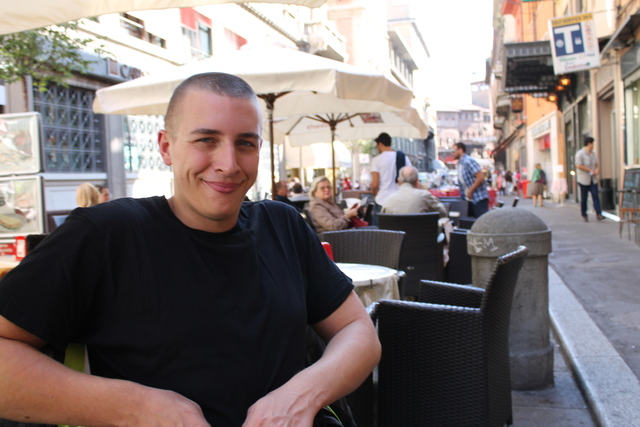 Now recharged and feeling better we had another wander around the town, taking in the main square on route.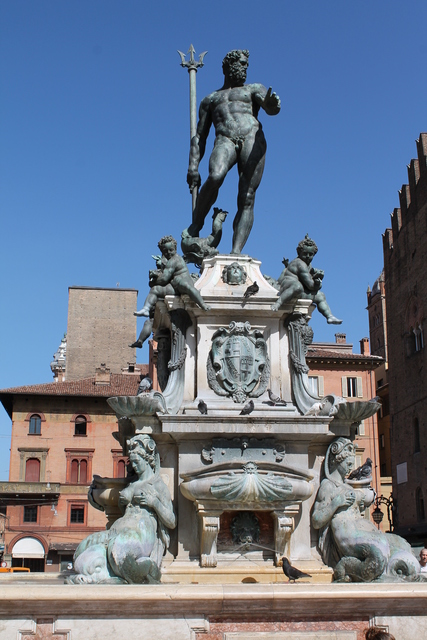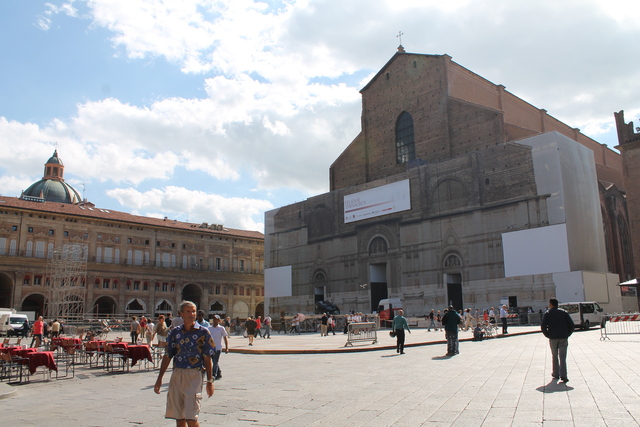 This large building which I'm not 100% sure is, was being renovated. I liked the way they printed the front of the building on to the plastic sheet, so that it didn't destroy the view too much.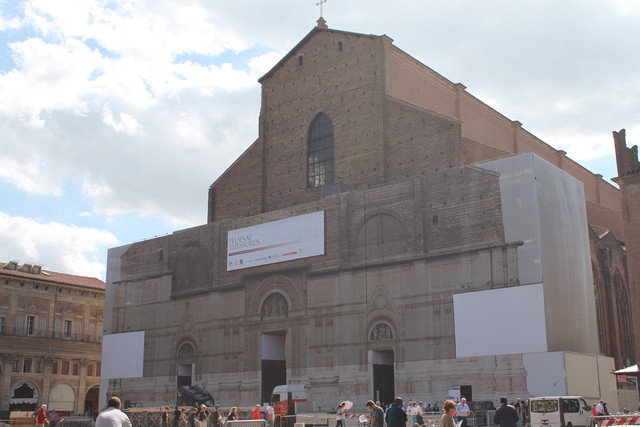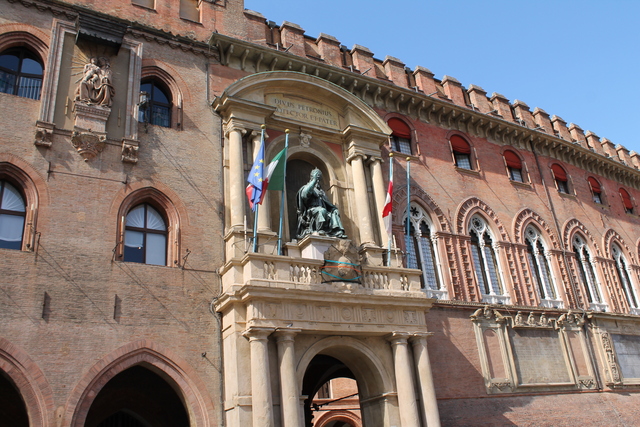 Kelly some how managed to capture a photo of a large bird of prey in flight, completely by accident !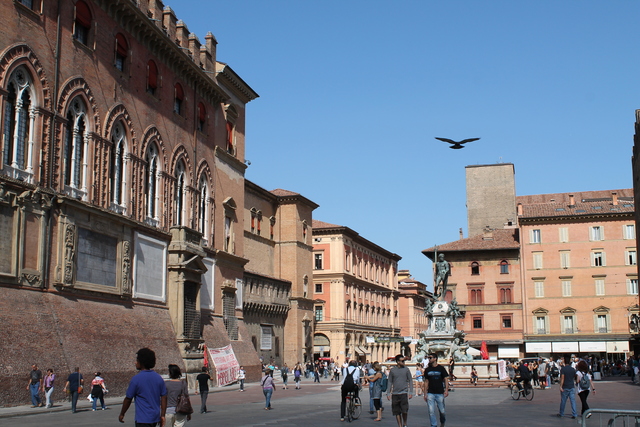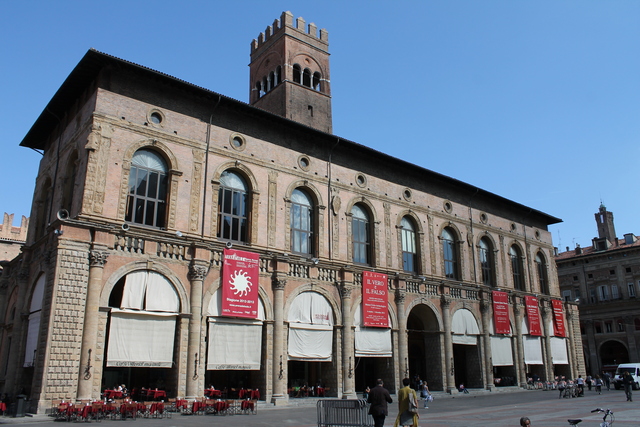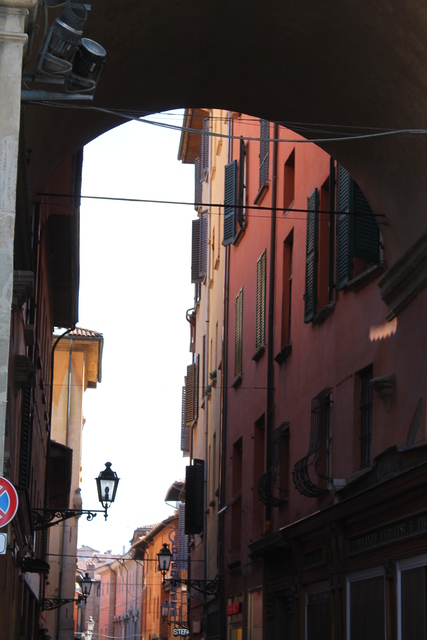 Of course you can't come to Italy and not go for a gelato, so that is exactly what we did next, stopping in a busy little gelateria and deciding from the huge selection of ice creams and sorbets on a nice refreshing lemon sorbet, simple but ever so tasty.
We headed back to the bike feeling refreshed and ready for a ride cross country to Modena, Italy, the home of the one and only Ducati Factory ! One thing I will mention which was a bit of a shock to me, was that shorty after escaping the busy town of Bologna and making it on to the Superstrada, lining the road was a few prostitutes ! You hear about them but it's a shock actually witnessing them on the side of the road touting for business, not a pretty sight at all.
The sun still shining brightly and the not too busy roads made for a nice uneventful ride, taking in the Italy countryside whilst hurtling cross-country with a degree of haste, only we didn't want to be late to the Ducati Factory, as you have to pre book the factory and museum tour weeks in advance, it would be a nightmare to come all this way and be late missing the tour!
The roads were a bit busier as we passed through Modena, Italy but thankfully we arrived at the Ducati factory with a little time to spare. I had read on-line before leaving that you are only allowed to park in the Ducati factory car park, if you are riding a Ducati and this even applies to the staff who work in the factory. Anyway I tried to enter the factory car park but they wouldn't let me through the gate, confirming what I had previously read on-line. We parked up on the road side just out front, along with many other bikes who belonged to members of staff. Time for a quick photo…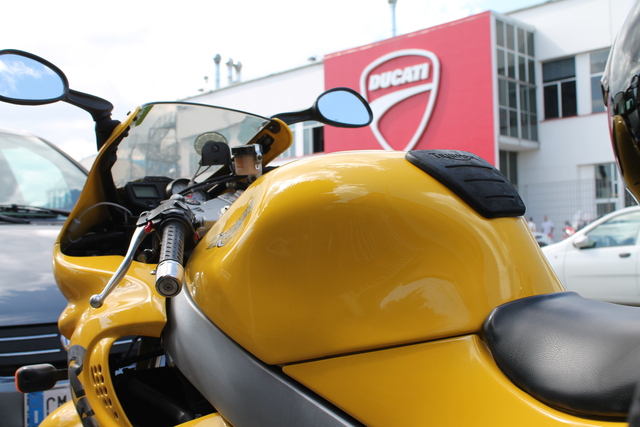 We waited at the entrance whilst other people booked on the tour arrived, an English couple on holiday in Italy were also booked on the tour, we got talking and they couldn't believe we had ridden all the way from Buckinghamshire, England to Italy, I think the guy was a little jealous hehe.
We were greeted by our tour guides and taken in to the factory, as you would expect nobody is allowed to take any photos inside the factory. We were walked through a few production lines, and shown how they assemble the engines and to my surprise each engine is built from scratch by a single person, rather than many people assembling just a small part of the engine. Once complete the worker takes his engine to a test rig, where it is then plugged in to an ecu, exhaust system and fuel lines and started for the first time. Providing all is OK the engine is put in a box and stored until it is needed, if it isn't OK the worker has to disassemble it and fix the problem.
We was then taken through to the assembly areas, where they have stacks of frames for all the different model bikes, racks and racks of suspension forks and rear shocks, the same for Brembo brake calipers ect ect, it was incredible. The next area is where the bikes are assembled, on your typical conveyor belt assembly line that most assembly plants use. It was amazing to think that every Ducati on the road today had come out of this one building.
We were then shown the locked door for Ducati Corse section, inside was where the future Moto GP and other race bikes are developed. All you could see through the window in the door was a couple of engines in display cabinets, everything else behind closed doors.
Now we were out of the factory and heading around to the Museum, which inside contains a whole host of historic Ducatis, along with a host of legendary world super bikes and on top of that every Moto GP world championship winning bike, excited was an understatement !
The tour started with a bit of history, telling us how Ducati started off producing radios pre WW2,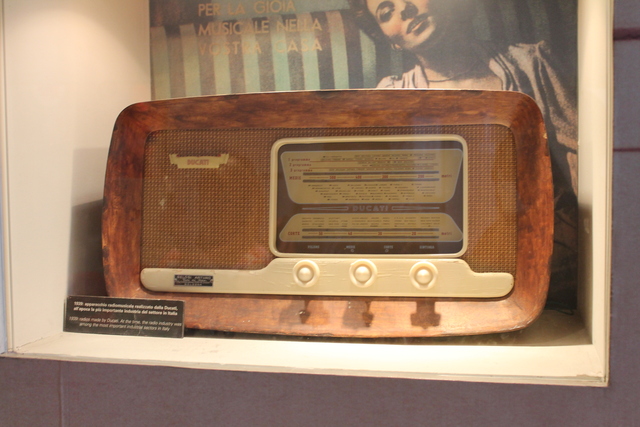 They then expanded and began producing camera equipment,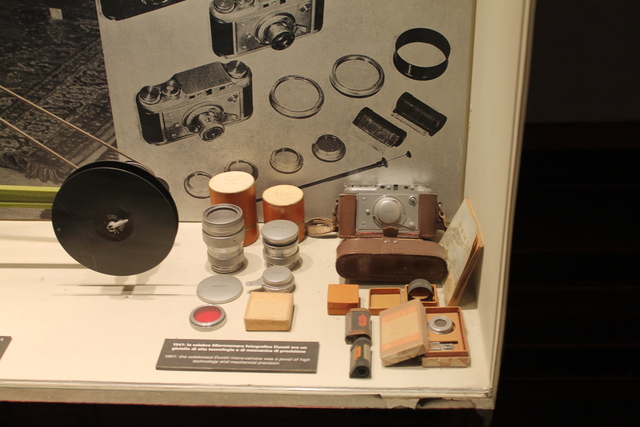 Then on to electric shavers and other radio equipment,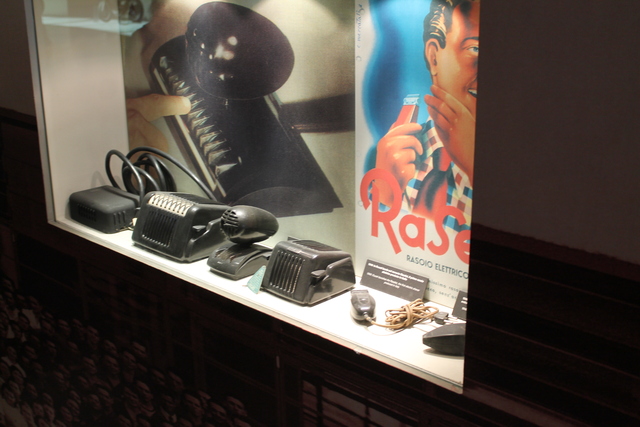 During WW2 the Ducati factory was bombed and everything was lost, people didn't have money to spend on radios or other electrical luxuries, so Ducati had to change and in doing so came up with a solution to the current transport problem. In 1946 they created a system which converted a standard bicycle in to a motorcycle, at the time everybody had a bicycle and the idea took off.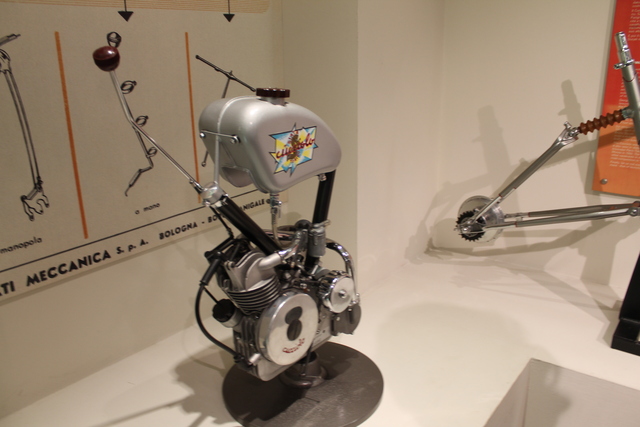 The product fitted to a bicycle,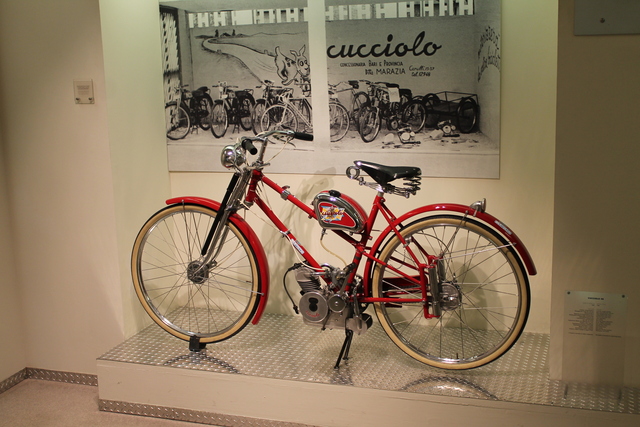 It was now that Ducati was making money and could grow, their engines were used in racing and before you know it they were producing motorcycles for racing. I don't remember everything which was said about each bike so I will show the photos I took and comment on any I know about.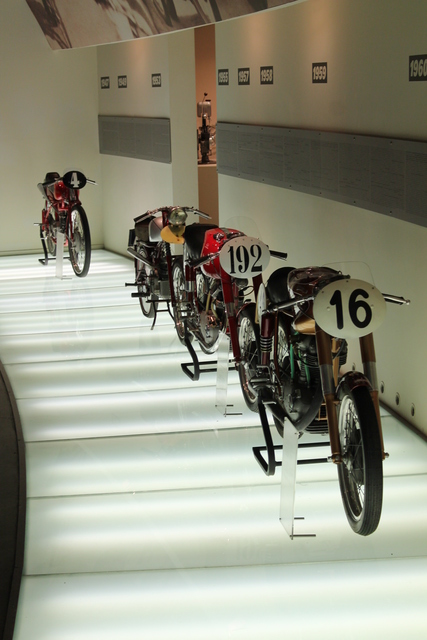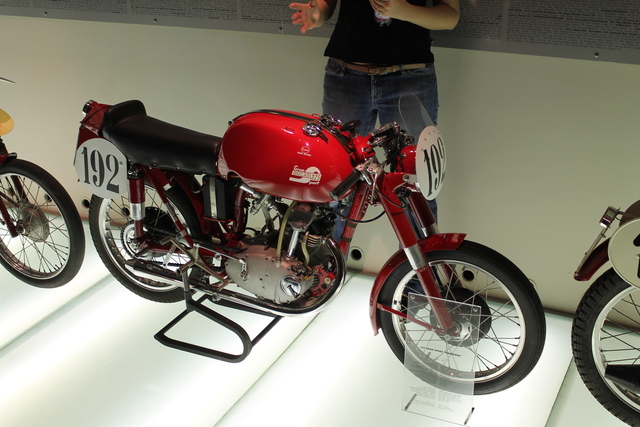 This bike above was used for road racing, but in those days it wasn't a closed well planned out course, instead you was given destinations and had to navigate there yourself using a map ! You can see the little loops on the top of the tank where the maps would have been tied to, I have much respect for the guys that competed in these races as it couldn't have been easy playing the role of racer, navigator and mechanic for when the bike went wrong ! You can see them again on the following bike,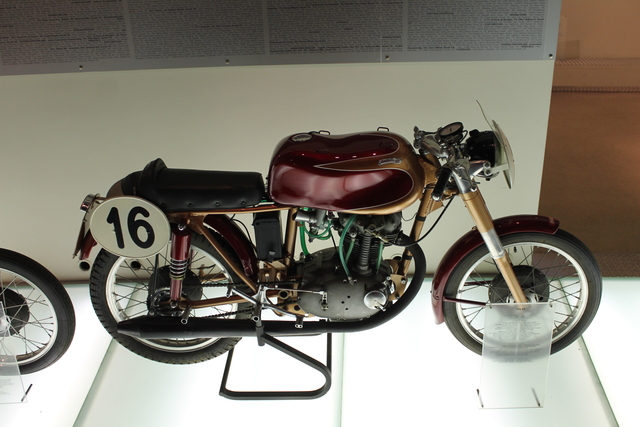 In 1957 Ducati were also involved in setting world speed records in this beast below,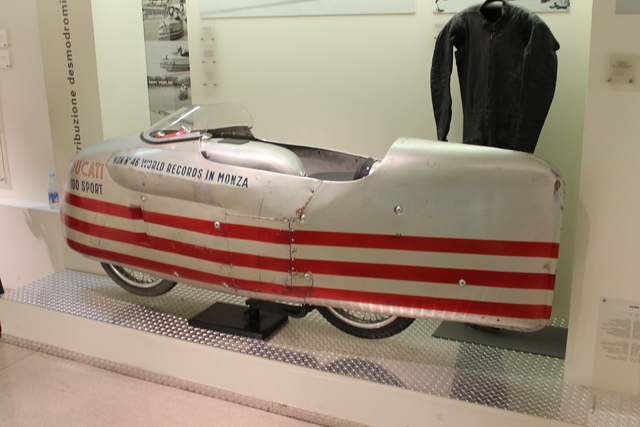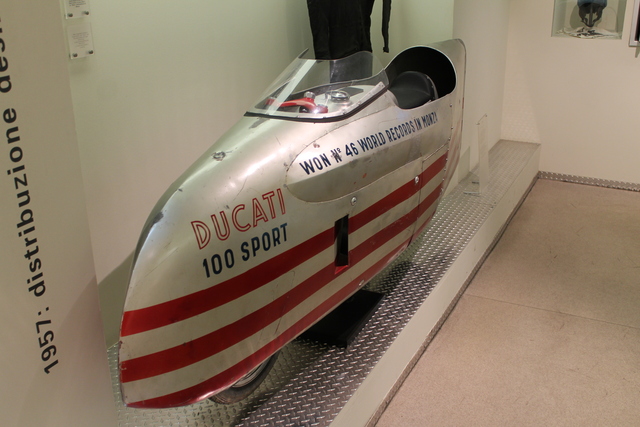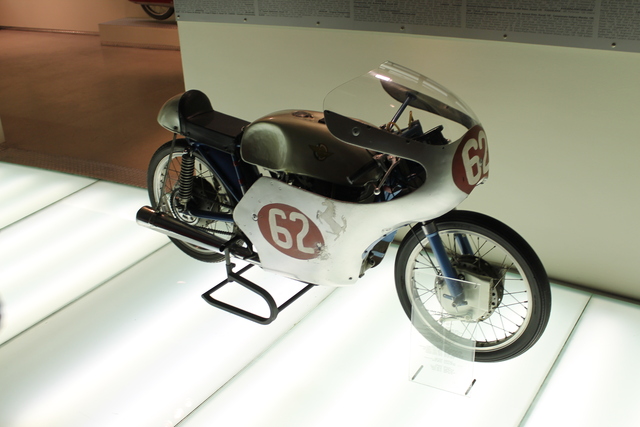 On the bike above, situated on the fairing  you can make out a prancing horse, which many of you will associate with Ferrari who are based just down the road from here, this is a big part of Ducati's history and can be seen on many of the bike from this era. I have pinched this snipped from the Ducati web site as the details escape me..
"For a short time, our racing motorcycles and a 98cc road version (called "Cavallino" in Europe and "Bronco" in the U.S.) sported on their side panels a horse identical to that of the Ferrari emblem. For those fond of old stories about Ducati, the symbol helped identify our motorcycles as "Ferraris on two wheels."
Around 1956, Fabio Taglioni, Ducati's head engineer, asked for and received approval to paint the noted horse on our motorcycles. The first bike donning this symbol was the 125 Triple Camshaft Desmo of 1956, which debuted and won the Sweden GP of that year. Later, other motorcycles such as the Marianna, several versions of the 175 F3, and the famous 250 Twin-cylinder of Mike HailwoodTM flashed the recognizable horse.
The reason why Taglioni chose the prancing horse is actually very simple: Fabio Taglioni was born in Lugo di Romagna, a town 35 km from Bologna. This same town was the birthplace of the most famous Italian personage of the First World War, Major Francesco Baracca, the Italian "ace" fighter pilot, who claimed 34 victories in air battles on the Italian front and then was killed on June 19, 1918 on Mount Montello.
Francesco Baracca was an official of the cavalry. In 1915, upon the outbreak of war against Austria-Hungary, he took his pilot's license. When Baracca reached his squadron, he decided to personalize his airplane by painting the fuselage with a black horse on a white cloud. Many historians of World War I maintain that Baracca painted the horse not so much as a reminder of his past as a cavalry officer, but to pay tribute to the cavalry corps to which he belonged, the Second Piedmont Cavalry. Indeed, this unit's emblem depicted a silver prancing horse against a red background.
In 1923, five years after the death of Francesco Baracca, his mother, Countess Paolina Biancoli, donated the symbol of her son to Enzo Ferrari as a "good luck piece". That year, Ferrari ran the Lugo Grand Prix with his stable, then equipped with Alfa Romeo racecars. Ferrari had no symbol for his team at the time, so he used the black horse against a yellow shield and placed a tricolor band across the top. The yellow represents Modena, Ferrari's birthplace.
An interesting fact is that both horses used by Ferrari and Ducati have their tails turned up, whereas Baracca's original had its tail pointed down.
The decision by the Ducati management of the era to fold the official racing team owing to the high costs, as well as a lack of respect for the history of the symbol, resulted in the disappearance of the horse from the side panels of our motorcycles.
Thus an incidental link exists between the "rosse" on two and four wheels, consolidated by the history of two legendary personalities. "
You can see it again below on this race bike belonging to the racing legend Mike Hailwood,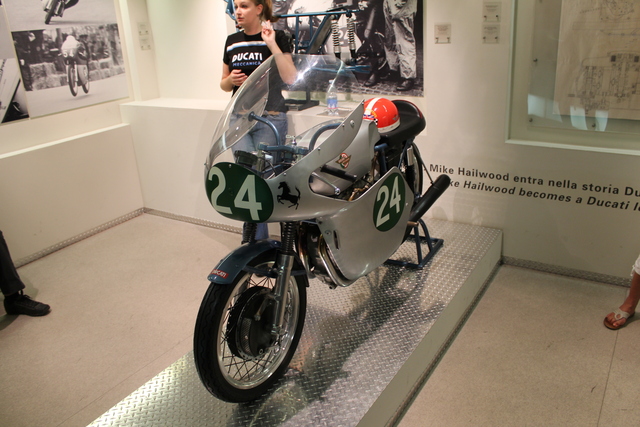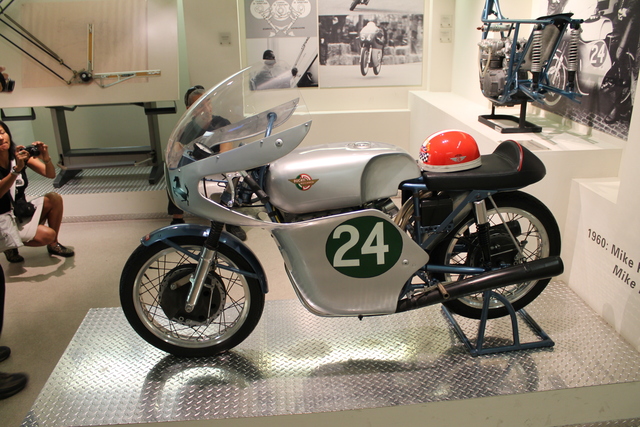 They also had another of his later bikes in the museum,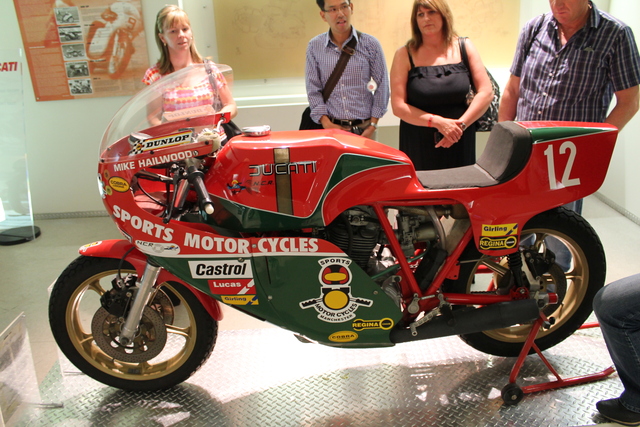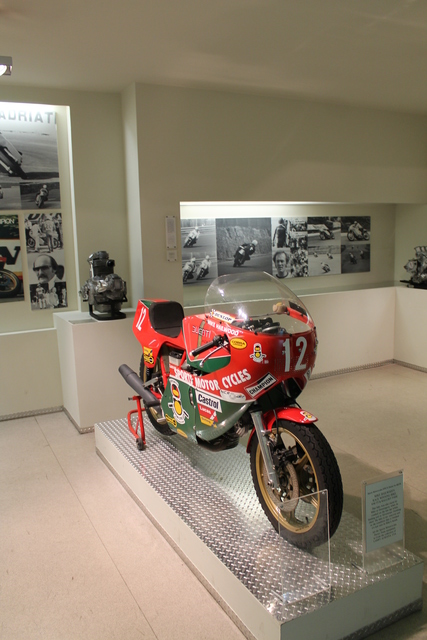 Racing leathers and helmets were a bit different back then as well,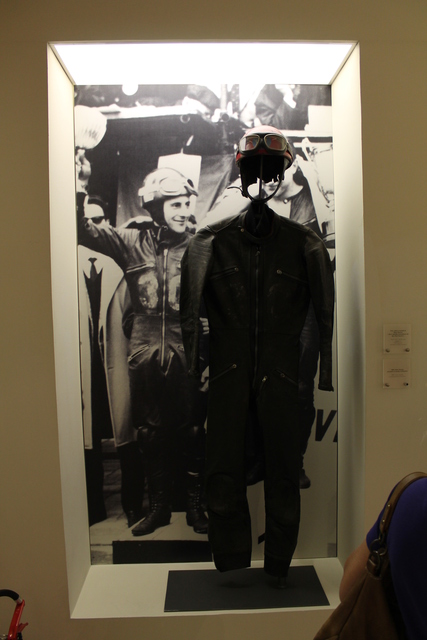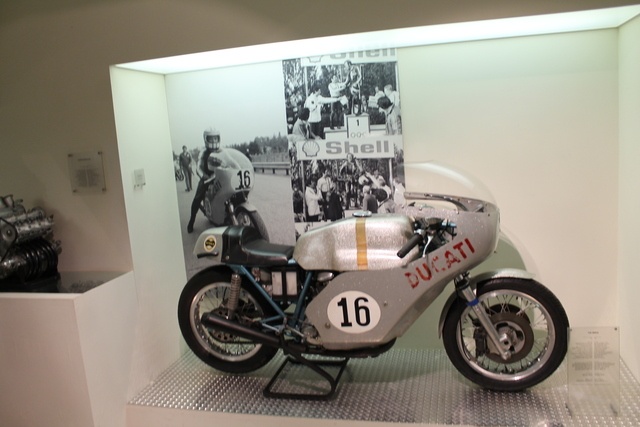 I don't remember the details about this bike/engine, apart from the fact it was a huge V4.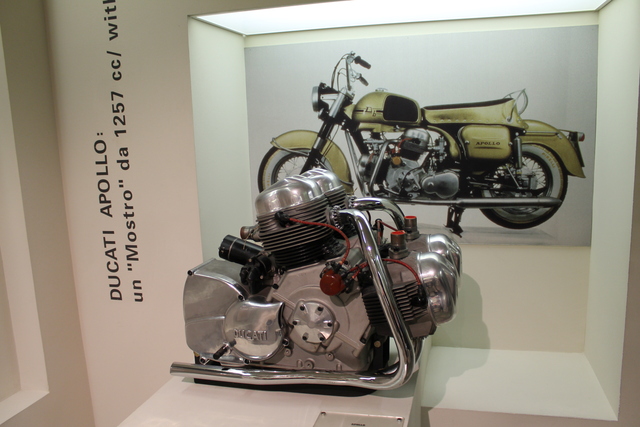 Nice twin shock Ducati,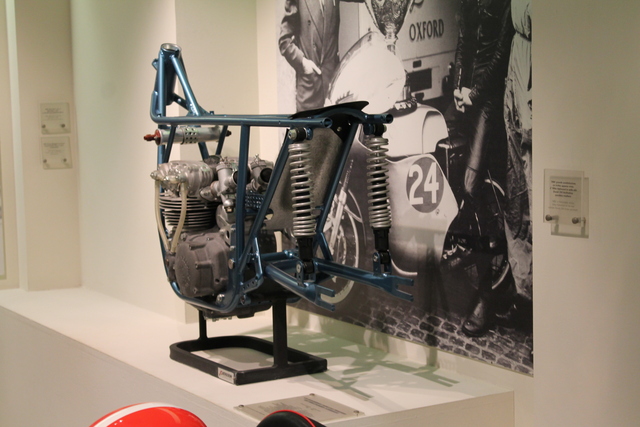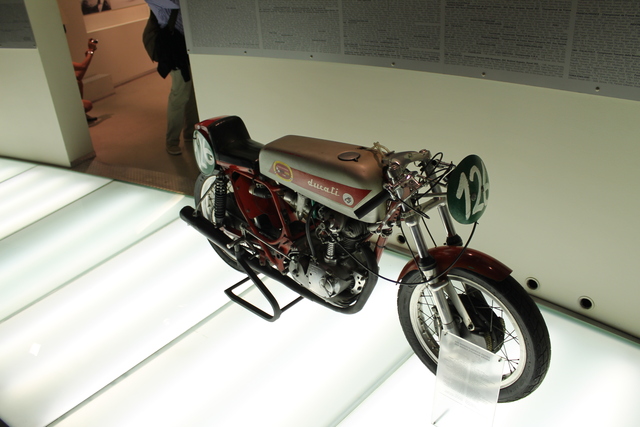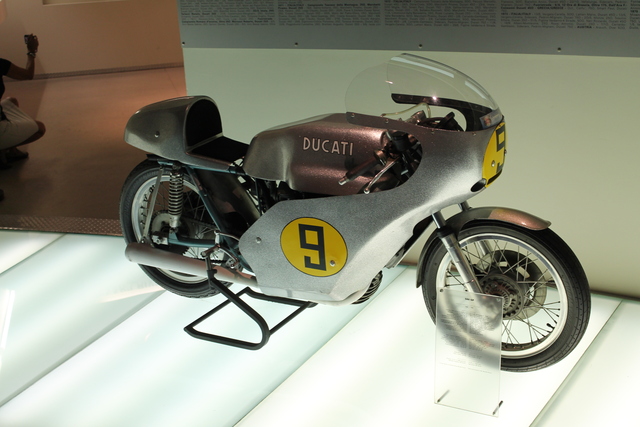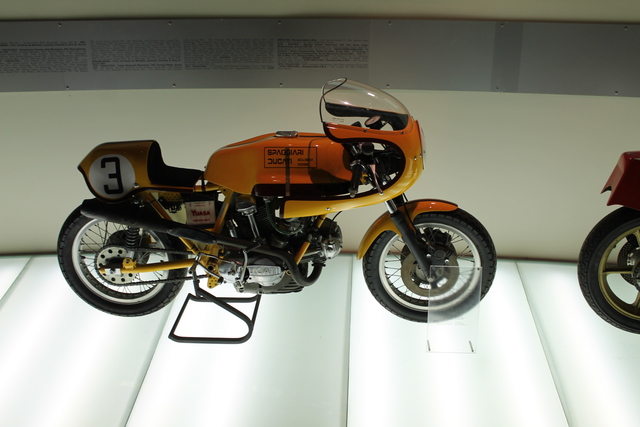 You may have noticed that Ducatis used to be mostly painted silver, it was in the 80's that they were painted in the rosso that we know them to be today.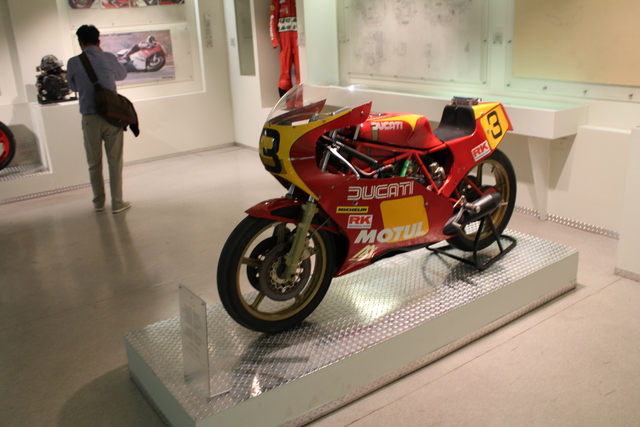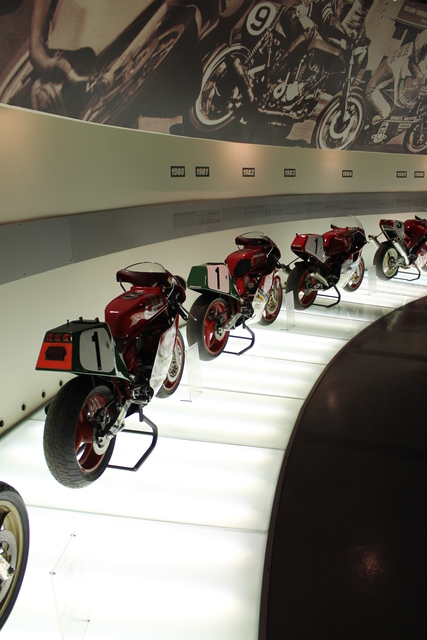 Below the WSB championship winning race bike of Raymond Roche,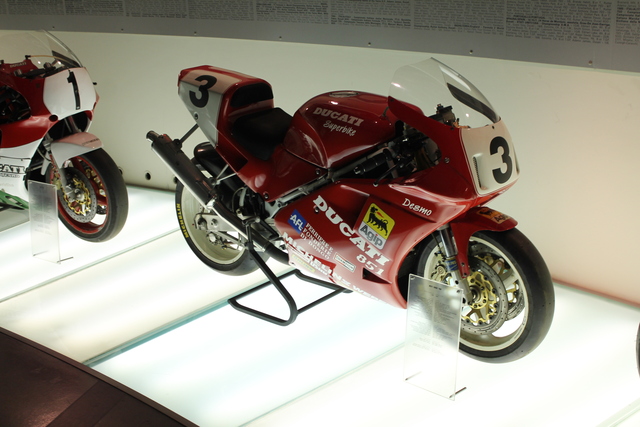 Below the WSB championship winning race bike of Doug Polen,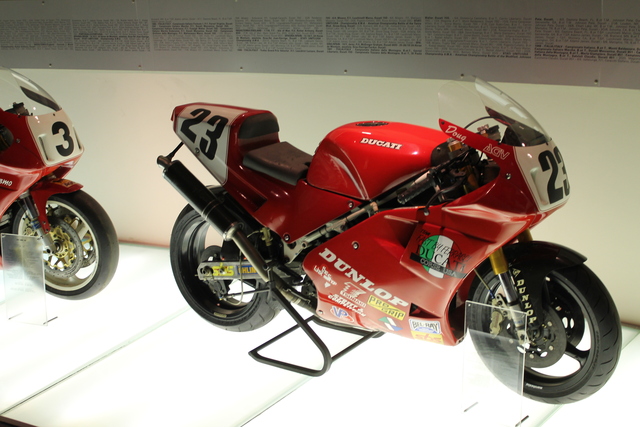 Ducati was in a bit of a financial pickle, being funded by the Italian government who had now decided that they didn't want to fund the company any more.  It looked like the end for Ducati, fortunately in 1985 they were saved by a lesser known Italian motorcycle company named Cagiva. They had a Dakar winning Cagiva here in the museum.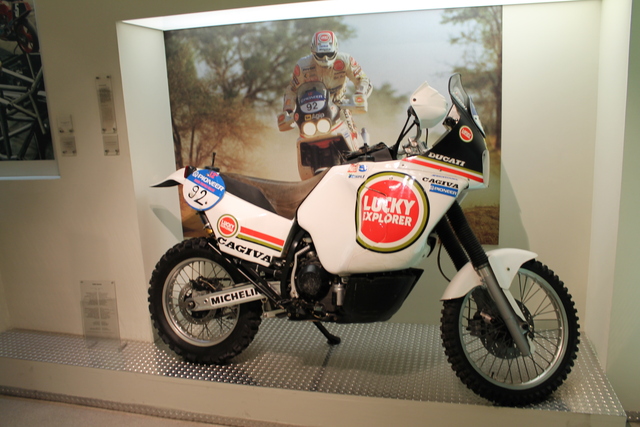 Ducati changed hands a few times over the years before returning to Italian ownership in 2005. Earlier this year the company was bought by German owned Lamborghini S.p.A as a bit of a Trophy purchase.
It was in the 1990's that Ducati built what to this day I feel is the best looking bike ever made, even as I type this is 2012 I have to say it still looks modern and sharp. The legendary Ducati 916, ridden by the also legendary Carl Fogarty.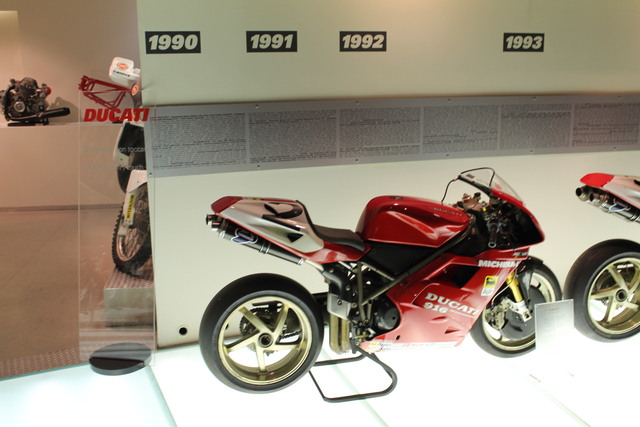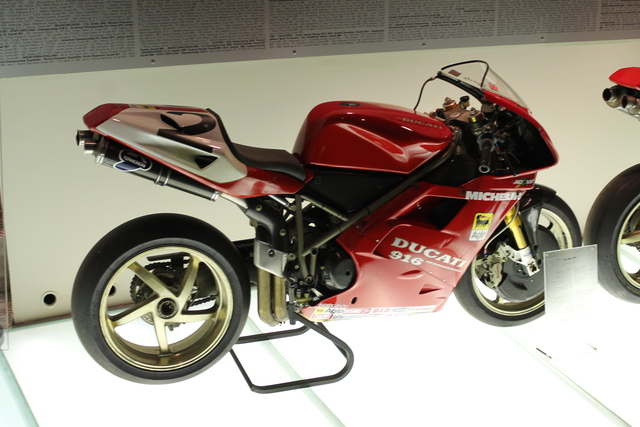 All of Carl Fogarty's WSB winning race bikes live here in the Ducati museum.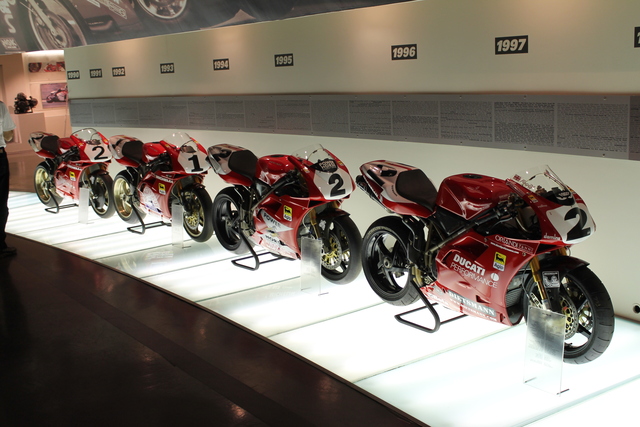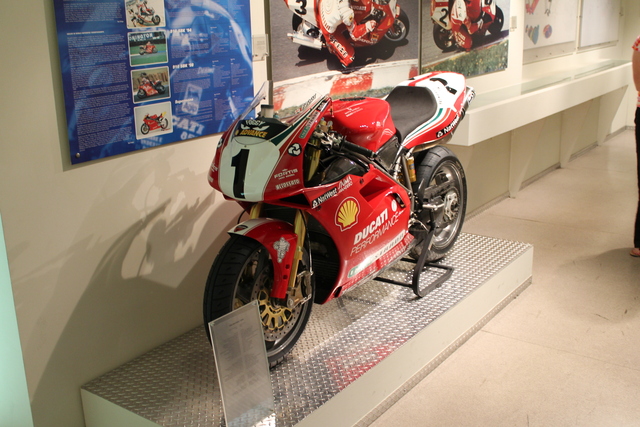 Ducati even competed state side in the supermono single cylinder race series.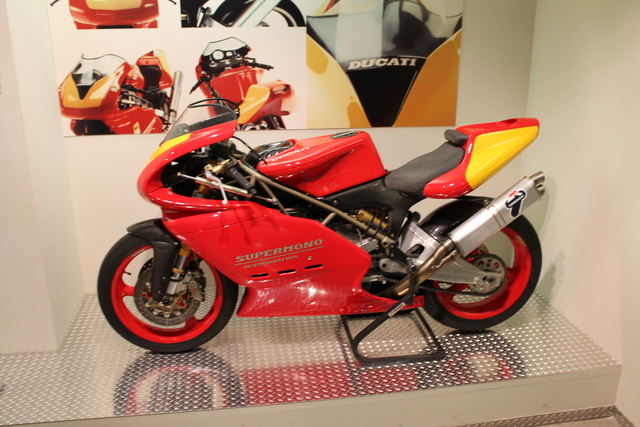 We were then led around to a section where all of the Moto GP championship winning bikes live, riders including Loris Capirossi, Casey Stoner and Nicky Hayden. The bikes in this room were those people only normally see on TV or from the stands at a race. Here I was inches from them able to look at every fine detail and poke at the odd component, it was better than all my birthdays and Christmases rolled together!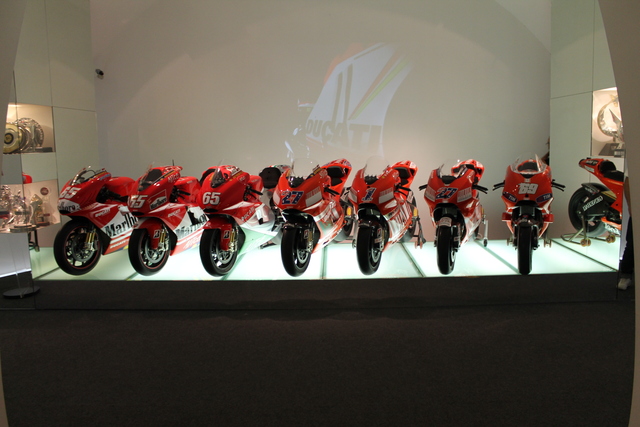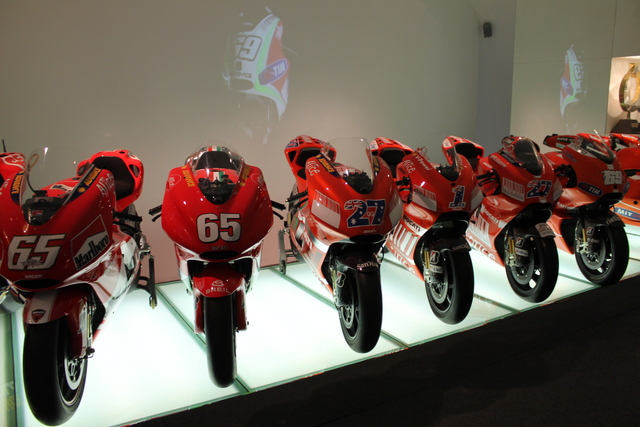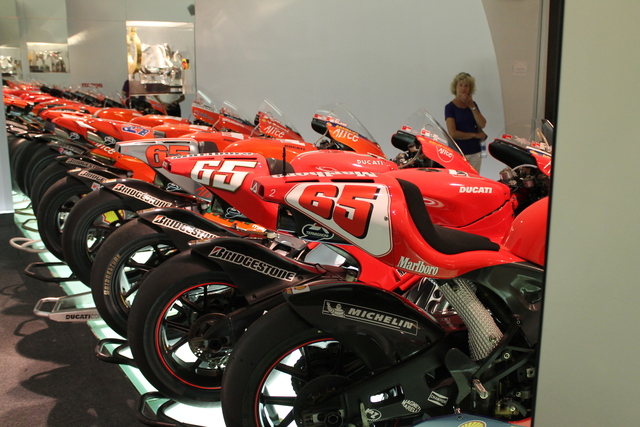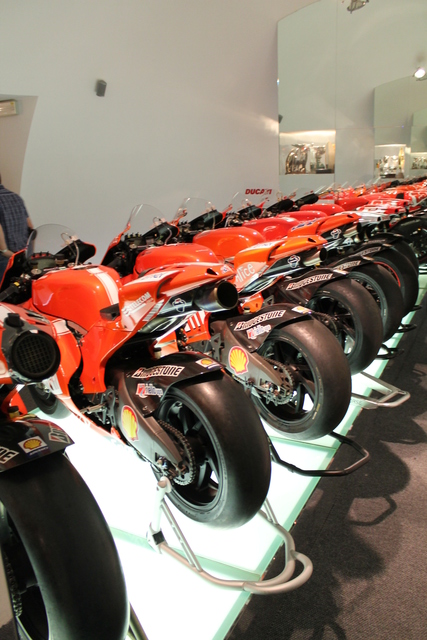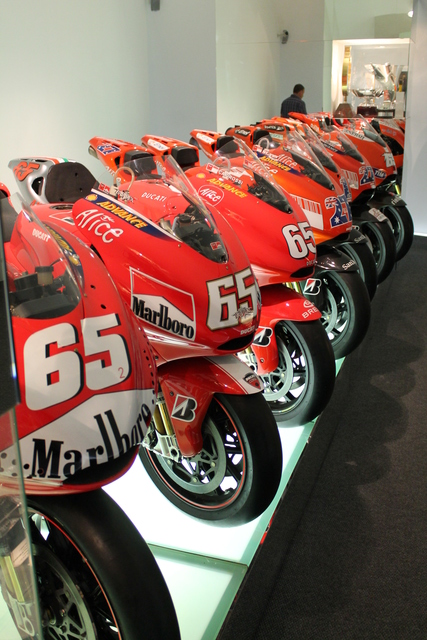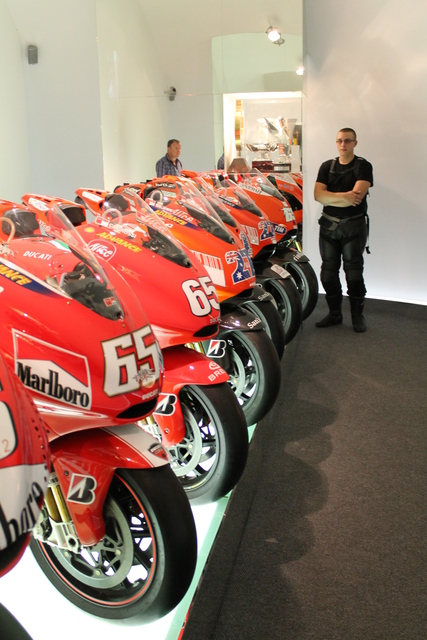 The carbon fibre frame from Nicky Hayden's bike,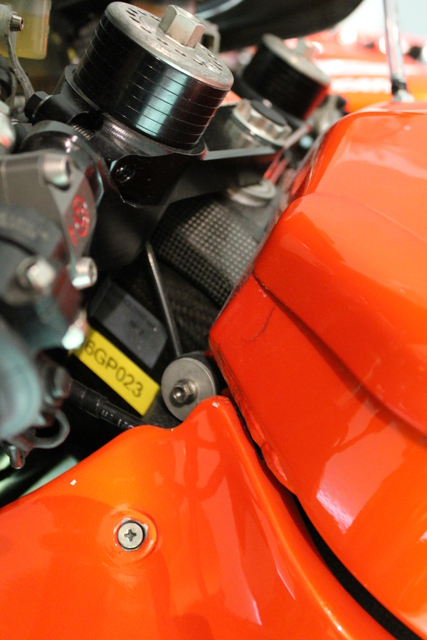 The cock pit from Nicky Hayden's bike.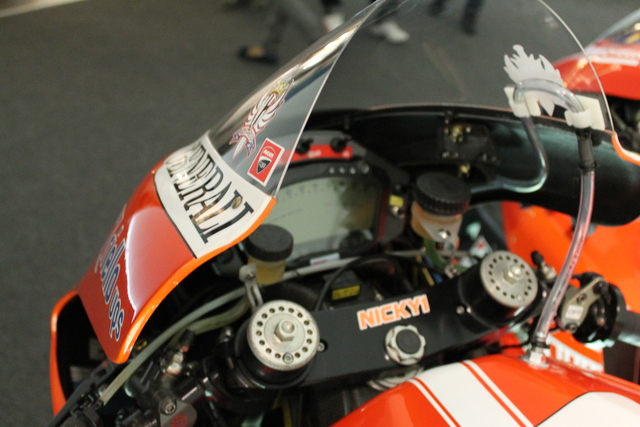 Even the trophy cabinet was huge,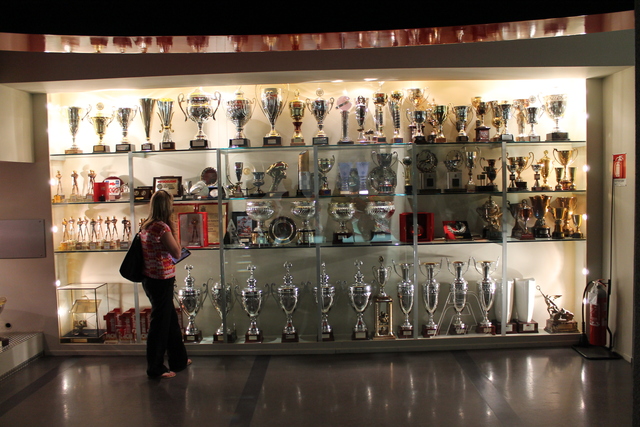 By now we had seen everything in the museum and decided to leave, our next destination being Venice, Italy which was at least a two hour ride away.
The ride to Venice, Italy was again rather straight forward and with the sun now slowly lowering in the sky as evening set in, it wasn't as hot as earlier in the day which was a relief. The roads were mostly Superstrada and must more pleasantly to ride when compared with the large boring Autostrada.
We found the campsite without any issues, quickly signed in and setup the tent. The first thing I noticed was the abundance of mosquitoes flying about and already trying to eat me for tea, it's a good job we came prepared with mosquitoe repellent !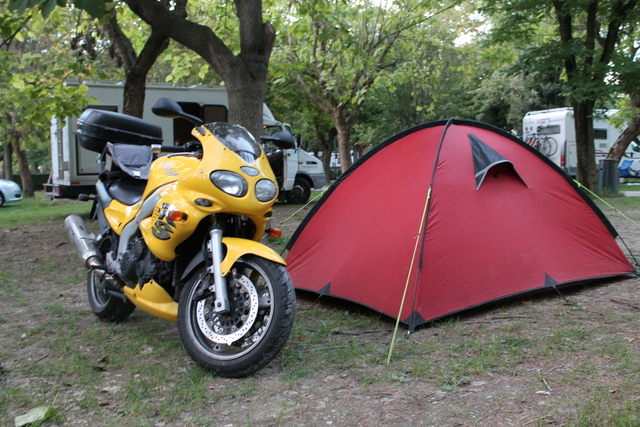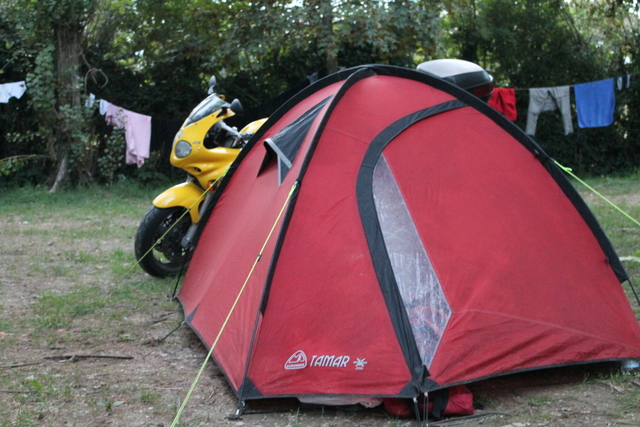 Before heading in to the centre of Venice to find some dinner we hung up some of our still damp clothing which had spent the day in a nice warm, damp pannier… I think you get the picture.
We purchased some bus tickets from the Camps reception and headed up to the main road to catch a bus. We had been on the bus for about 20 minutes before it became emptier and emptier, it then stopped in a city and the remaining passenger got off.. it appeared we had got on the correct numbered bus but heading in the wrong direction ! A quick conversation with the Italian bus driver of whom we didn't really understand, saw us walking down the road to another bus stop, this time heading in the right direction !
Eventually a bus came, already quite crowded and even more so now the dozen people at the bus stop with us had boarded. Trying to keep to the back of the bus as we now had the wrong tickets for the journey we was making and didn't want to get caught. Eventually the bus arrived in Venice, Italy and we set off to buy some dinner.
It was now dark which was a little frustrating as we wanted to see Venice whilst it was still light, which we would have done if we had not wasted an hour on the buses. Oh well worse things could have happened.
Unfortunately Kelly's camera isn't that great at taking photos in the dark , so most of the photos of Venice are a bit blurry, but you get the idea.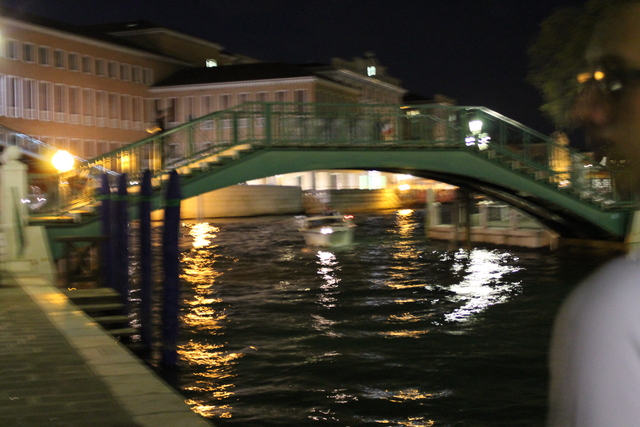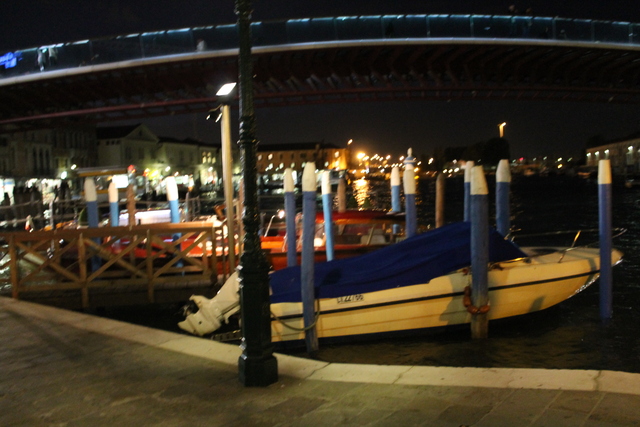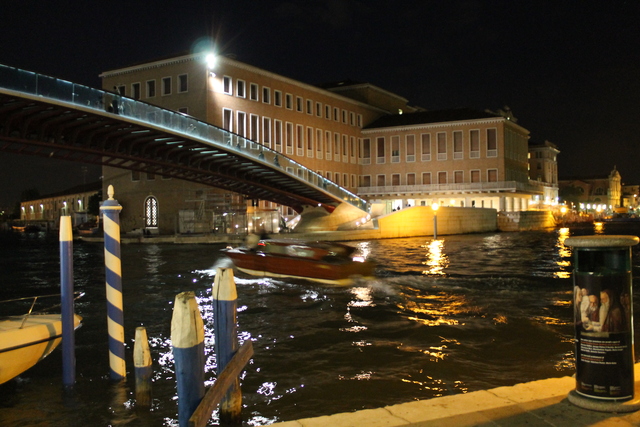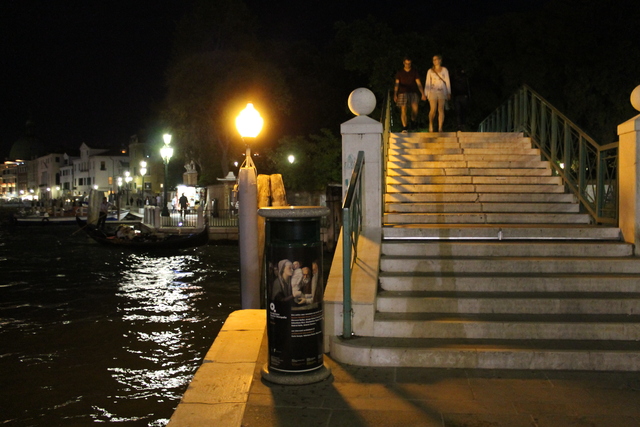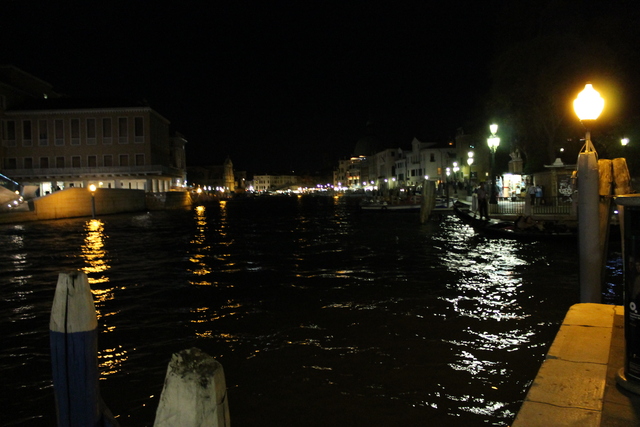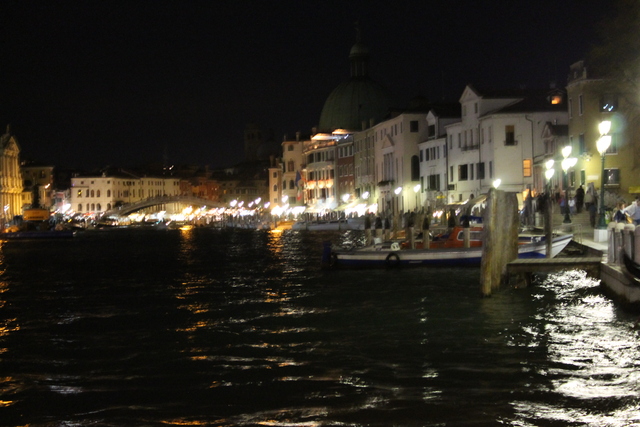 One thing we soon discovered was how expensive Venice is, all the restaurants were really overpriced and busy, I much preferred the less touristy places that we have been to so far. We bought some Pizza from a takeaway and wandered about the town taking in the sites.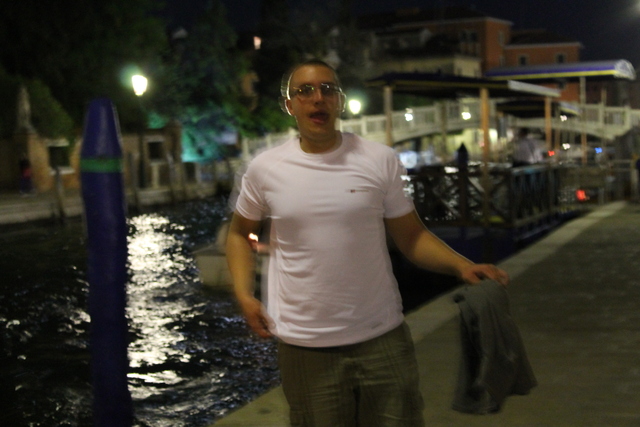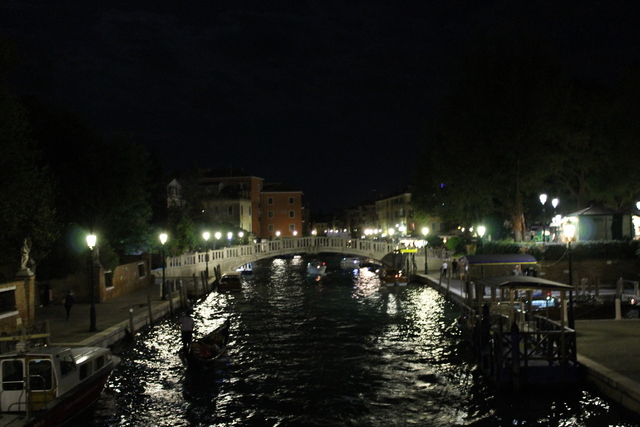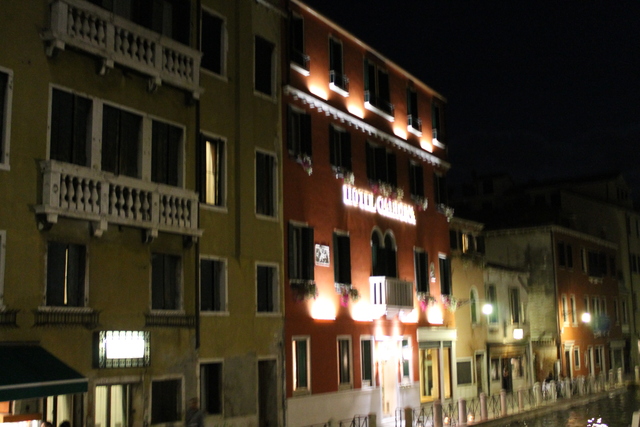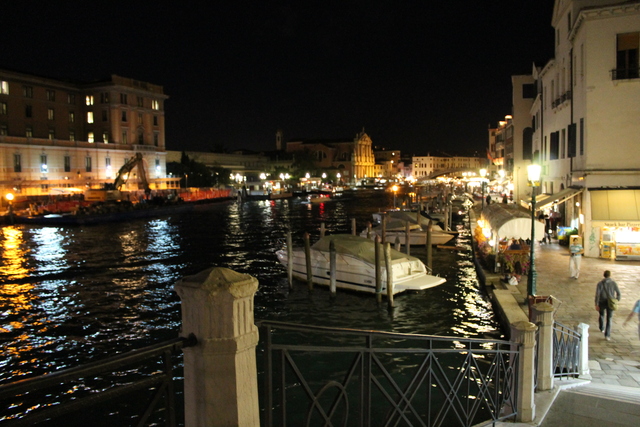 We stopped and had an espresso each along with bit of cake, it had been a very long busy day and both of us were really feeling tired now. Now back at the bus station we jumped on the correct bus back to camp, before very quickly getting to bed and some much needed sleep.
I have to say I wasn't impressed with Venice one bit, I know it was dark and we were both tired but it felt so touristy and spoilt, it made it hard to enjoy. Maybe one day I would come back but it certainly wouldn't be in a hurry, unless of course people tell us different.
In the next instalment we will be crossing the Alps again and heading up to Austria.