The day started early, at 03:30 to be precise and unfortunately I had only slept for four and a half hours due to staying up until 11pm looking for my recently purchased road atlas of western Europe, which to this day I still haven't found. We loaded up the bike the night before so that we only had to stick on our bike clothing and could immediately head off to Folkstone to catch the euro tunnel, which was booked to leave at 07:00. The journey was a two and quarter hour ride, on mostly motorway during the freezing dead of night and rather unsurprisingly the roads were empty and the ride trouble free.
Once arriving at the Euro Tunnel check in you are greeted by several automated machines, which required either the card you purchased your tickets with or a booking reference number. Being organised I had the card in my bum bag, unfortunately the machine wasn't having any of it and wanted the booking reference instead, which of course was in my rucksack ! Having to now get off the bike along with Kelly and have a rummage through my bag with my numb cold hands, the cars sat behind getting increasingly frustrated with the delay, the reference number was found and punched in the machine, the barrier goes up and I run through with the bike to get out of every bodies way. Rucksack on, gloves on, hit the button to start the bike and nothing happened ! Shit, now what's wrong… now I blame it on me being half asleep at this point but I think I forgot to pull the clutch in, which you need to do to get the bike started, anyway the bike started and we headed off to the departures area. By this time I was cold, hungry and needed the toilet. Bladder emptied and coffees ordered we could now take a moment to relax, knowing that soon enough we would be in France and the tour would be well and truly under way !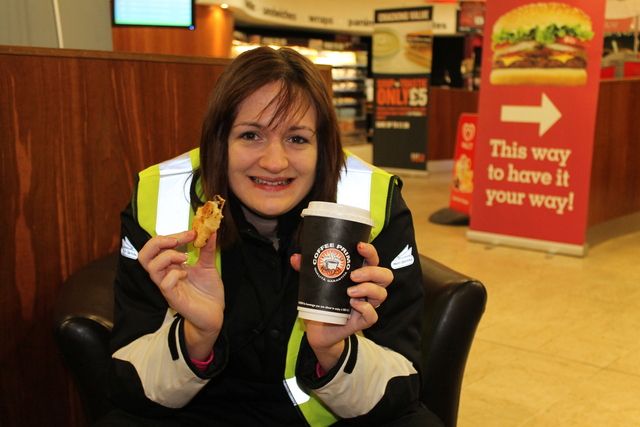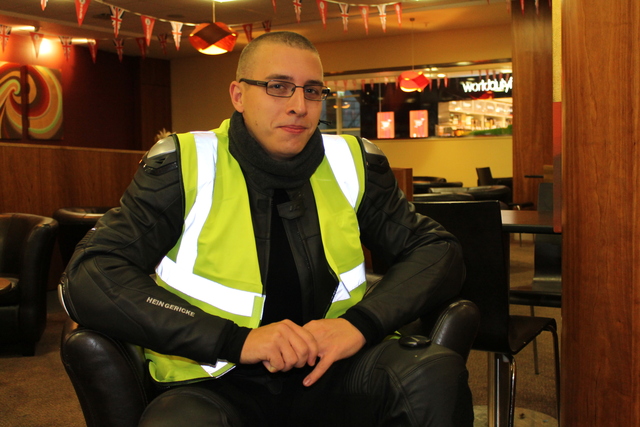 Before we new it they started loading our train, so gear on and off we went to load the bike. We found ourself sat in the queue waiting to be sent around to the train, unfortunately our train was full even though there was still a dozen bikes and cars not on it, we were told we would have to wait for the next train which leaves in about 40mins, Joy. We were eventually sent around to the other train and on the way there we was waved through passport control, mainly because we were on a bike and it's a pain in the bum to keep getting documents out.
We eventually got loaded on to the train, in our carriage a couple of cars and four other bikes on their way to watch the World Super Bikes, we spent the time chatting with them and laughing at them taking the piss out of each other.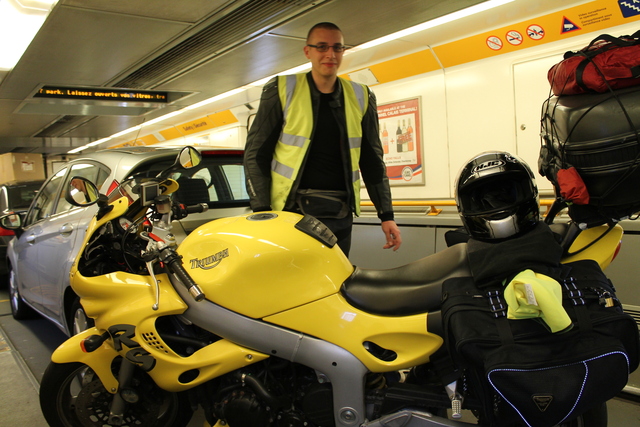 On the train there isn't anywhere to sit if your not in a car, so you either stood up against the edge or sat on the floor. The train does clonk about a bit and the bikes did move, it's a good idea to stand near the bike just in case it does try to fall over !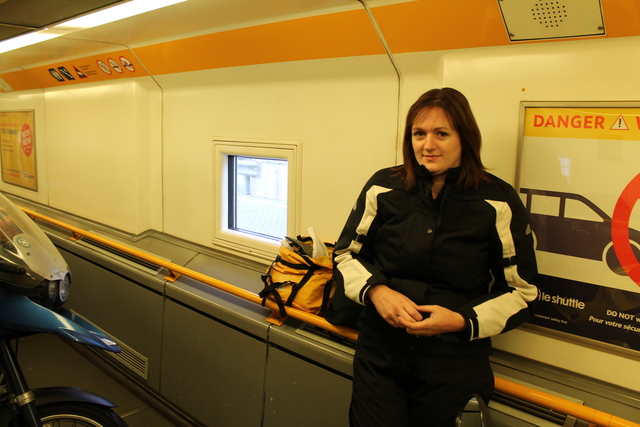 Before you know it your in France, I think the train was only moving for about twenty minutes which is a lot faster than the ferry ! Helmets on, ride off the train up the exit ramp straight on to a French main road, no Passport control or anything, only a petrol garage which for being in such a prime location was very well priced ! A quick stop for fuel we were now on our way. Due to a road closure and a lack of concentration we had a slight detour around  a place I think was called coquelles, followed immediately by a second lap of the same place… We eventually found the correct road and headed off towards Amiens, taking in some beautiful scenery in the process. The roads very similar to single carriage way A roads in the UK, running through the French countryside and going through many a nice small village along the way.
Arriving in Amiens for around lunch time, the sun was shining yet there was a chill in the air. We stopped in a cafe and grabbed a bite to eat and a drink, Kelly had a Croque Monsieur and I opted for a hot dog.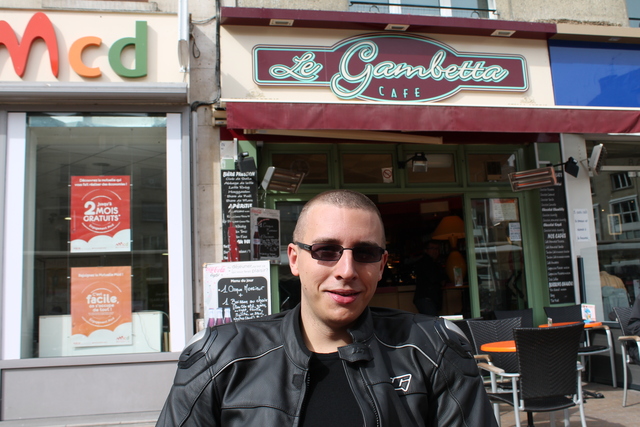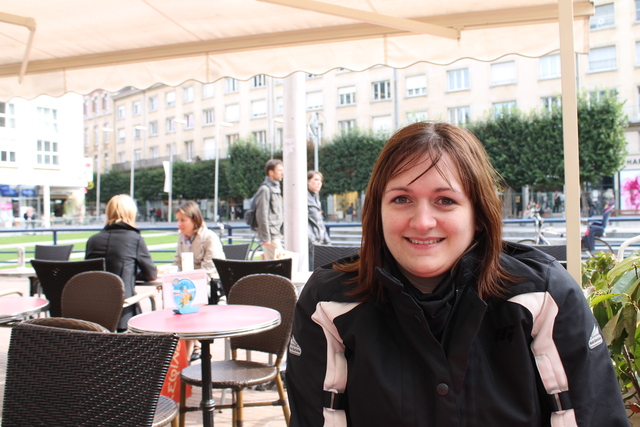 Amiens was a nice clean town, with no tourists and gave the impression of being fairly modern yet you could spot plenty of older building down the smaller streets along with it's stunning cathedral situated to one side of the town.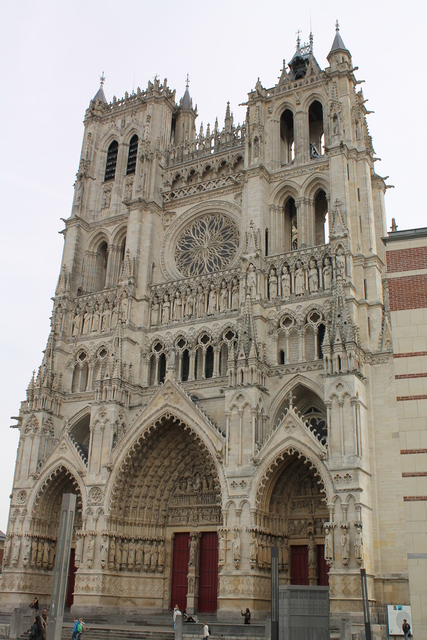 It was now time to jump back on the bike and make our way down to Paris. More of the same lovely roads and villages, unfortunately we came across another closed road and had to follow the diversion signs, which paired with the sat nav lead to us going around in another circle. We followed the diversion for a bit long but we soon hit a snag, the diversion signs said straight off in the wrong direction but the sat nav said to go down a gravel lane, which wouldn't have been an issue if I wasn't on a full loaded +200kg touring bike. Whilst deciding what to do a car pulls up and a little French lady asks if we are lost, she spoke some English and said we should go down the gravel track "It's ok on bike and van but car will go long way round", having spent a fair few days green laning in the past I though screw it lets take the gravel road, the lady drove about ten meters away then sat and watched, giving us a thumbs up out the window. The road was deep gravel and took some paddling with my legs to keep the bike up right but we made it to the end in one piece.
Back on the nice flowing roads we eventually came to the french motorways which run in to Paris and of course it started to rain, a lot. We eventually ended up on the Boulevard Périphérique, a ring road around Paris some of which is in tunnels and is solid traffic the whole way around, oh and to make matters even more interesting filtering through both gaps in the traffic were bikes, scooters and those three wheeled scooter things which I kid you not were doing at least 40mph even in the heavy rain ! It took a serious amount of concentration to try and keep up with them and out of the way of the cars, being beeped every so often by a scooter to get out the way because I want going fast enough, not being 100% confident how wide the bike was with panniers I didn't want to push my luck, yet I managed to clip a couple of wing mirrors… just so you can see how bad it is I pinched these photos off Google, just image it's pissing it down as well.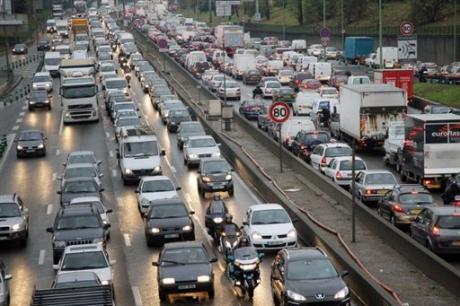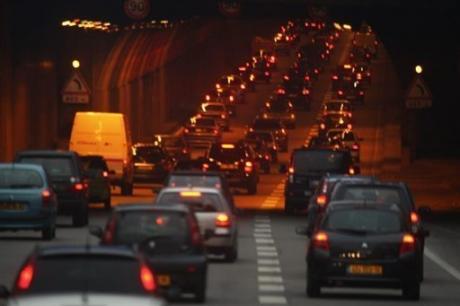 Would you do +40mph through that traffic on a fully loaded tourer in the hammering rain ?
After fighting through the traffic we made it in to central Paris, I went down in to a private car park but the bloke wanted to charge us four Euro's for an hours parking, bugger that I will dump it up on the street with all the scooters ! Bike parked we then wandered off in the rain to find the Eiffel tower, I had never been to Paris before and though it was pants, it's exactly like London except it's French and I'm not that fond of London any way. Mandatory photos of the Eiffel tower taken, along with the river and place we was cowering under to avoid the rain, helmets still on to keep our heads dry !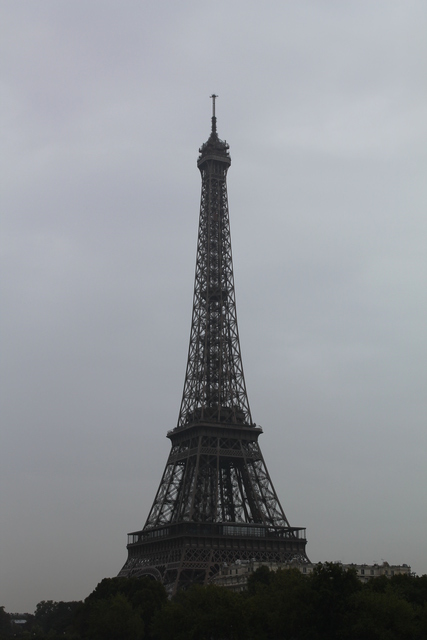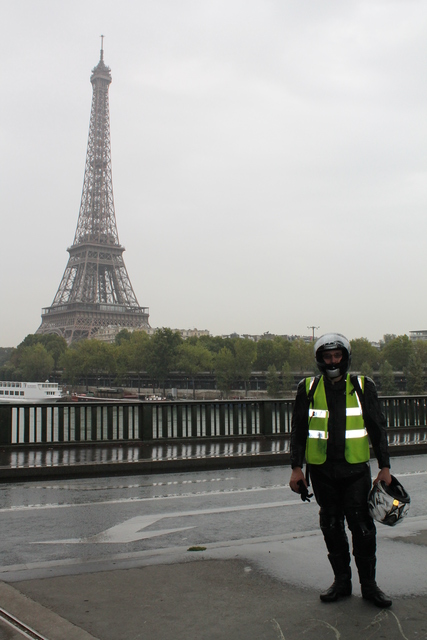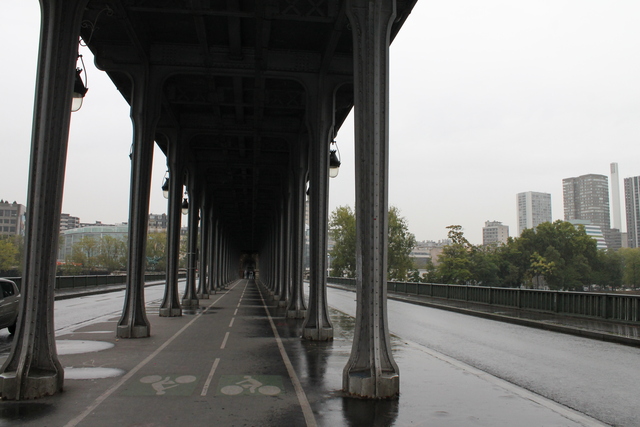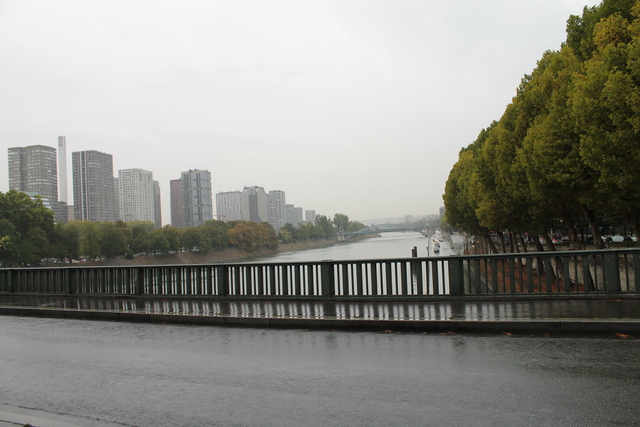 We headed back to the bike and would try to make our way out of Paris again via the Boulevard Périphérique and on to our planned camp site in Melun. Within a few miles of driving around Paris my fuel light come on, unfortunately I forgot to reset my trip meter earlier in the day so I wasn't expecting it to come on already, not a problem I though I have the sat nav, I found the nearest petrol garage, then setting it as my destination off we went. Unfortunately the petrol was no more, instead some new apartments were in it's place, we went through this process a couple more times before I though enough is enough, I will get out of Paris and find one, knowing though that I was running on fumes and wasn't sure how far I would get.
We made it to an area outside of Paris (I didn't catch it's name), were the inevitable happened and we ran out of fuel ! I got out of the road and managed to ask a French lady where the nearest garage was, she pointed down the road and said it was about 3 minutes away, result ! After some huffing and puffing along with trying to negate some barriers to stop cyclist crossing the roads which wasn't much fun we then arrived at a petrol garage, well two infact directly opposite each other ! Of course the one I chose was unmanned so pay at pump only and no surprise they didn't take Visa, a bit more huffing and puffing later and we crossed the road to the manned BP garage and managed to fill up, what a relief !
Back on the road and out of Paris we headed to Melun, it was still raining so we opted for the motorways rather than the scenic route. Arriving at the camp site just before it got dark, with just enough time to get the tent up and unpacked for the first time. Rather than cook dinner we rode in to town where we had a Pizza and French Fries, then popping in to a local shop for a baguette and some eggs for breakfast. A short ride back to the camp site and that was us done for the day, soaked and tired having been up and on the road for nearly 19 hours we headed off to bed. We didn't even take any photos this evening, but we did the following morning.
Overall a wet busy and tiring day, France is a nicer place than I expected and the people are lovely, but I don't rate Paris very highly.