Another nice nights camping was had in Belfort, France. The weather stayed dry and was plenty warm enough the whole night, the camp site was nice and quiet being mostly camper vans this time of the year. We had a long day ahead, Belfort was quite close to the French border so it wouldn't take long to get in to Switzerland, then over the Alps in to Italy. The facilities at this site were better than the previous, the showers were nice and hot and the whole block was heated so you wasn't getting dressed in the cold. Showers were had followed by a quick breakfast of tea and pastries, oh and just a quick note to mention that dried milk is crap and my tea was lumpy, it takes a right knack to get it all dissolved properly. Some how we managed to get ahead of schedule, so we wandered around to a huge lake at the edge of the camp site to stretch our legs in prep for a long day in the saddle.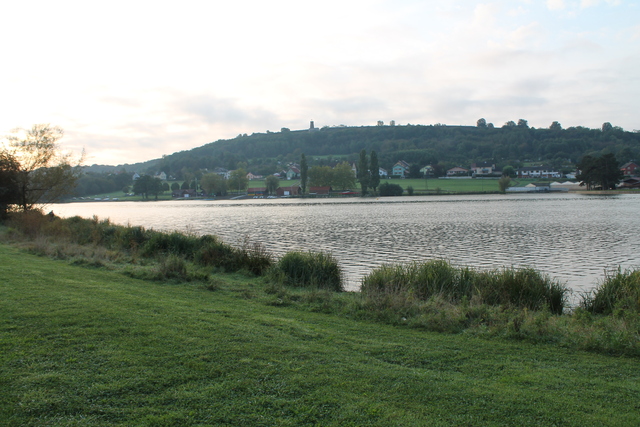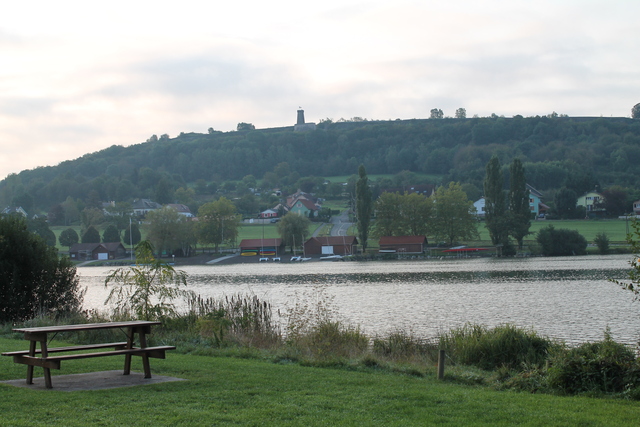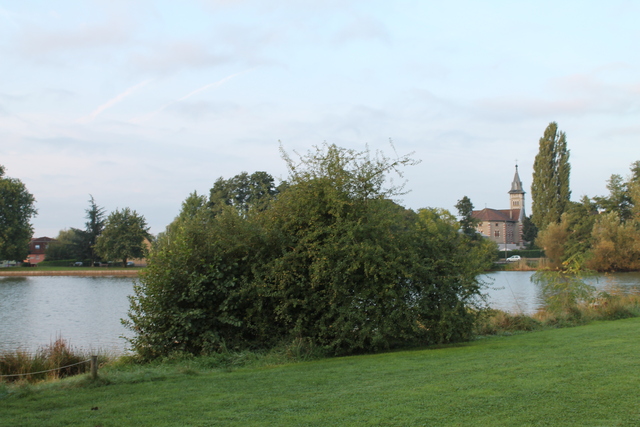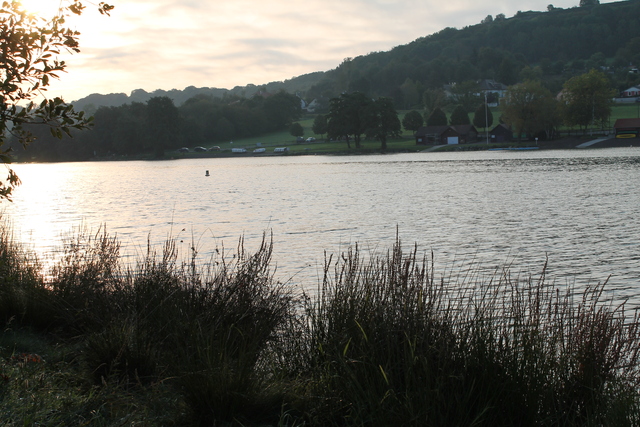 Even though it was still early, there was many a fisherman out on the lake. Can't blame them really as it was a lovely morning to be outside.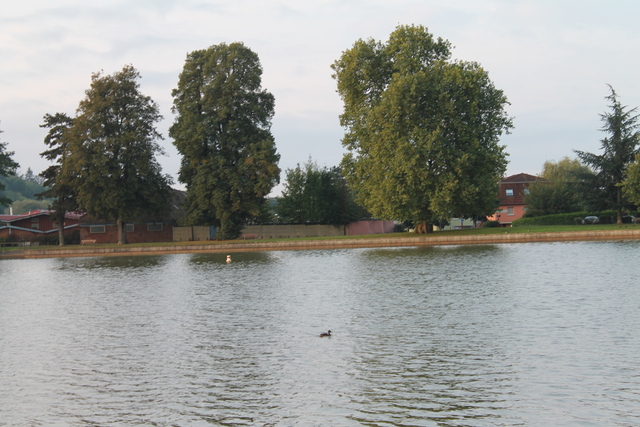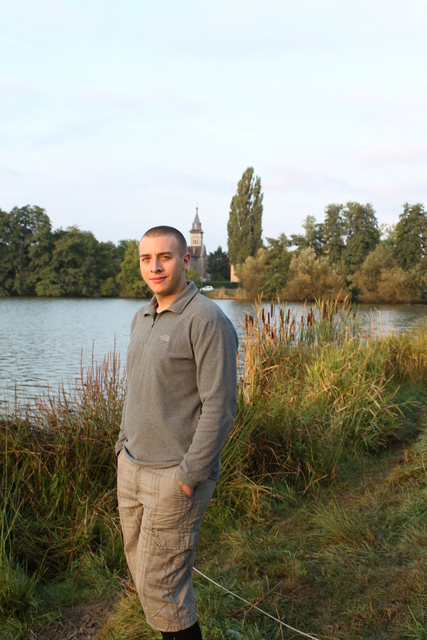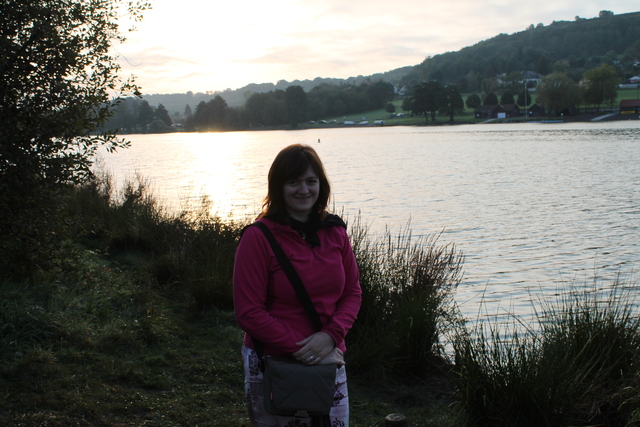 We headed back to camp to get everything packed away and to put our bike gear on. Our first destination of the day being Basle, Switzerland. The weather was a little cool first thing, but at least it was dry. The roads were good following the same pattern as the day before, although the villages were more frequent. You could tell you was approaching Switzerland as the style of houses started to change, they all now had long sloped roofs which over hung the houses by a couple of meters, very traditional in style and I guess what you might call an  "Alpine house" , very pretty looking. The nice roads eventually turned in to motorway which after a fair few miles we pulled in at some services to have a stretch and get a snack in the form of a croissant along with a drink. The weather was a little foggy and damp, fortunately it wasn't too cold.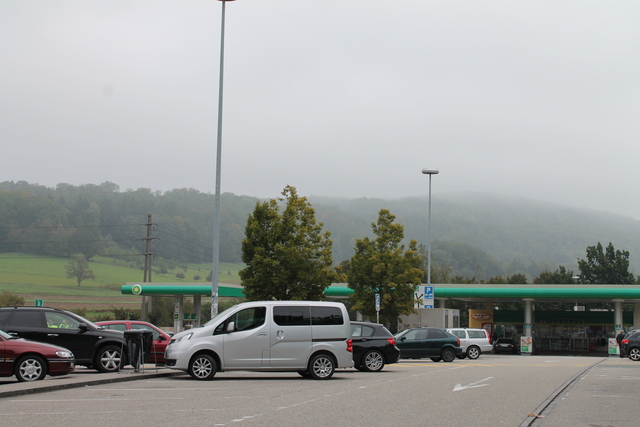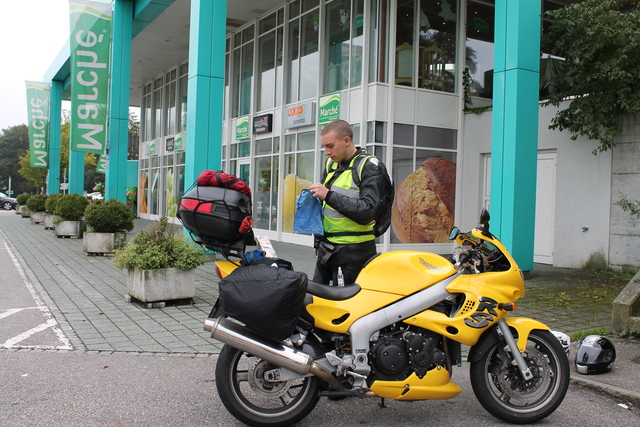 With the amount of miles we were covering my visor and glasses were getting coated in dead bugs, so I took a moment to have a clean and fortunately I packed a little spray bottle of visor cleaner for the trip. As the motorway entered Switzerland there was a check point were I stopped to purchase a "vignette" from a member of staff. In Switzerland you have to purchase a vignette, which is a sticker that allows you to drive on the motorways for that year, it was about forty Swiss Franks which is about twenty seven Pounds. The vehicles entering Switzerland all had to slow down to a walking pace where they were inspected to see if they had a vignette or not.
Back on the road again we arrived in Basle, Switzerland, the one thing I remember distinctly about Basle was the amount of tunnels, many of which have junctions and due to being underground the sat nav didn't have any reception which lead to us getting a little lost. We eventually found our destination, only to discover everything is shut on a Sunday in Switzerland, even a huge shopping centre ! After having a little walk and a quick toilet break we decided not to stay here any longer and get back on the road to Lucerne, Switzerland.
Not much to report regarding the roads as we were mostly on a Swiss motorway, we came across some traffic as we entered Lucerne due to some road works, which then took us on a slight detour where we eventually dropped in to the main part of the city. There were plenty of bikes parked up out side the bus station, which is where I managed to squeeze us in between a couple of little scooters.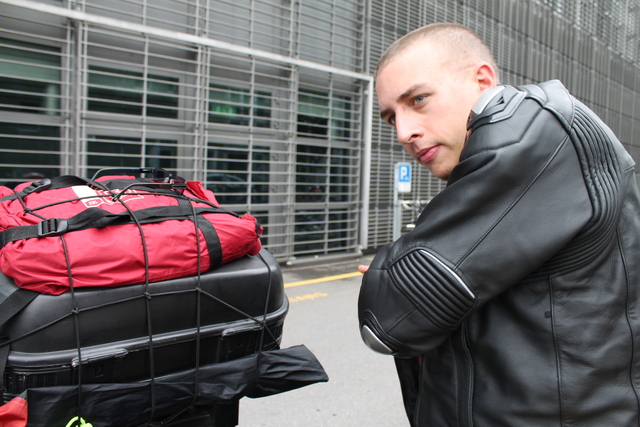 Lucerne is a beautiful place, I imagine it gets really busy here in the summer as even though it was cool and foggy when we visited there was still plenty of tourists about.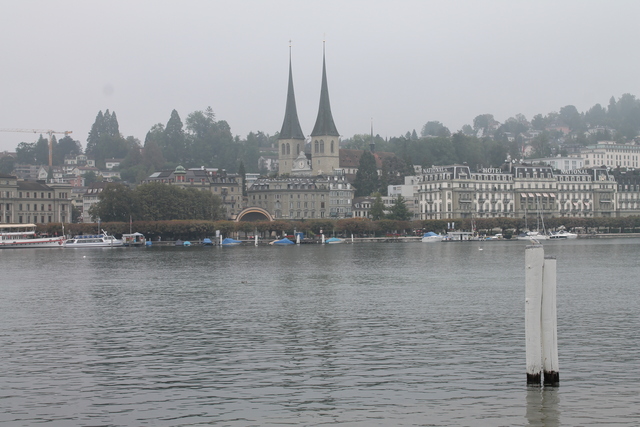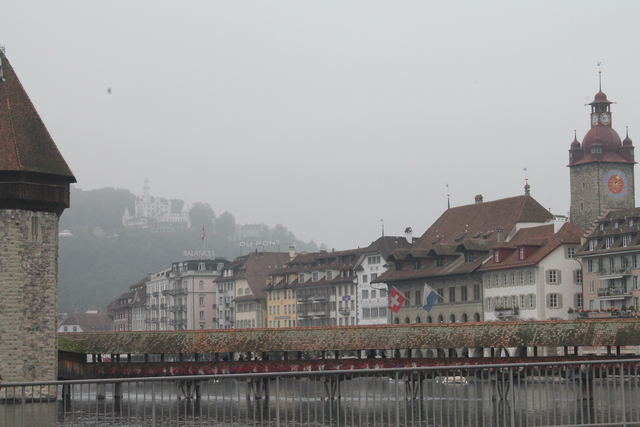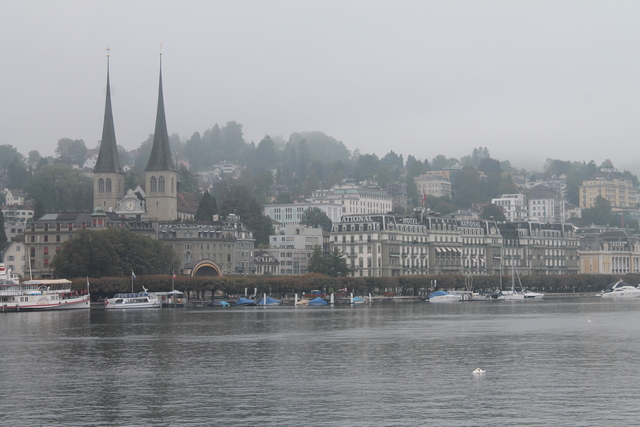 There is a beautiful wooden bridge over the lake, decorated with a stunning array of bright flowers.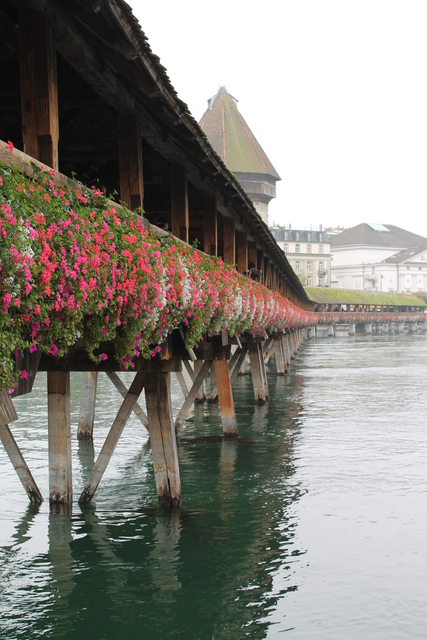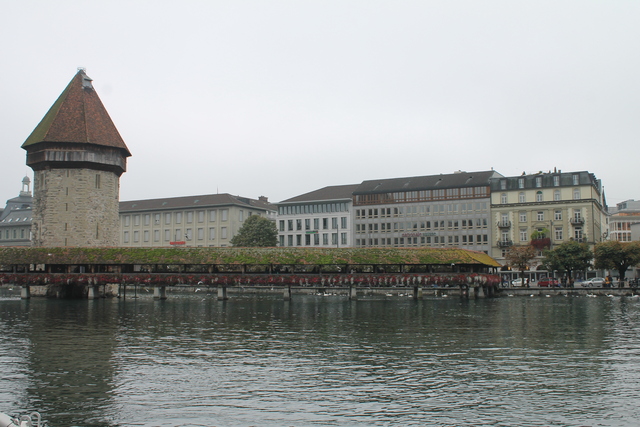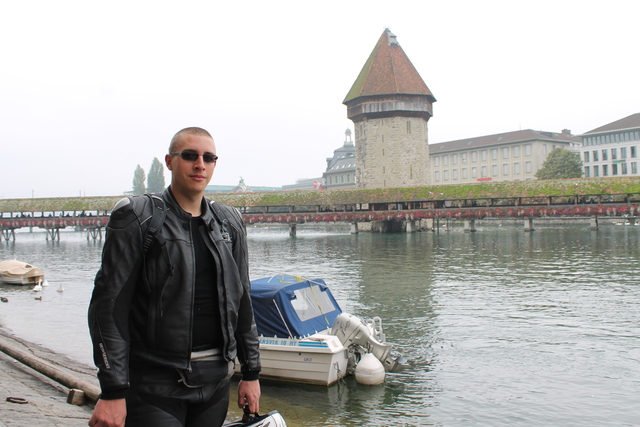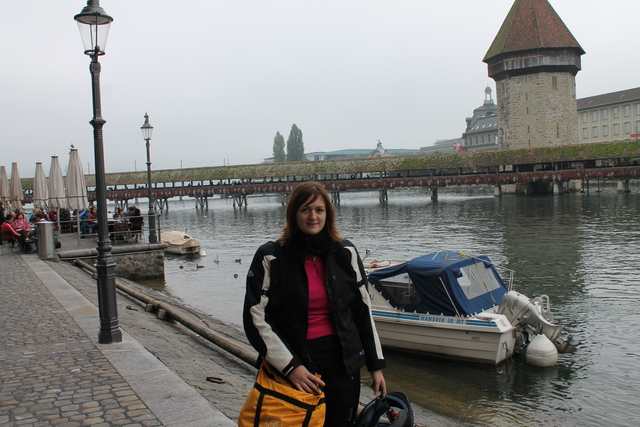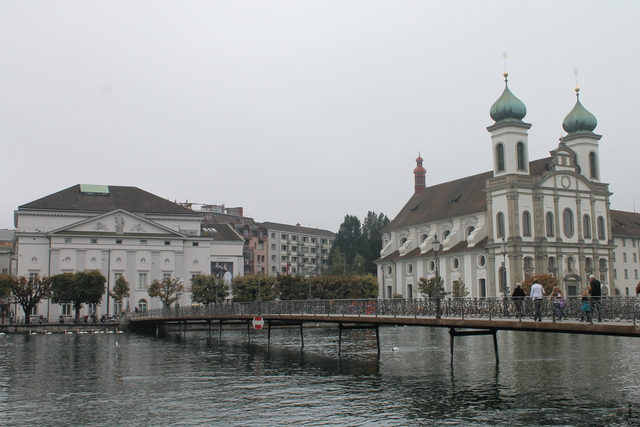 Many of the buildings in and around the city were decorated with elaborate paintings and stories.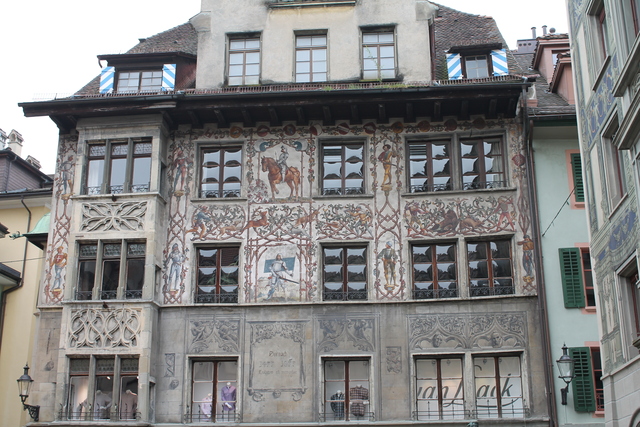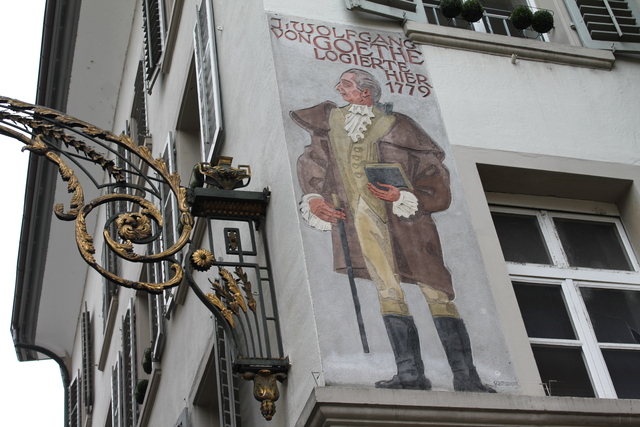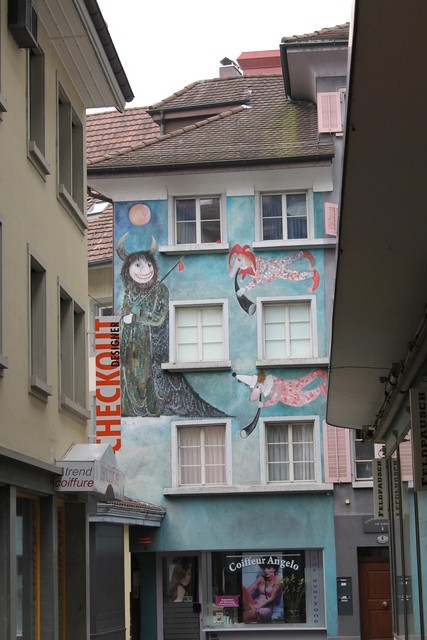 By now it was lunch time so we went on the hunt for a cafe or cheap restaurant to grab a bite to eat, neither of which really existed here as most of the restaurants were expensive and a bit posh.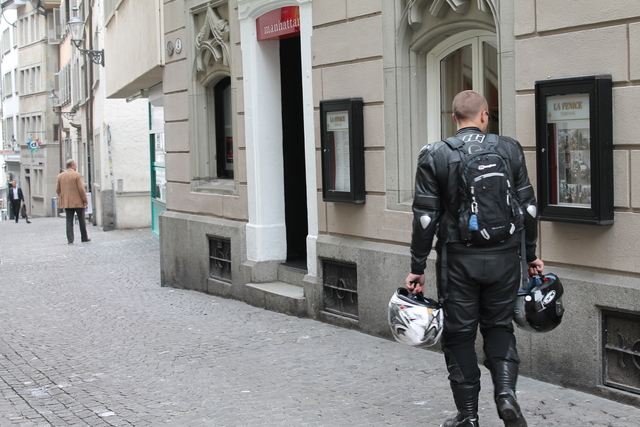 After walking about for quiet some time we found a sandwich / chocolate shop where we got a roll each, we then wandered down to the edge of the lake to eat and watch the world go by. I don't know what I am doing in the photo…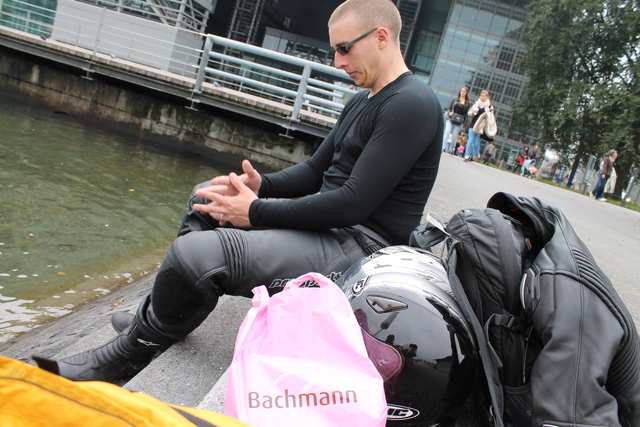 The local wildlife soon became interested in what we were eating.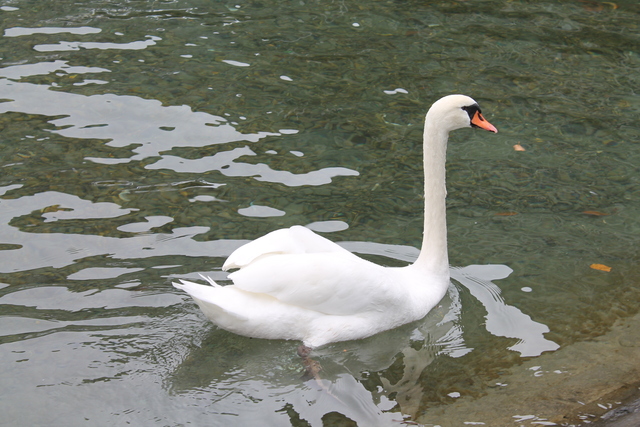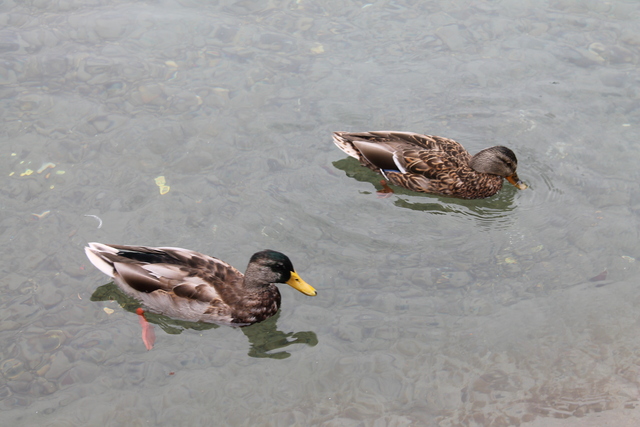 Once lunch was finished I had a quick trip to the loo, unfortunately there was only a men's toilet and no sign of a public women's toilet anywhere ! Kelly said to just stop at the next services we come across. Back on the bike we was now heading to our final destination of the day, Lake Como, Italy. This journey involved crossing the alps, something I was a little nervous about as I wasn't sure to expect.
After riding for a while and passing through a few tunnels we reached a stunning flat area with the high mountains towering above, there were plenty of houses and farms in the area including a certain popular brand of German supermarket ! Unfortunately for Kelly everything was shut and not a toilet in sight. On a positive note the weather was glorious !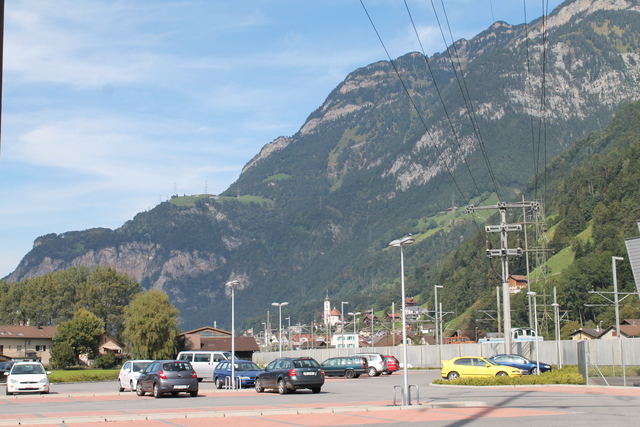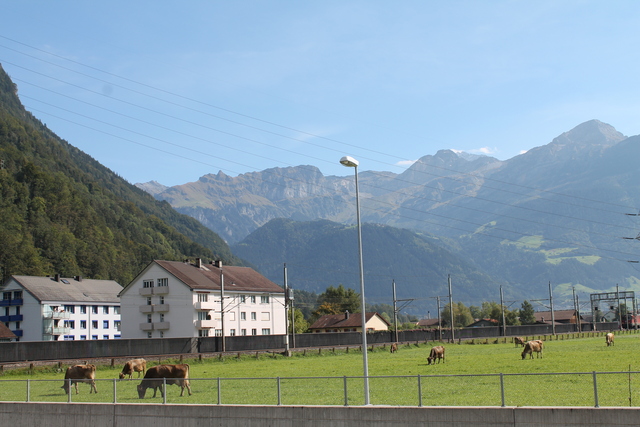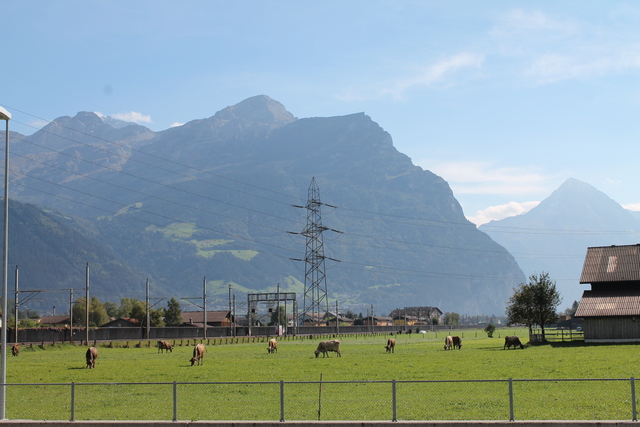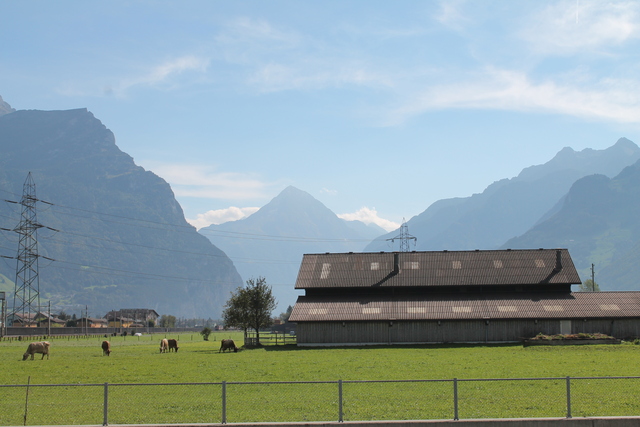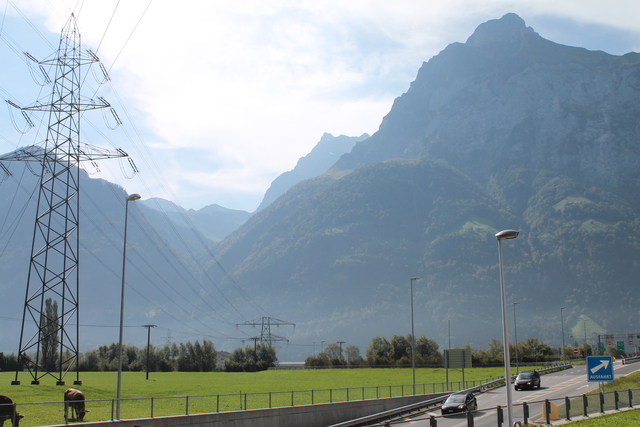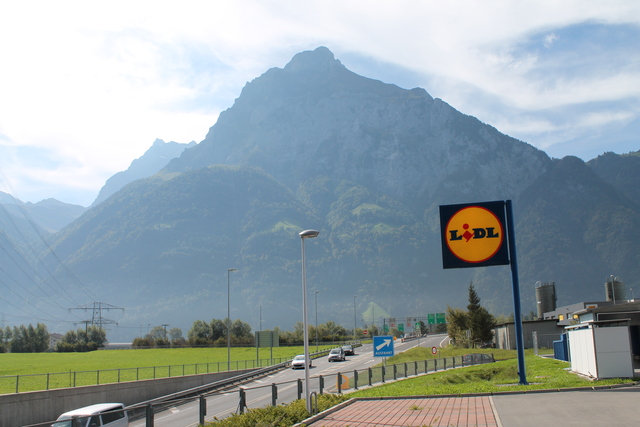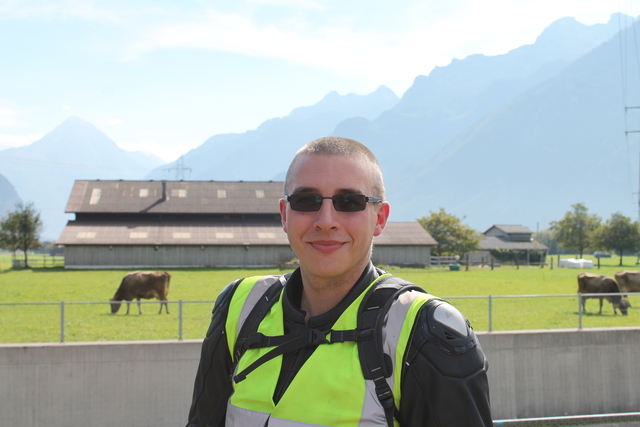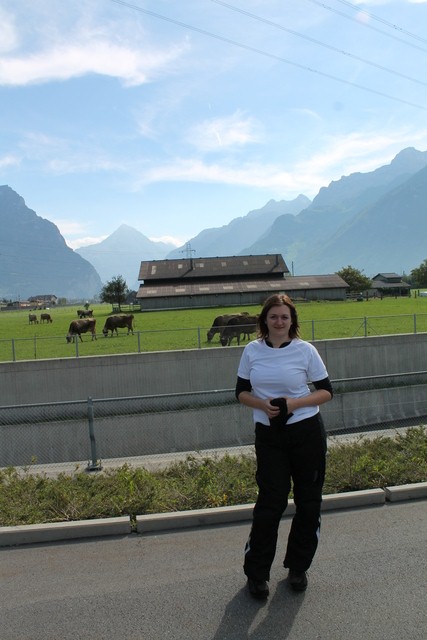 Always time to have a fiddle with the sat nav, with weather and roads this good it was defiantly a time to avoid the motorway running through the valley.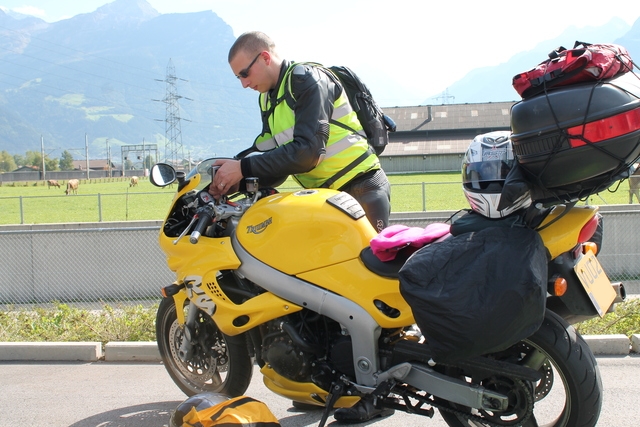 In the following photo you can just about see the burger king in the bottom left corner !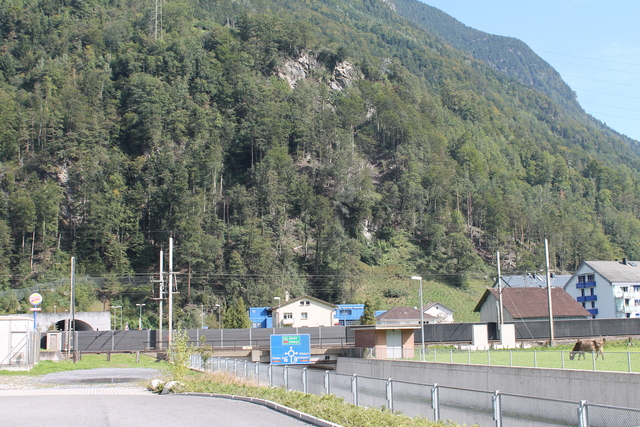 Before heading off to the hills I managed to find a service station where Kelly could finally go  to the loo, unfortunately we arrive seconds after a coach load of Japanese tourists which was a bit frustrating for Kelly as most of them headed straight to the loo's !
The roads were mind blowing, perfect tarmac hugging the edge of the mountains weaving back and forth around hairpin after hairpin, I just didn't want it to end ! After a while we stopped to snap a few shots of the area which was to good to miss.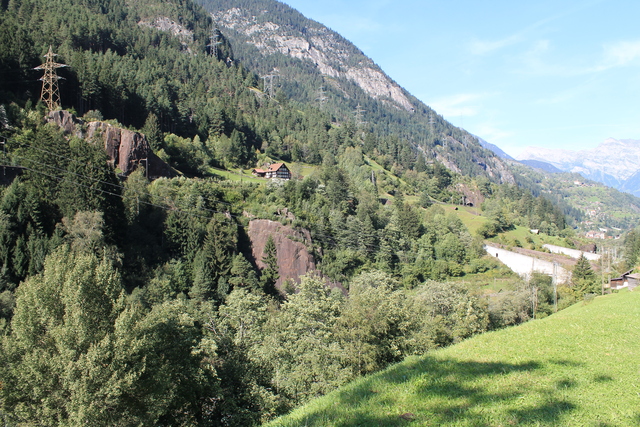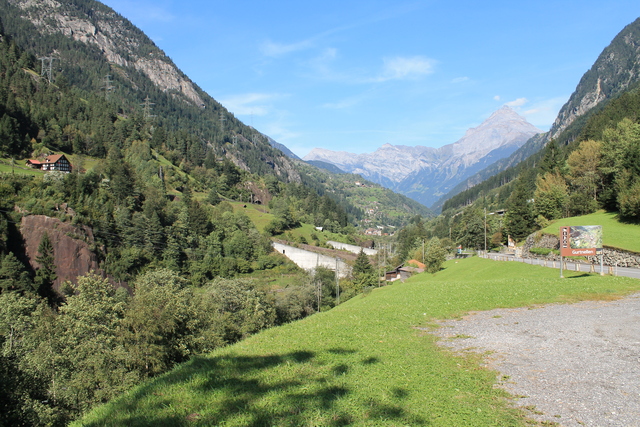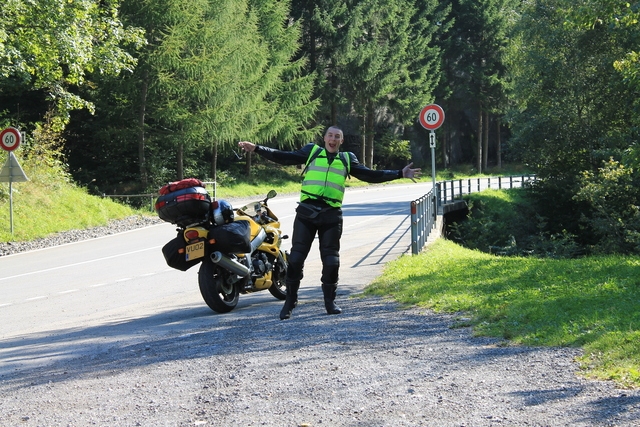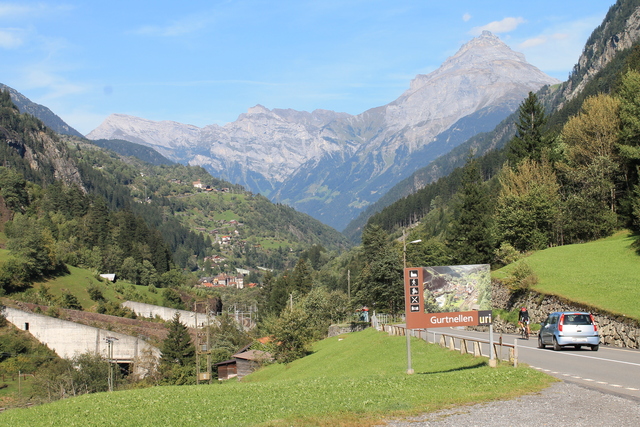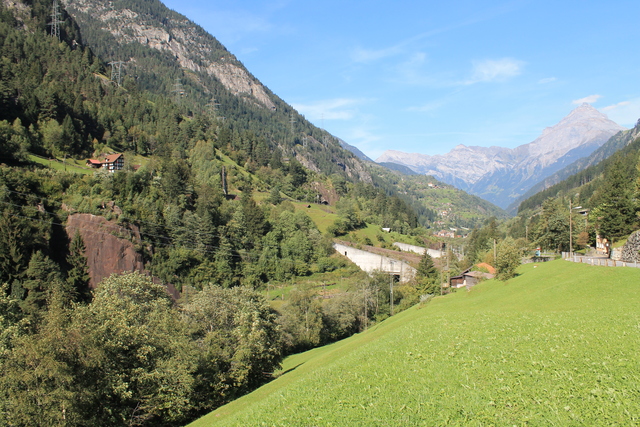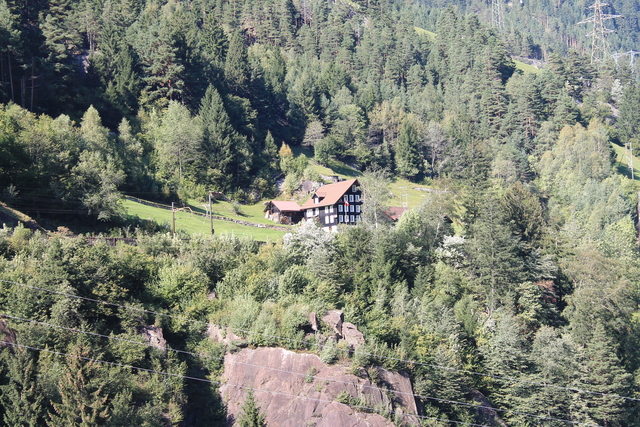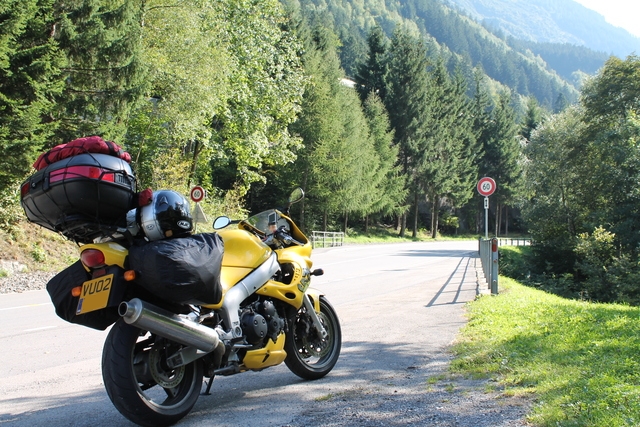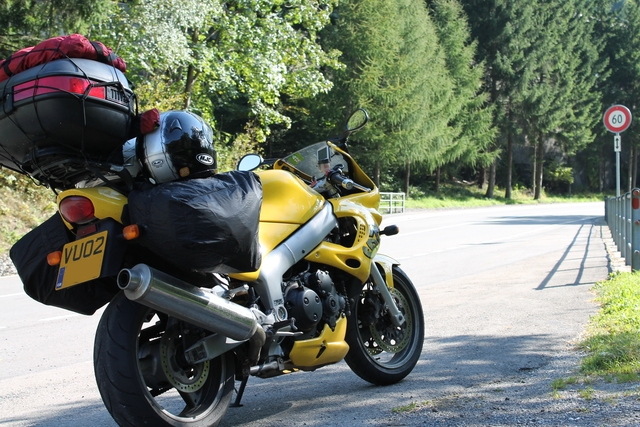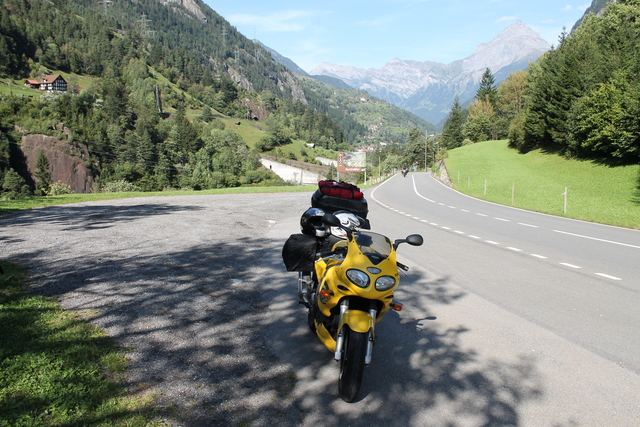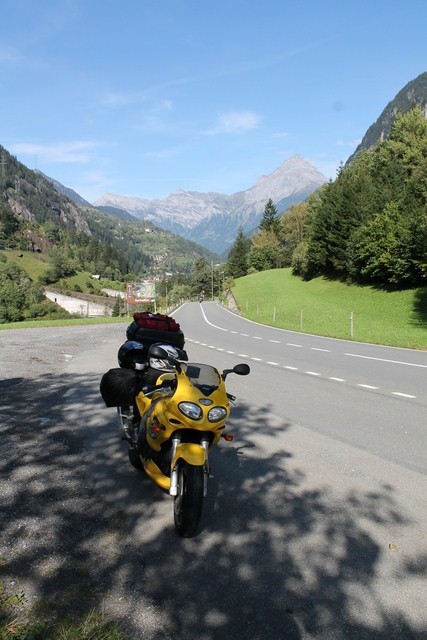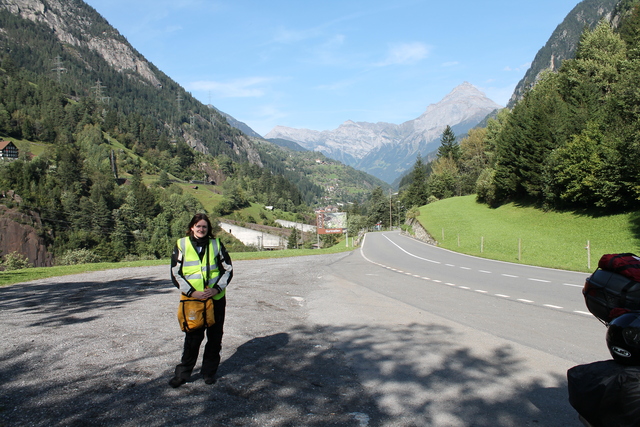 Time to get back on the bike and crack on, we still had a few hours riding ahead of us and I really wanted to get to Lake Como, Italy before it got dark. I followed the amazing roads for a fair few miles, I actually went a little too far and ended up having to turn back otherwise I would have ended up riding for an extra two hours ! Off the nice roads and back on to the motorway which lead us in to the Gotthard tunnel, a tunnel straight through the alps and is over ten miles long, in the middle the temperature was incredibly hot and I can only describe it like riding againt a hair dryer on it's hottest setting, even though we were doing 50mph the bike was slowly getting hotter and hotter ! That is one place I won't be going back to in a hurry !
Shortly after arriving in Italy the weather become overcast, with some drizzle as we neared our destination. We stopped for a short break on the way as we had been riding for a few hours and we was starting to get a little sore. We checked in to the camp site and promptly got the tent up, time was getting on and I was getting rather peckish. Oh and my helmet needed another clean, it's amazing I could see with that lot squashed on the visor.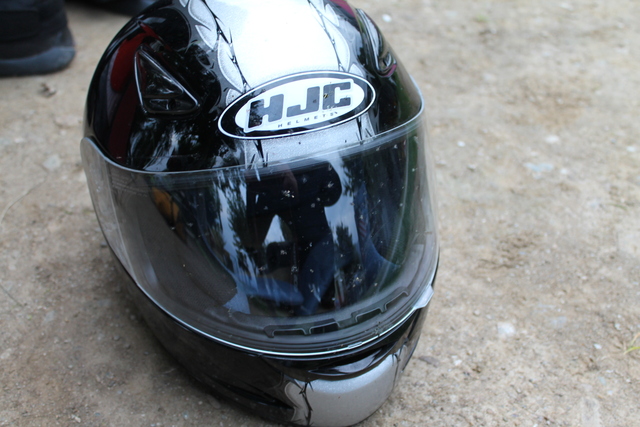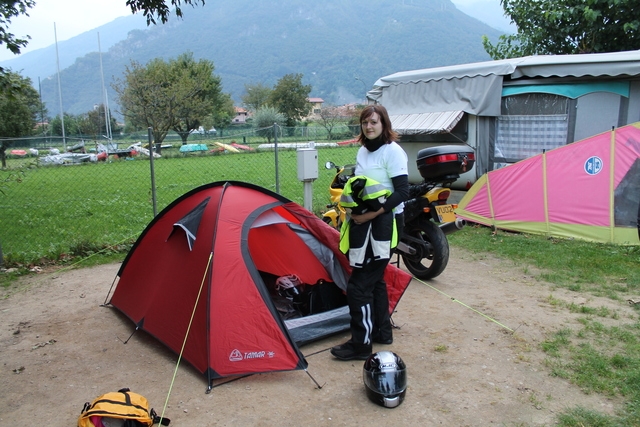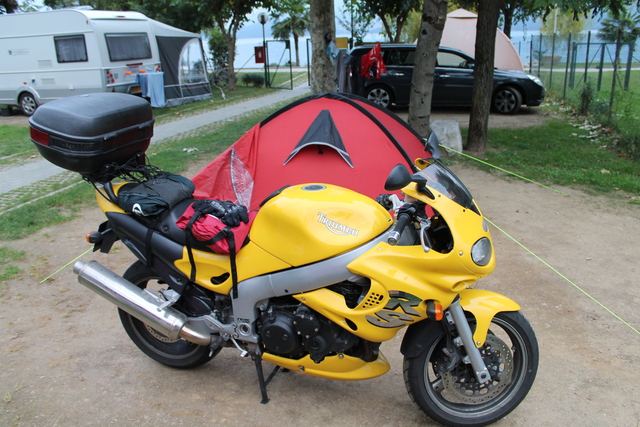 It was nice to get changed in to some normal clothes for once. Before it got dark we went for a little stroll along the lake edge. Lake Como is the deepest lake in Europe and full of melted glacier water.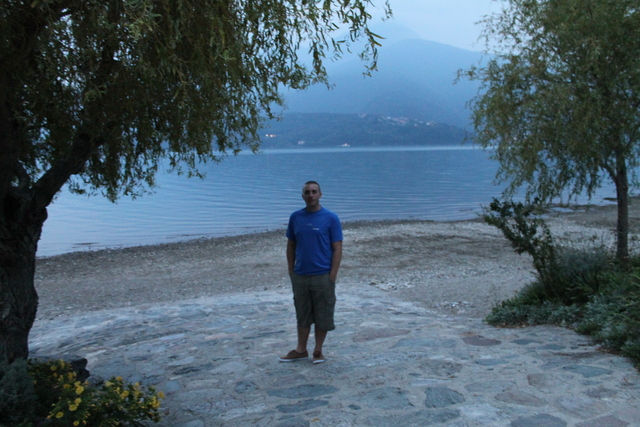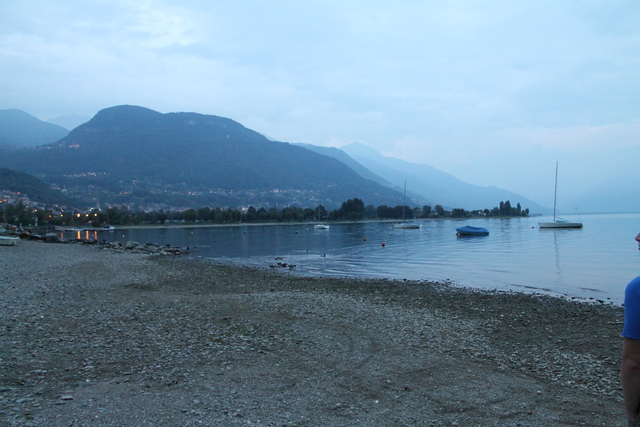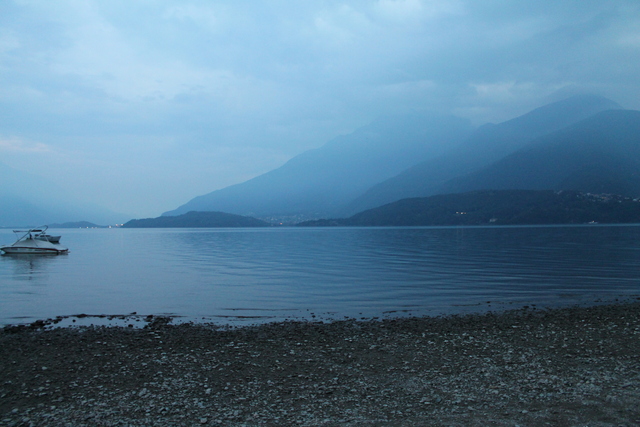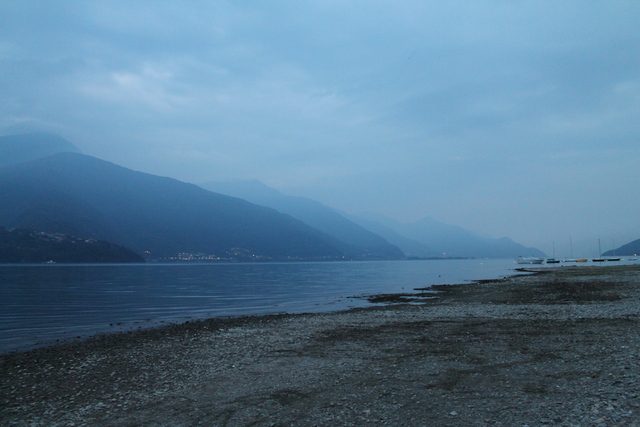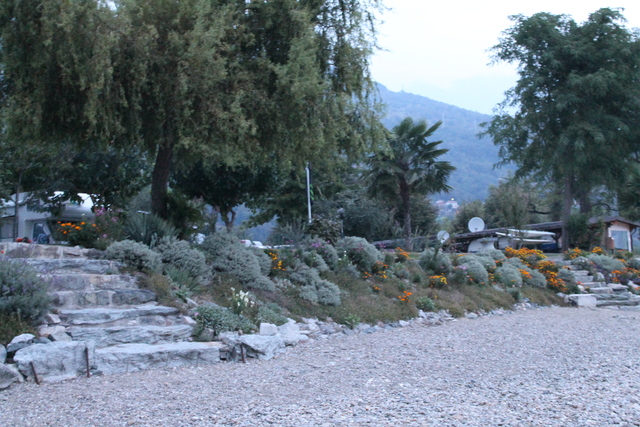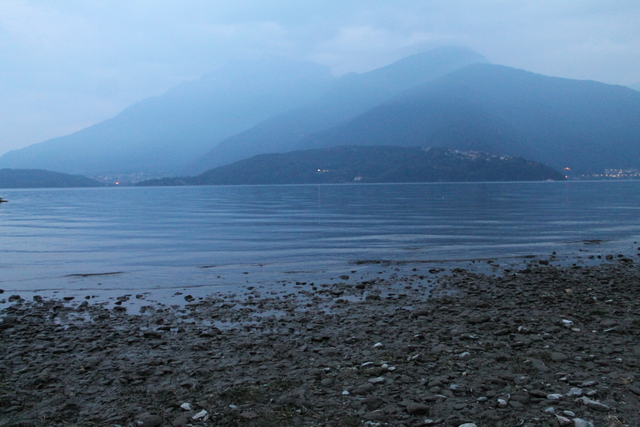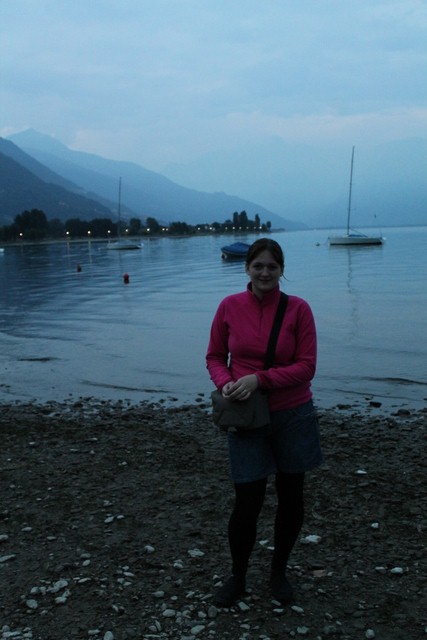 Time was now getting on and we was both hungry. The camp site had a nice bar area with in door and out side seating, they were even happy to order pizzas from a local pizzeria, result ! The drinks were also very cheap with a glass of red wine costing only one euro and thirty cents, the pizza were also great value at around five euros each.
It didn't take long after eating the pizzas and having a few beers and glasses of wine before heading off to bed. It had been a long day and a lot of miles were covered, spanning over three countries. Tomorrow should be a bit more relaxing as we are planning on spending a few days in Italy.