It all started with a simple email, I suggested to Kelly that it would be exciting to go touring around Europe and to go see some of the places we have both wanted to visit but you wouldn't normally go to on a package holiday. After much discussion it was agreed that we would go touring around the majority of western Europe, but the first issue was the fact I don't currently own a bike !
After some time spent researching bikes and then promptly realising the fact that most touring bikes start at around the £3,000 – £4,000 mark it became obvious that we couldn't afford one ! A few more hours spend searching the internet I discovered the Triumph Sprint 955i, a very capable touring bike which comes in two forms, first you have the "ST" version, this is the full fat touring version which has a full fairing, a slightly more relaxed riding position, a host of analogue clocks and instruments, single sided swingarm and the factory option of hard panniers, these generally go for a minimum of £2,500 – £3,000 which was still too much.
The other version of the Sprint was the "RS" which I believe stands for "Rally Sport" where as the "ST" was the "Sports Tourer". The RS has a half fairing along with a "Sportier" riding position, compact digital instruments, light weight double sided swing arm and has a factory option of soft panniers. The RS was more in budget and are available around the £1,800 – £2,000 mark.  After watching a few bikes on eBay I found a 2002 model in yellow not too far away in Banbury with a low starting bid, it had a full Triumph service history and looked like a decent bike. I ended up winning it for the bargain price of £1,600 ! It came with a center stand, rack and top box which was a good starting point, all I needed to do now was get hold of some soft panniers and we were on our way ! This is a quick photo I took on the way home from collecting it.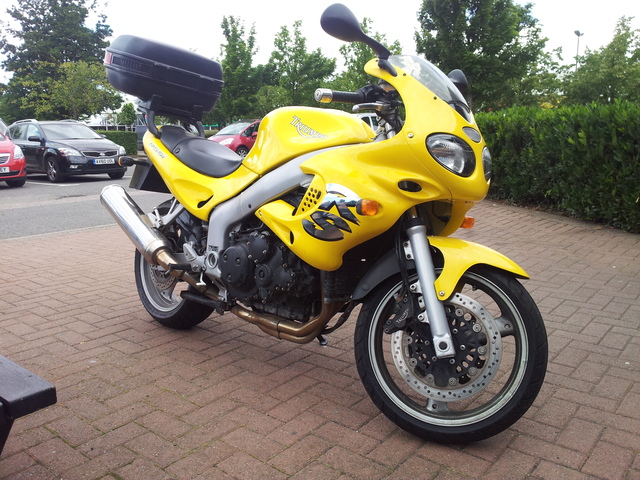 A week later a set of brand new set of Triumph soft panniers along with protective panels  for the Sprint RS popped up on eBay which I had to have, these were promptly purchased and delivered within a few days. Some of you may notice in future photos the addition of a belly pan, this was also another brand new eBay bargain which I couldn't resist…
The next problem, my bike gear was old and tatty from greenlaning and Kelly only had a crash helmet, a trip to Hein Gericke saw us kitted out with all new kit, Kelly took the sensible option and went for water proof textiles, I decided I fancied a set of leathers as I had textiles before and wanted a change. Now back to packing…
After looking at the panniers it dawned on us how little room we had for stuff, we knew we could get all of our camping gear in the top box with the tent strapped on top, so we had a pannier each to store all of our clothes and other personal belonging. After packing 10 days worth of t-shirts, pants and socks, it became obvious that I wouldn't wear most of it as I would be living in my leathers most of the time, so I left myself with 8 pairs of socks, 5 t-shirts, 5 pairs of pants and a pair of PJ's to wear in the evenings. A compact pair of shoes and water proof jacket were also crammed in, along side the medical supplies. Those of you thinking "You dirty bastard you only took five pairs of pants" I can confirm I only wear merino base layers under my leathers,  the pants were for nights out !
We had now compiled a list of all the places we wanted to visit, all I had to do now was plot the route in Google maps so that we could work out distances and times, I warm you now it's a tedious and irritating task which took way too long ! The plan was to take maps with us, doing it the old fashioned way and not rely on a Sat Nav at all, I decided this would be more trouble than it was worth, I get lost with a Sat Nav so without one we would be buggered ! I pushed the boat out by buying a second hand £30 basic model Tom Tom off eBay, waterproof mototrcycle Sat Navs are +£250 ! I did have to install an accessory power socket to the bike, so that we could keep it charged up.
I was able to convert the google maps to a Tom Tom itinerary using a program called "Tyre", this was another tedious task as Tyre uses Internet Explorer to access Google maps which kept freezing and generally ran like a three legged dog.
This is a high level plan of the route we would be taking, the little tents denote places we are camping, click the map to enlarge,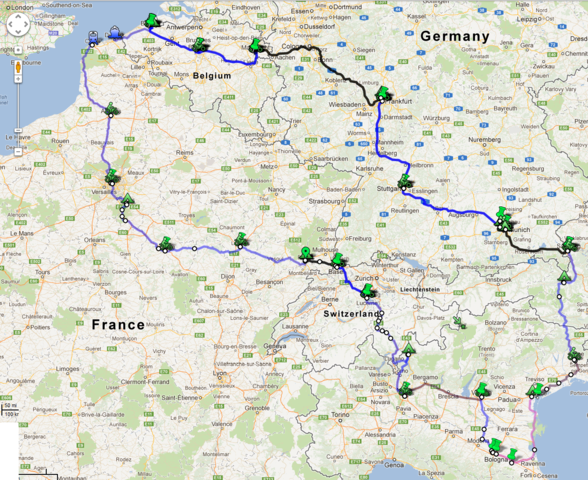 For each future blog post I will include a map of the general route that we took on that particular day.
These are the countries, along with the Towns and Cities we were planning to visit;
France – Amiens, Paris, Melun, Auxerre, Langres, Belfort
Switzerland – Basle, Lucerne
Italy – Lake Como, Milan, Verona, Bologna, Imola, Venice, Udine
Austria – Taxenbach, Salzburg
Germany – Munich, Dachau, Stuttgart, Frankfurt
Netherlands – Maastricht
Belgium – Brussels, Brugge
The plan was to leave early on Friday 21st September and return on Sunday 30th September, which is 10 days and 9 nights. We were certainly planning to cover a lot over those 10 days, it works out to about 2,500 miles !
Keep your eyes peeled for the next instalment, day one !