We woke to a beautiful sunny morning in Venice, Italy. It was already nice and warm even at 08:00 in the morning, this made a pleasant change when compared with the weather we had over the previous few days. Whilst cooking up a bit of breakfast I thought I would make the most of it and have a little bask in the sun.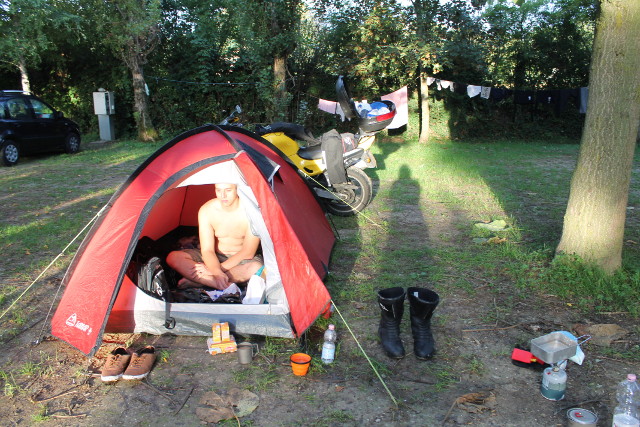 I was nicknamed "The tent goblin" by Kelly, this position was one that I found myself in on several occasions throughout the trip, who doesn't like a bit of early morning sun!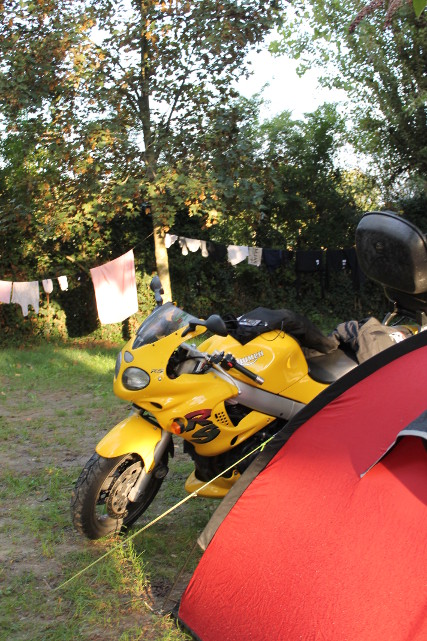 We were soon showered and then started to pack the gear away again, fortunately the sun dried most of our damp clothes, by this time though all of the clean clothes were in one pannier, the rest were in other which was then named "The Stinky Pannier" and for damn good reason!
Back on the road we were now heading to our last destination in Italy, this being Udine. Fortunately this first journey of the day wasn't too long, taking about one and half hours. After arriving in Udine, Italy We eventually found somewhere to park the bike, then headed off for a wander to find some lunch which would prove slightly tricky…
As you can see the bike was slowly acquiring more and more gear stuffed under the cargo net strapped on to the top box.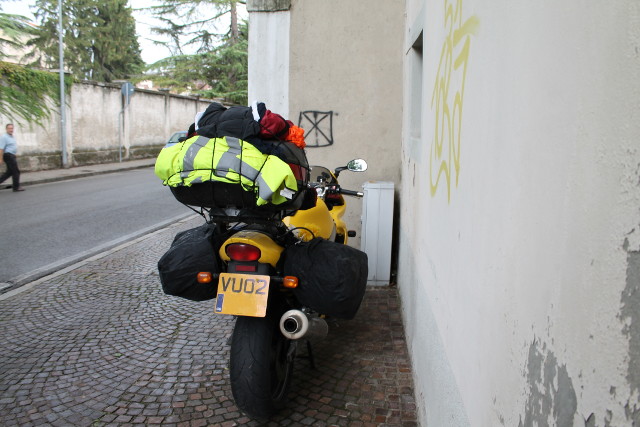 After a bit of a walk around the town and giving our legs a stretch we set off to find some lunch. We visited the usual supermarkets but nothing really took our fancy, most of the food wasn't really food to eat on the go and was mostly proper dinner meals. We eventually found a lovely little family run bakery, but of course this not being a touristy part of Italy nobody spoke a word of English! Kelly managed to order us some lunch (her Italian was better than mine) although I wasn't sure if I got what I ordered, as I asked for a Frankfurer Roll which was on the menu and got this.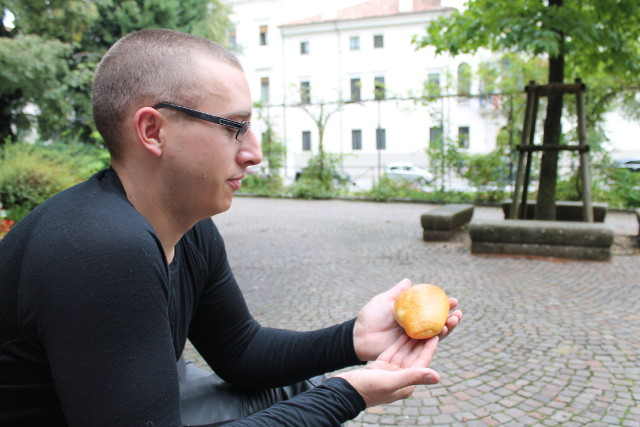 What appeared to be a fairly normal roll, actually did turn out to contain the frankfurters Kelly ordered! I can honestly say I was surprised when I took my first bite and found this!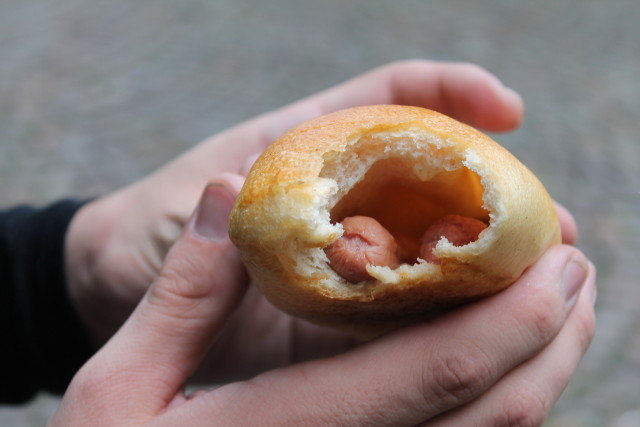 They bake the sausages in the roll, how very clever! Never seen anything like it before, was certainly very tasty.
We sat and ate our lunch in lovely floral gardens, with a very peaceful river flowing quietly in the background.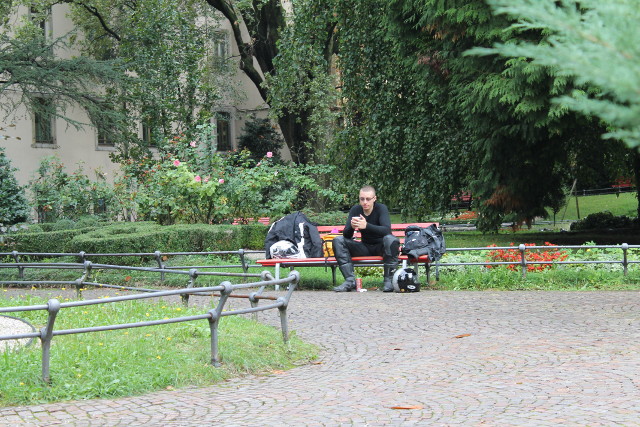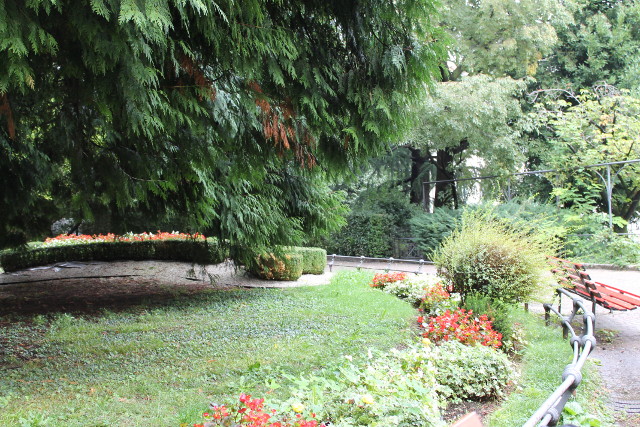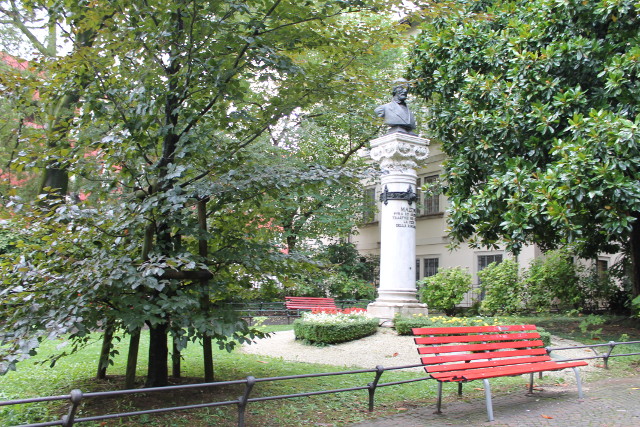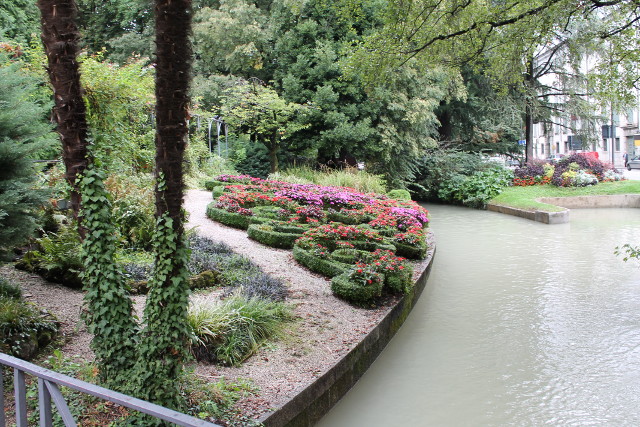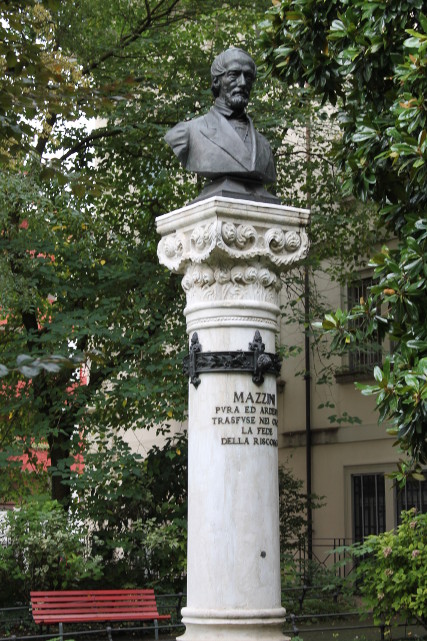 Shortly after finishing lunch it started to rain, we made a quick dash back to the bike seeking shelter under the trees along the way. Fortunately the rain quickly past, allowing us to set of in the dry. We were now leaving Italy and finally heading to Autria, or more precisely our camp-site in Taxenbach, Austria. This leg of the journey was going to take at least three hours and would involve crossing one of the highest peaks in the Alps (which at the time of planning the trip I failed to notice).
After about an hour on the bike and just before making our assent in to the Alps we stopped for a quick toilet break at a rather deserted shopping centre.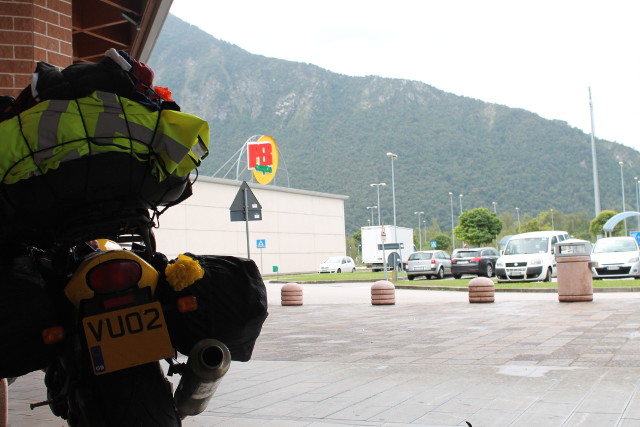 At this point the dark clouds really started to close in and not before long the heavens opened!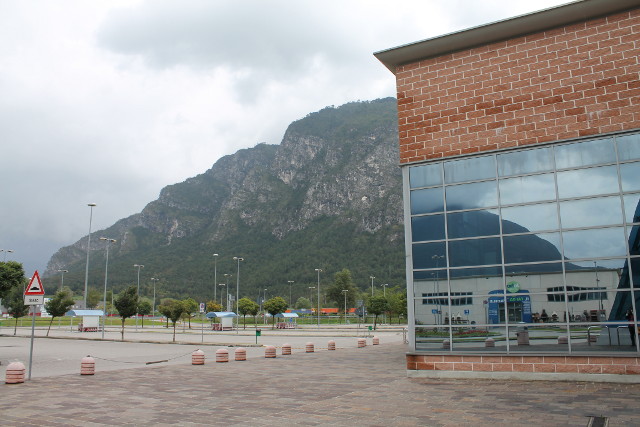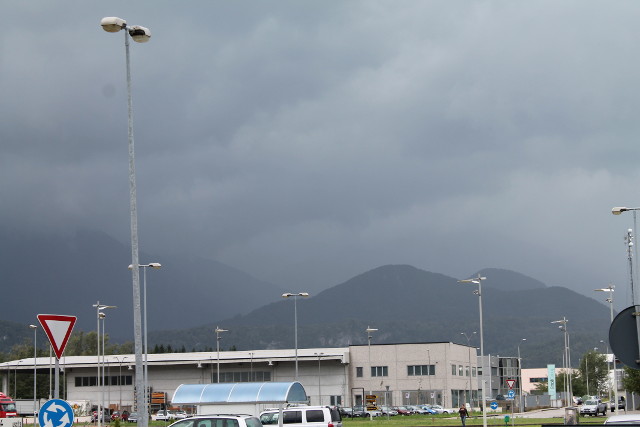 The ride up through the base of the Alps was fantastic, the roads were switchback hairpin after hairpin clinging on to the side of the mountain. Unfortunately it rained hard and constantly, giving us a good drenching. When the rain eventually stopped I pulled in, cleaned my visor and took a few photos.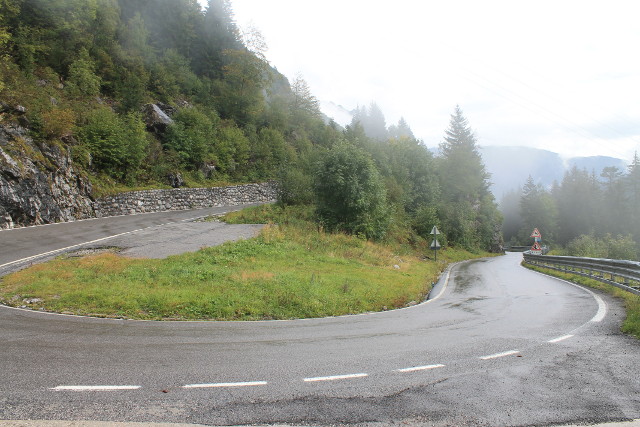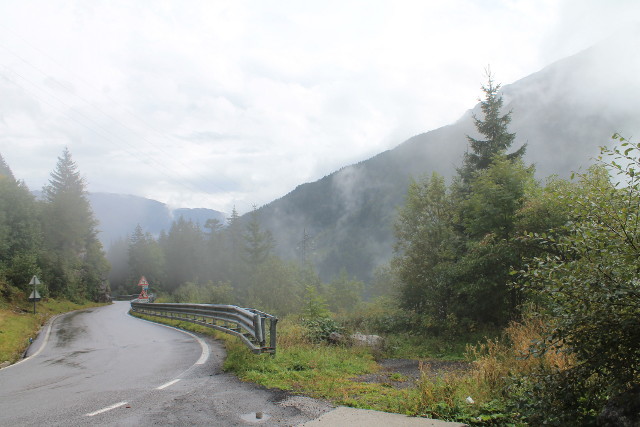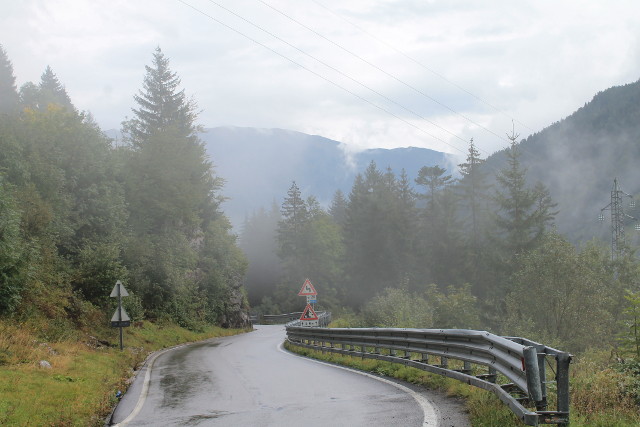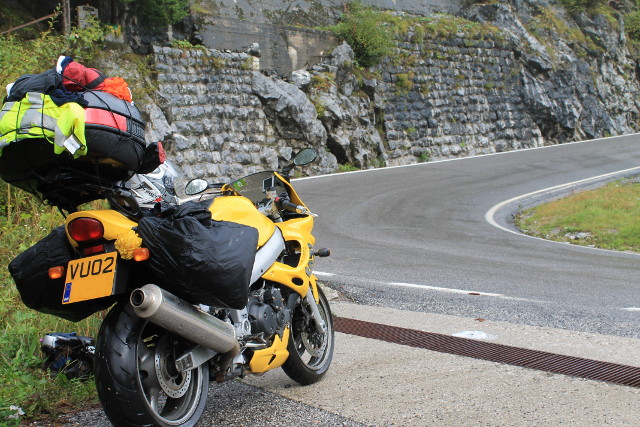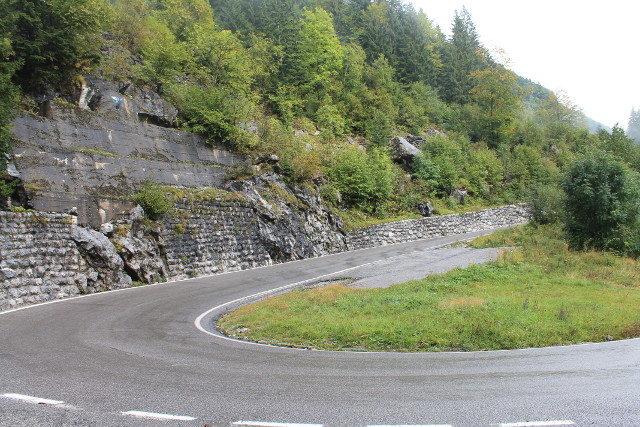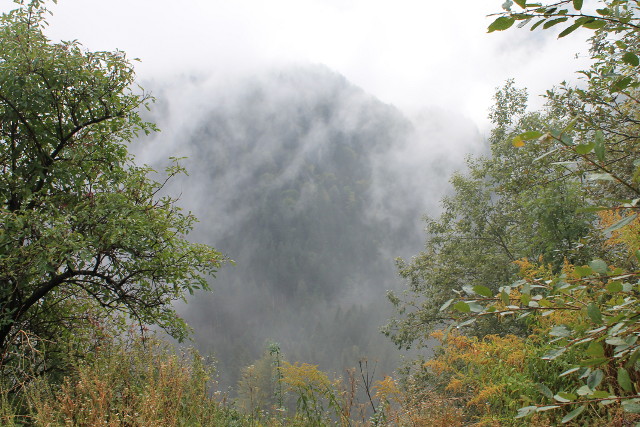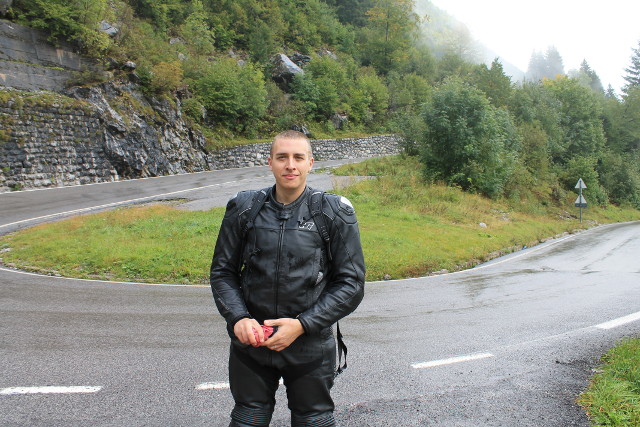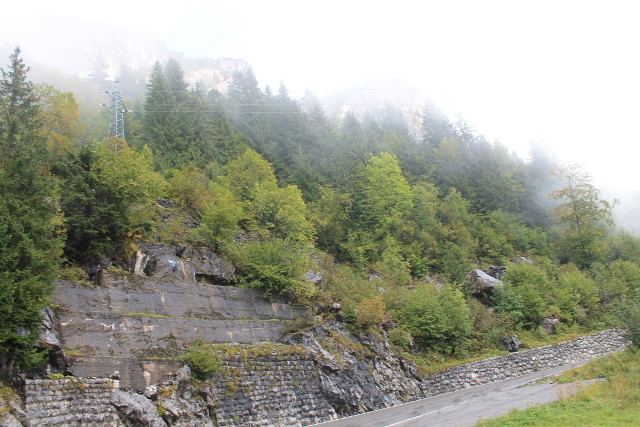 Shortly after the above photos we left Italy and entered Austria. The scenery opened up and the road snacked across a nice flat plane, which gave us a nice opportunity for a few more photos.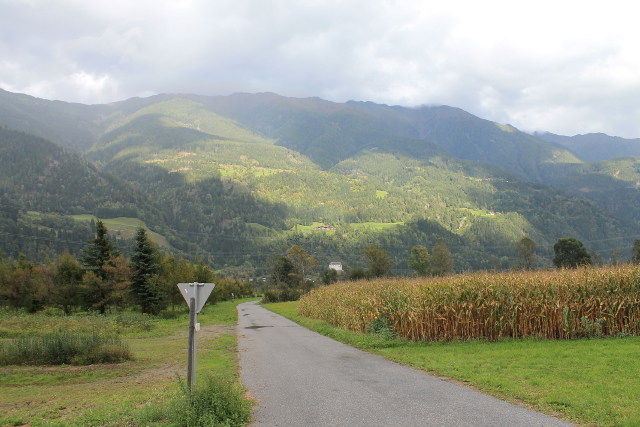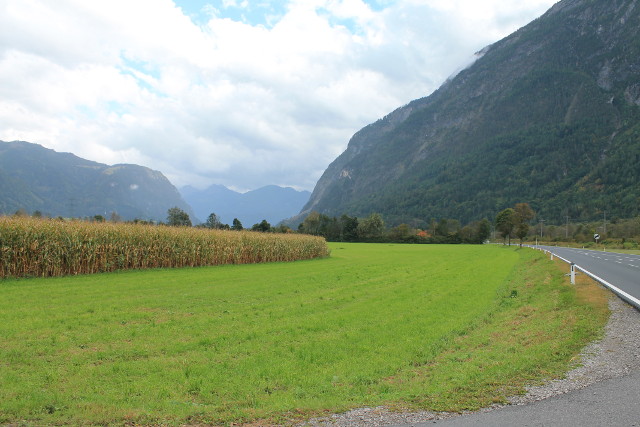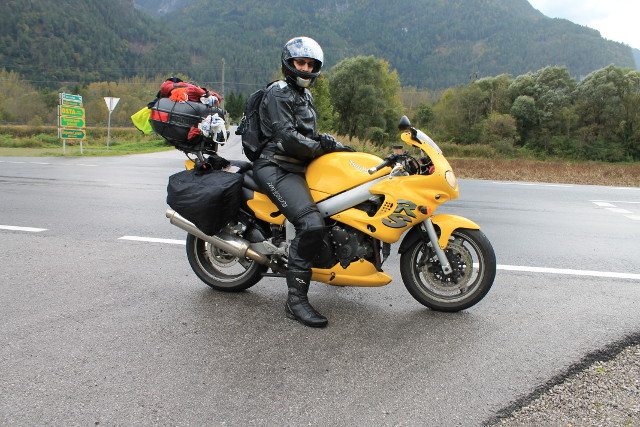 Having spent a few hours in the saddle without any lunch We stopped in a small town for coffee and cake, this being the first time we had to communicate with anybody neither of us was sure on the language, I think we agreed to speak in German in the end which they understood so I assume this was correct.
Back on the bike and the flowing roads continues for mile after mile, going past endless biker cafes and B&B. After a short assent we came across a little town where we stopped for a quick toilet break and I bumped in to an America guy who started chatting about what we were doing and about my Triumph (it appears Americans really like Triumphs). Back on the road again and not before long we came to a toll section, it turned out that the route we had planned took us through a huge national park high up in the Alps crossing one of the highest peaks! After stumping up about 22 Euros to get through the tolls and being warned several times to ride really slowly through the park as they were suffering with some heavy winds on the peaks, we were back on our way.
It's safe to say the lady in the toll kiosk wasn't exaggerating, it was seriously windy which isn't what you want on a fully loaded tourer riding hairpin roads clinging on to the edge of a mountain with no real safety barriers! After a while we had to stop as it was so cold I could no longer feel my hands and opted to put my winter gloves on. We managed to grab a couple of photos before slowly riding back off round the mountain.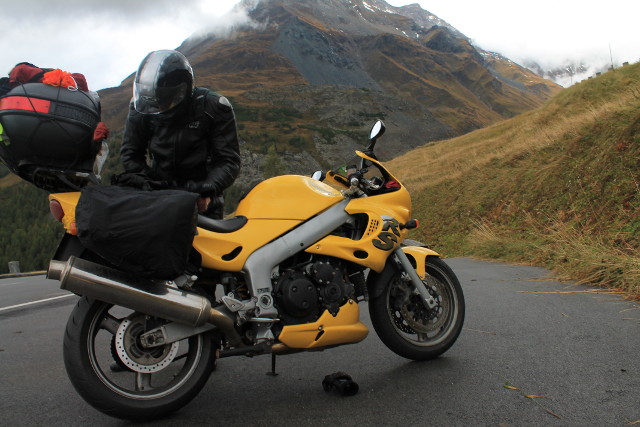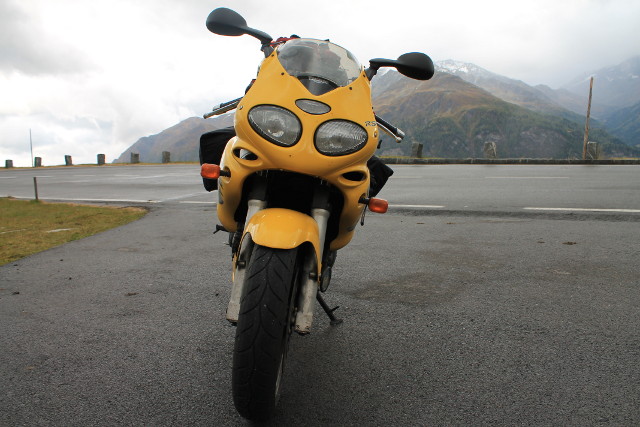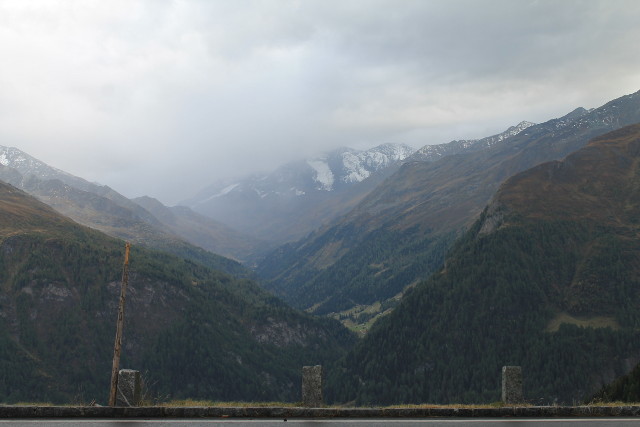 There was a lot of snow about up on the peaks but with the heavy wind I decided not to stop until we were off the mountain, which felt like it took an eternity! If the weather was dry and sunny it would be a great place to really let your hair down and find the bikes limits. I found this video of somebody else taking near enough the same route we took.
GrossGlockner Hochalpenstrasse

After making it safely to the bottom and discovering that burning brake pads smell the same as a burning clutch. By now we were both cold tired and very hungry oh and to top it all off the sun decided to come out, better late than never I guess! Our next challenge was to find the camp site, a quick stop to get fuel we were nearing our destination, on the way we stopped at a supermarket to get some food for dinner and breakfast. Following the GPS we found ourselves going along a very steep road up the side of the valley, which not before long turned in to a dirt road. I was convinced that we were going somewhere completely random and that the camp site wouldn't be clung to the valley side, but lo and behold it was.
This was a slightly odd camp site as there was nobody around and it appeared to be in the grounds of two huge Austria houses. We set up camp as it was now starting to get a little dark. The views up here were amazing and it was so peaceful and quiet, a beautiful place to call home.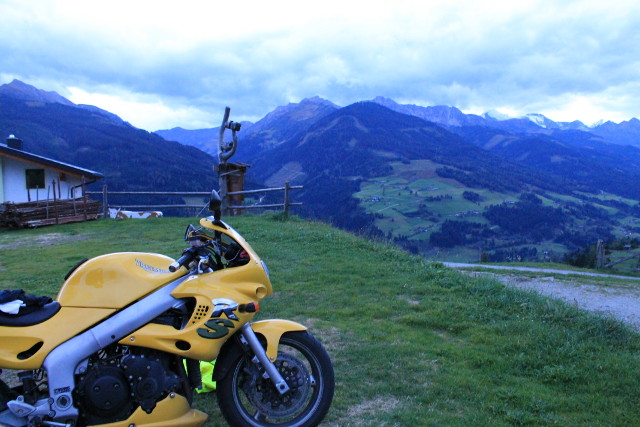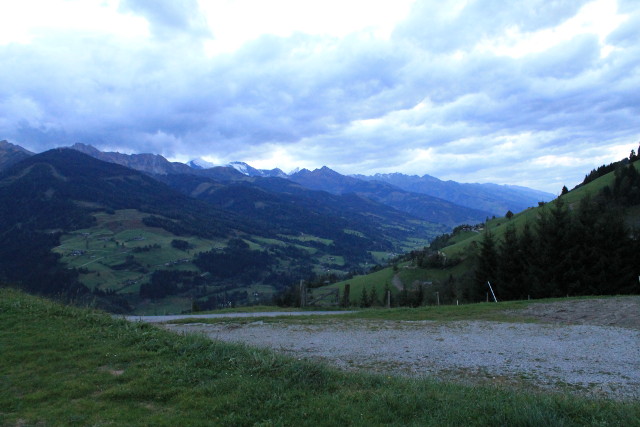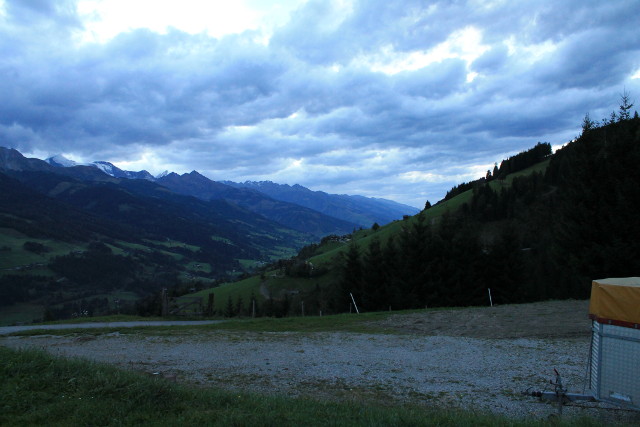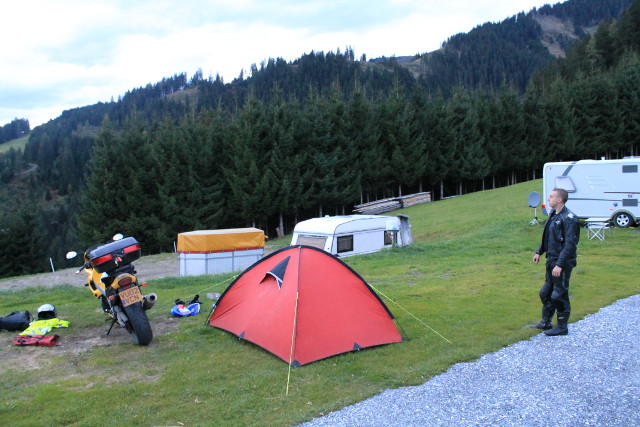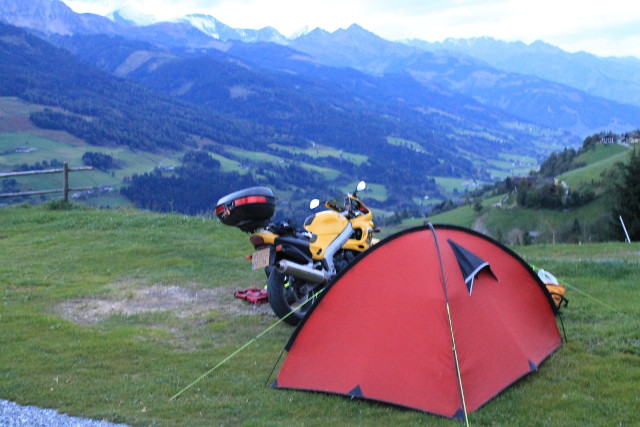 After a while a German chap arrive in a converted van/camper, after having a chat with him it turned out he had driven from Munich to get away from the madness that is Oktoberfest, which is where we were planning to head next. He was telling us about a trip he took over to the UK in the 1970's and how he had visited all of the main towns and cities, turned out this German chap had seen a lot more of the UK that we have haha, he was also a little confused as to who was in charge of the camp site and where he could pay for his pitch.
Nobody else did appear that evening, we managed to find the camping shower/toilet facilities in a big converted barn next to the houses, oddly the garage doors and main door to the house were all open but nobody was home. I can only assume they don't have a problem with crime like we do here in the UK.
After a tiring day on the road it was nice to have a hot dinner, we opted to have our emergency camping food with some sausages we bought in the super market earlier and of course a nice can of lager or two.