We awoke in Melun, France our first camp site of the trip. The weather was cool and the ground rather damp from the heavy rain the previous day, although the sun was trying to break through the early morning cloud so there was still hope that it could be a nice sunny day.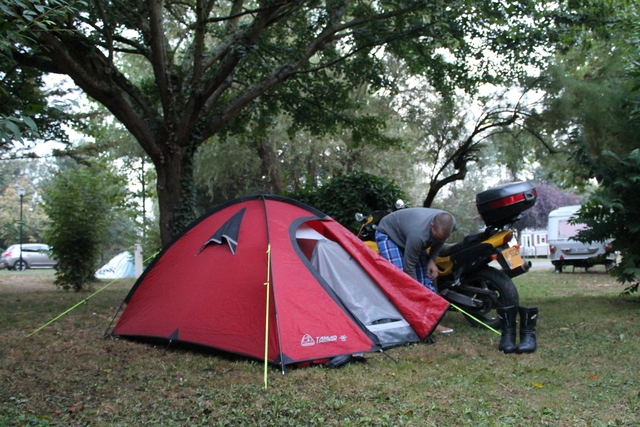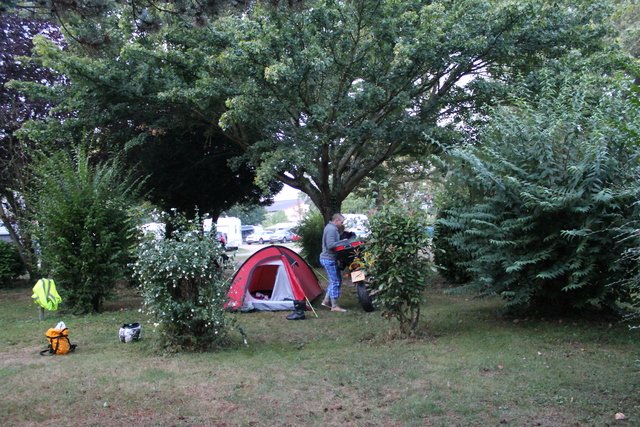 Kelly grabbed some quick shots of our pitch whilst I was sorting myself out, as you can see the site had lots of trees which was nice, as most UK sites are just flat empty fields.
Most importantly it was time for breakfast, in the form of boiled eggs which were then peeled and mashed in to a now slightly limp baguette, yummy !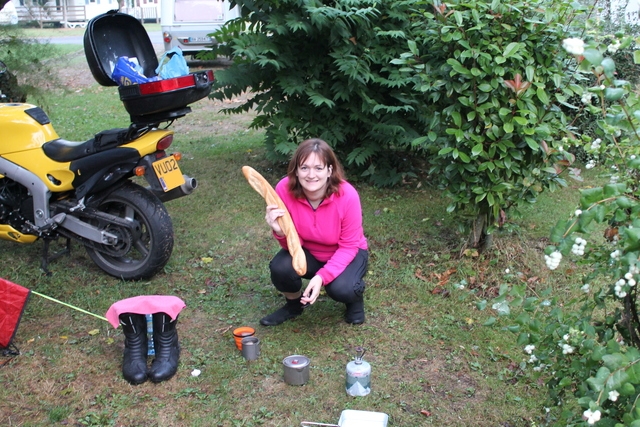 The facilities on this camp site were a bit average, a rather cold toilet/shower block which didn't have very large shower cubicles which made it tricky trying to get my soggy leathers back on, not really what you want to deal with first thing in the morning.
The gear was packed away, tent taken down and strapped back on top of the top box, we were now ready to leave. On the way in the previous night we noticed a nice river flowing just across the road from the camp site, a good opportunity for a few nice photos. By this time the cloud had gone and we were left with perfect Blue sky and a nice warm sun.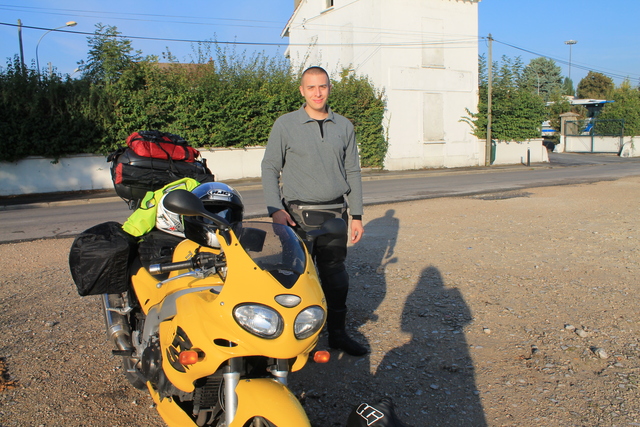 The fleece came off pretty quickly, it was lovely and warm in the sun shine !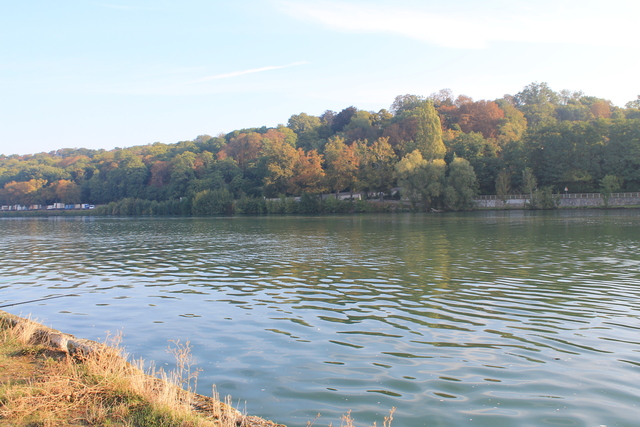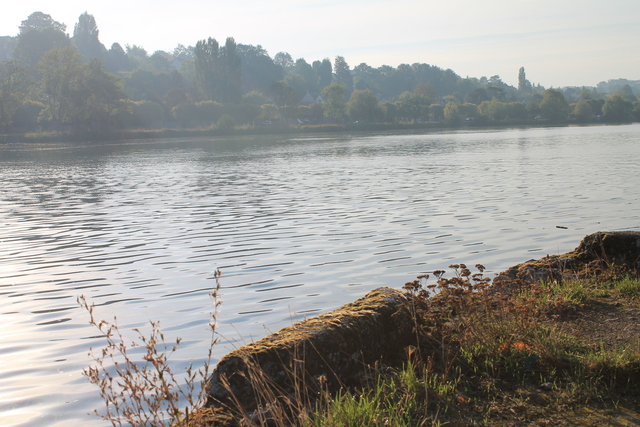 The bike all loaded up, ready for a good days riding in the glorious weather…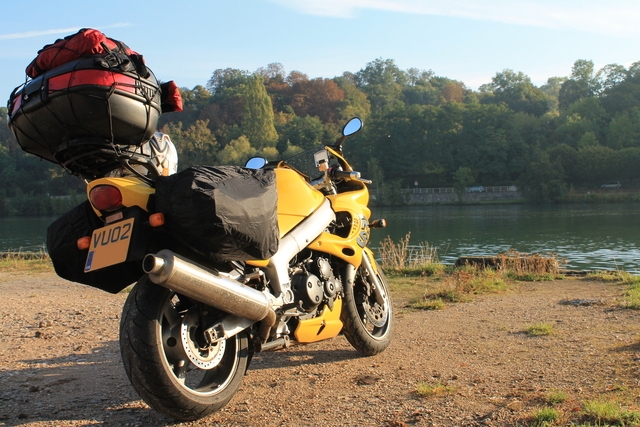 Time was getting on and we was already running an hour behind, back on the bike and off to Auxerre, France. The roads were the same as before, stunning single carriageway roads  running through the French countryside, dipping in and out of quaint little villages. One thing to make note of is you would be flying along at about 60mph and would then see a sign notifying road users of a rail crossing, then about 5 meter behind the sign were the railway tracks partially submerged in to the road ! No time at all to slow down and the first couple of times it happened I thought I was going to get a blow out. I quickly learnt to slow down when ever there was a sign approaching just in case.
Before we knew it we had arrived in Auxerre, a very nice fairly small town with an incredible cathedral situated inside. Unfortunately all the photos of the outside are close up due to some building works.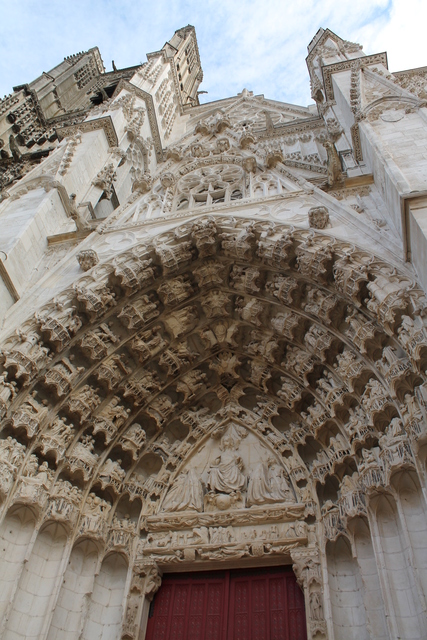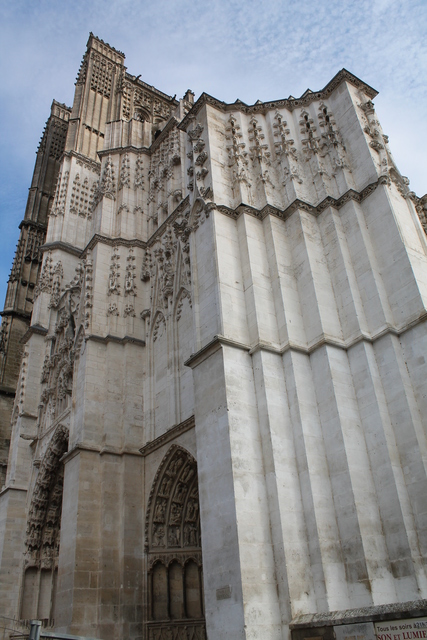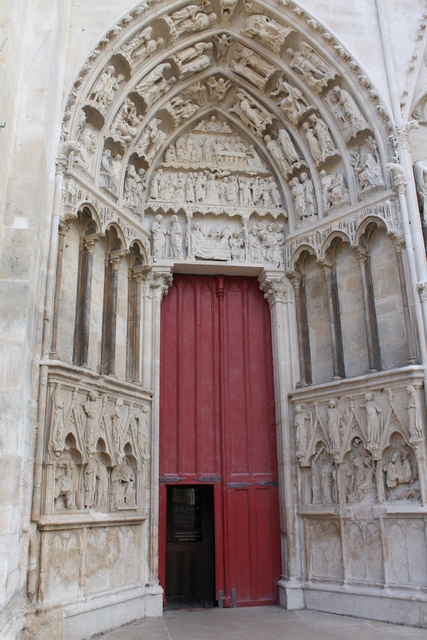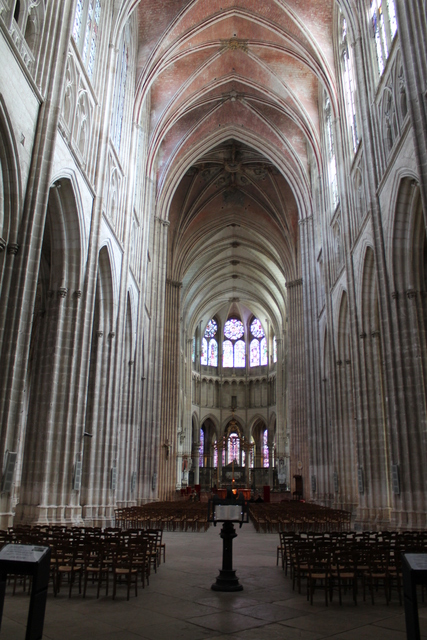 The organ reminded me of a battleship, never seen one with horizontal pipes before.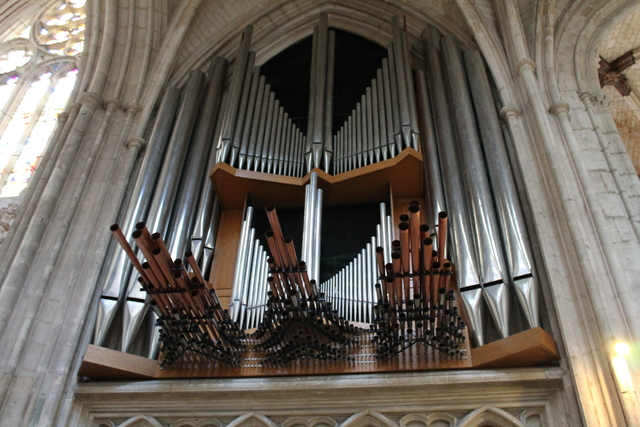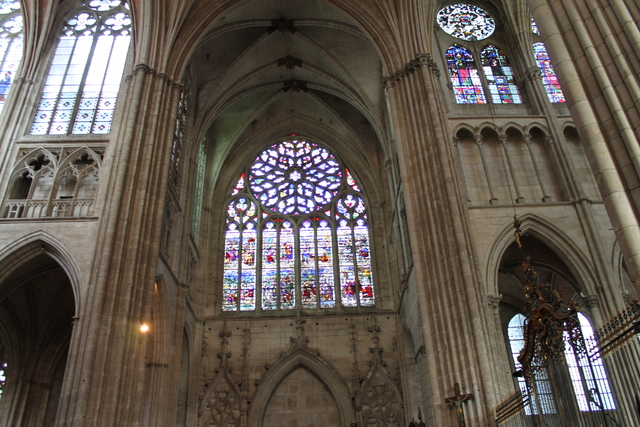 The stain glass windows were very impressive, incredible detail to the point where they looked almost computer generated.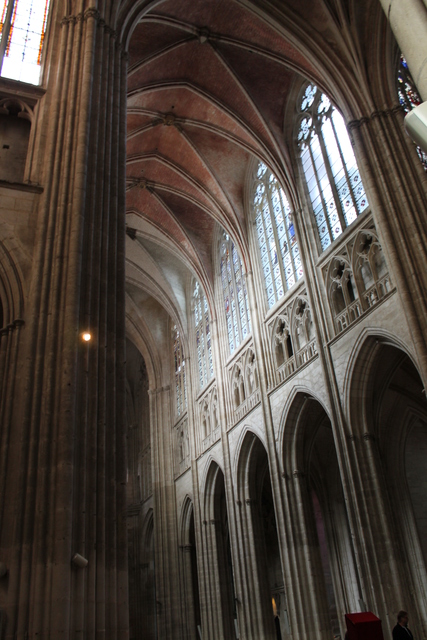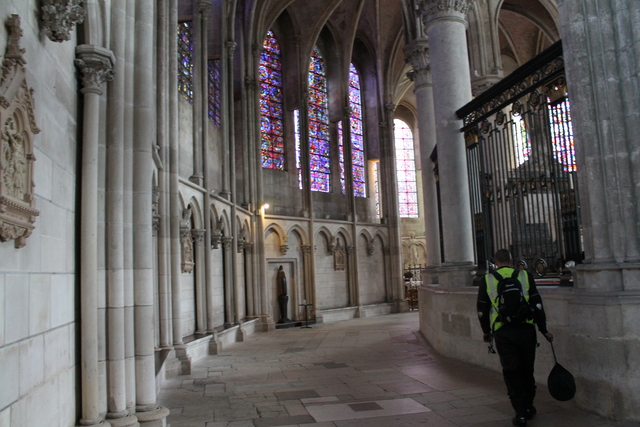 Time again was creeping up on us, just enough time for a quick coffee and a pastry. Kelly ordered "Deux cafe" which turned out to be two espressos, fortunately we both drink espresso so it wasn't too much of an issue, the French do know how to make a nice coffee. I then had to order a bottle of water as I was still thirsty, this was done in my best pigeon French, all those GCSE French lessons finally coming to some use…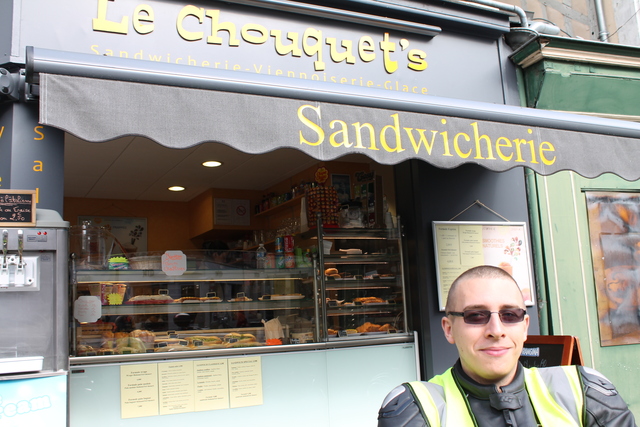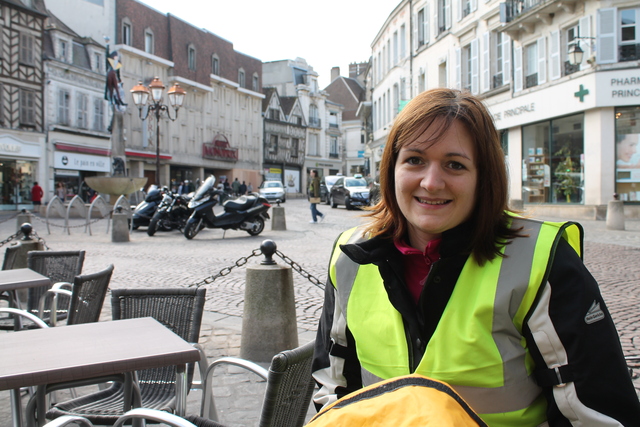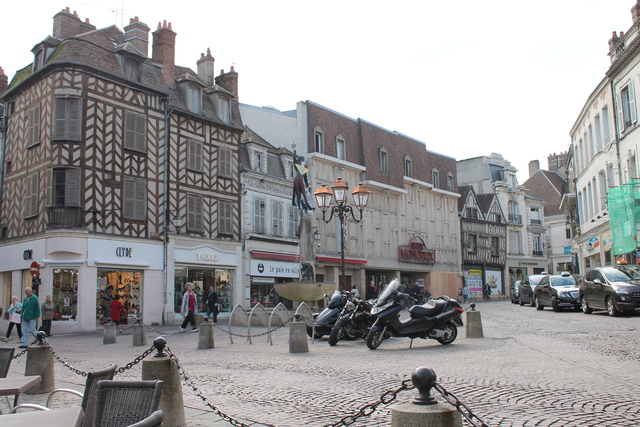 A shot of the main square in Auxerre, several nice old buildings in view. It was a place you could sit and just watch the world go by… but we had placed to be, so we paid up and went back to the bike, this time heading to Langres, France. I had the planned a nice scenic ride which I was looking forward to.
We were soon out again in the stunning country side, part of our journey taking us through the famous wine village of "Chablis" which was just mile after mile of fields growing Grapes. The roads around this area were incredible, perfect tarmac flowing through the rolling hills putting many race tracks to shame, I could have done this stretch of road several times it was that good ! Further on we found ourselves on some rather worn tarmac which wasn't all that great to ride on, the route itself was nice incorporating some switchbacks and hair pins as we went over the hills.
Before we got in to Langres we stopped in a LIDL for a quick snack as it was now the early afternoon and we were getting a bit peckish. Talk about living the high life munching on sandwiches in LIDL car park, I think the locals thought we were a bit mental. A short trip back on the bike and up a large hill we entered the historic walled town of Langres. The sun was shining so we took the opportunity to have a sit down in the sun on a nice green area.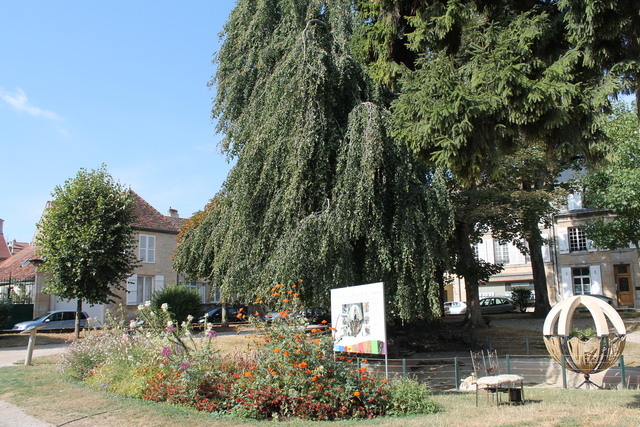 It was nice to get my jacket off for a short while, fortunately the nice weather had dried our gear from the showers the previous day.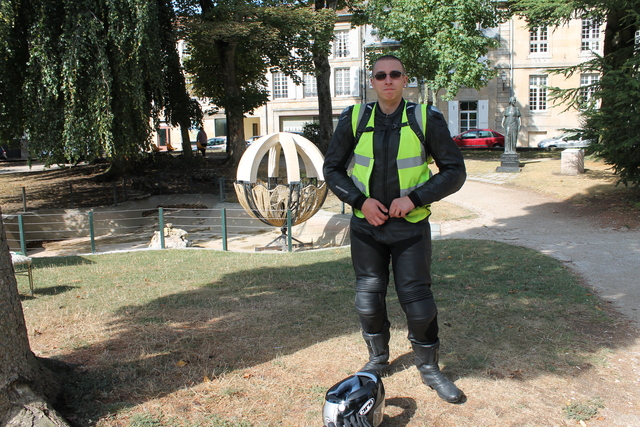 The green area was right opposite the towns small cathedral, which was interesting to look at whilst we relaxed.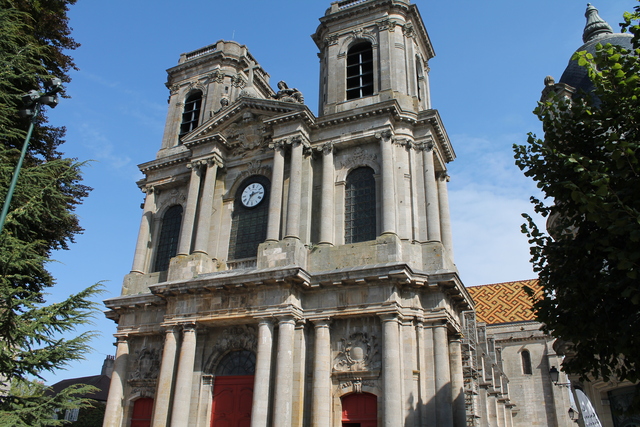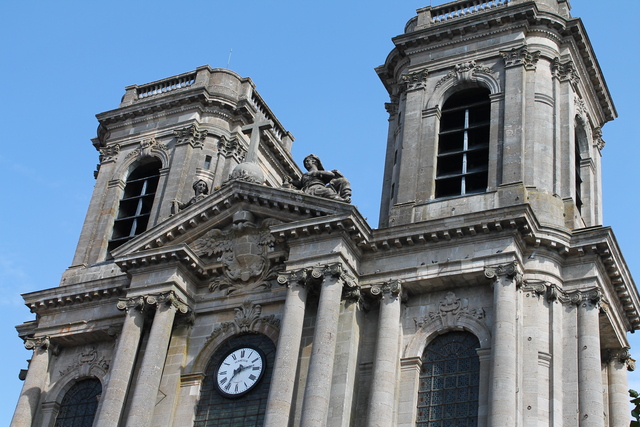 As you can see in this photo we had covered a decent amount of ground already, time was getting on but we wasn't in a rush to get to our second camp site of the trip in Belfort, France which was just over two hours away. The roads following the same general pattern as the rest of France, which was a nice way to finish the day, even better the sun was still shining !
We arrived at the camp site for about 17:30, by now it was starting to get a bit overcast so we promptly checked in and put the tent up.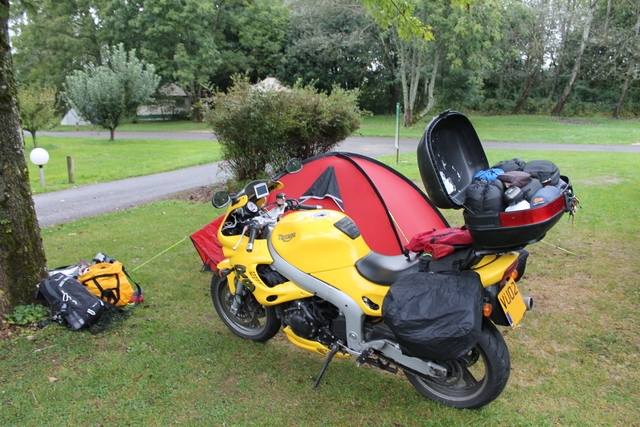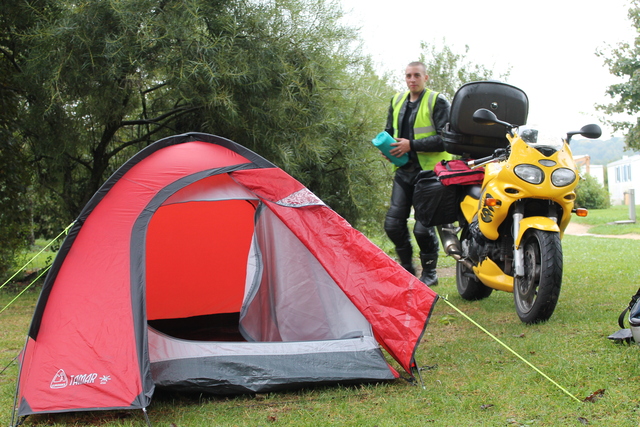 The top box contained all of our vital sleeping and cooking equipment for the trip, including two self inflating roll mats, two sleeping bags, two sleeping bag liners for when it got extra cold, two inflating pillows, a cooker and gas, a kettle pot and two mess tins plus cutlery. Also our wash bag lived in here along with a couple of torches and my multi-tool.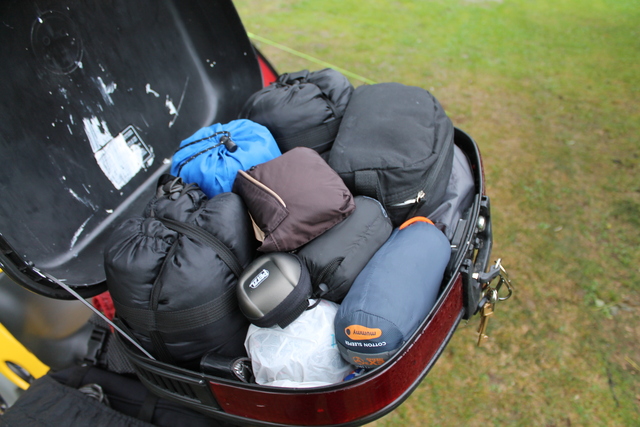 It only fit in that one specific way, which took a bit of trial and error to get the lid shut and locked.
Now the tent was up it was time to head out and get some supplies for dinner and breakfast, also Kelly had read that Belfort was famous for a huge lion carved from the stone cliffs, so a hunt for this was also on the cards.
After a drive around the town we found the steps at the base of the hill where the lion lived.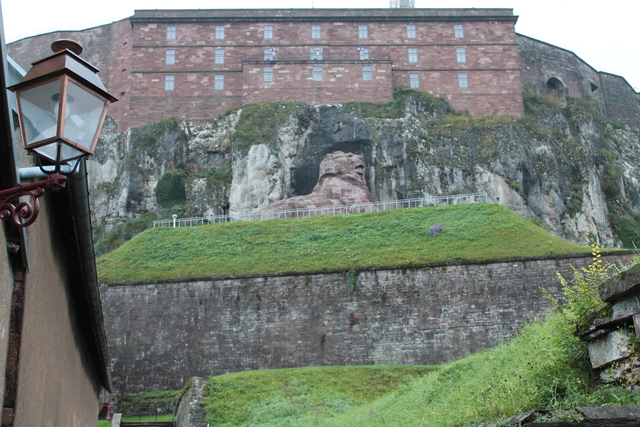 You can walk up the steps and through a few tunnels carved inside the cliffs up to the platform where the lion is perched. Being early we decided it would be nice to go up there, so we set off on what turned out to be a bit of a trek… After walk for what seemed like an hour walking up and down loads of steps and through many dark tunnels, around the walls of the castle we finally made it to the platform… only to find the gates locked and that it closes at 18:00, what a waste of time !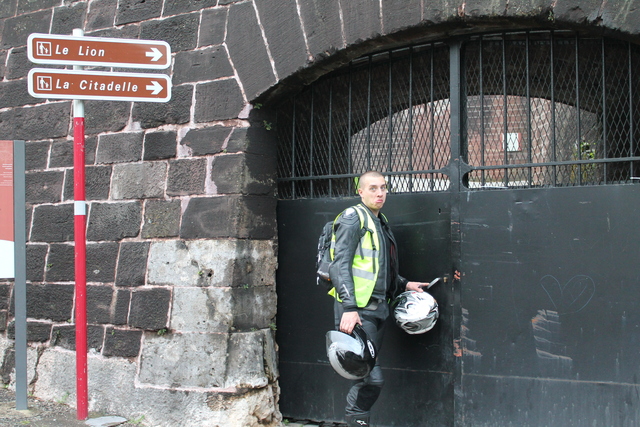 The views were nice from up on the cliffs, but it was starting to get dark and we still needed to find a super market to get some food.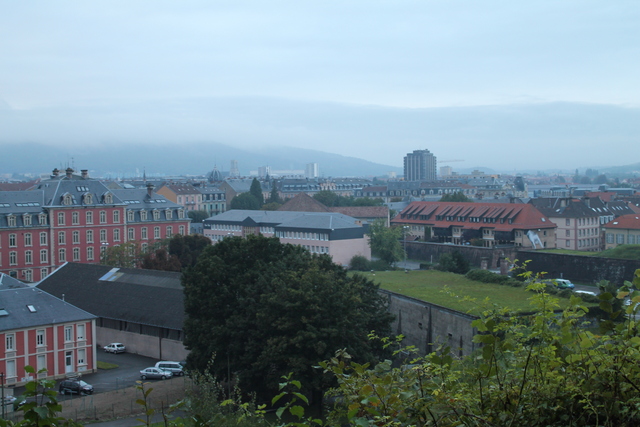 The best view of the lion was from the bottom where we started…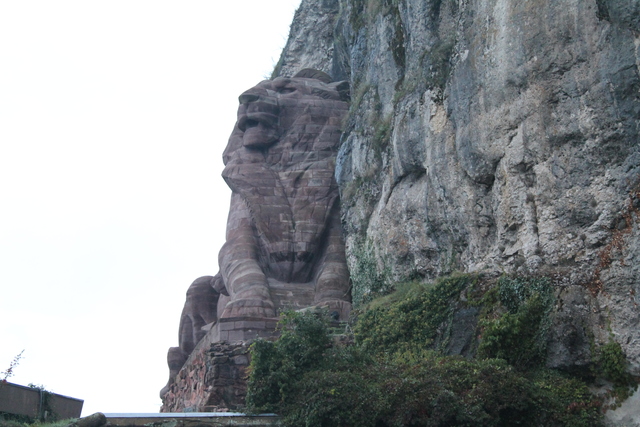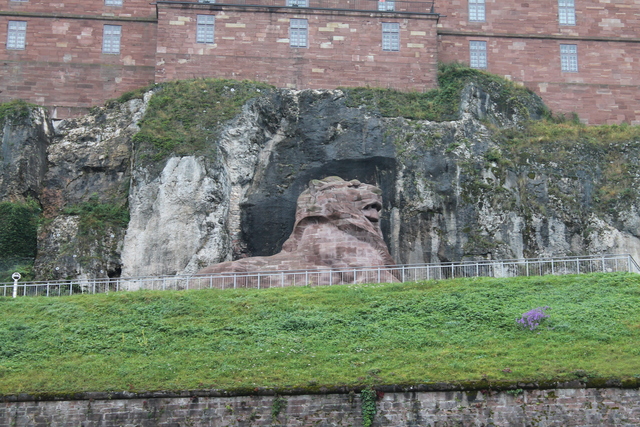 After a bit of riding around and finding several super markets which shut at 19:00, we managed to find a large retail park with a huge Centre Leclerc, which I would almost say is like a French Walmart as they sold everything you could imagine ! The security guard wouldn't let us in, something to do with our crash helmets but due to the language barrier we didn't really know what the issue was, anyway he go a bit frustrated and let us in anyway haha result. Filled pasta along with a packet of bacon chunks plus a jar of creamy mushroom sauce was purchased for dinner, along with some nice éclairs to munch after, oh and don't forget the four pack of bargain French beers.
Back to camp and dinner cooked it was time to call it a night, the long walk had finished me off and the couple of beers went down a treat. Tomorrow was going to be a long day, riding out of France and through Switzerland then over the Alps and in to Italy.